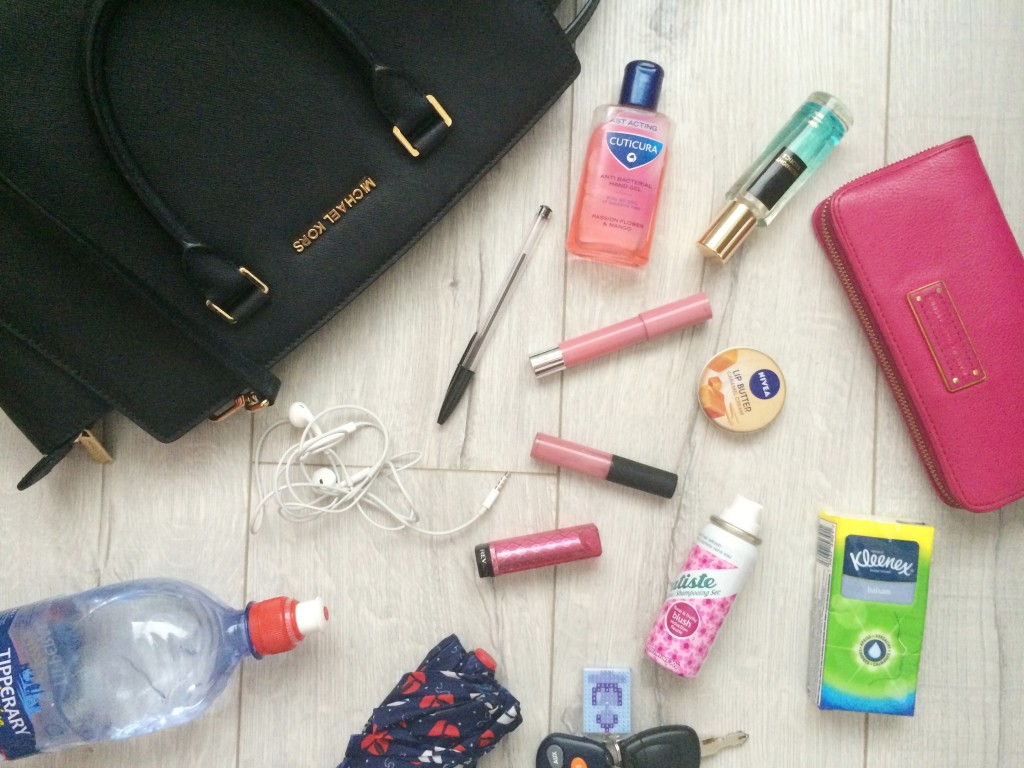 If you've seen my first What's In My Bag post, then thank you – you've been around here a long time! If you haven't, fear not, here's an updated version! I thought I'd rewrite and rephotograph it, as a few things in my bag have changed and I'm not crazy about the original post.
My bag has stayed the same, the Michael Kors Selma, and I don't plan on changing it anytime soon. I absolutely love this bag. It's big enough to fit books, magazines, food, makeup, everything in, without being oversized or overpacked. I got it in December last year and have used it nearly every day since and it's as good as new – definitely worth the investment!
My purse is Marc by Marc Jacobs, which I got over a year ago. I've used it everyday since and it also still looks brand new. I don't mind investing in bags and handbags as I know I'll get my value for money and they'll last forever! Inside my purse I keep some plasters, bobbins, hair clips, some painkillers and a concealer. This way if ever change my bag, I know that I have all of my essentials with me!
I always carry hand sanitiser, as well as a small bottle of dry shampoo for hair emergencies on the go. An unnecessary handful of lip products is inevitable in any girl's handbag, I think. I've a lip balm from Nivea, a gloss from MAC, and a lip butter and crayon from Revlon.
I recently added a small bottle of perfume called Midnight Exotics from Victoria's Secret to my bag – it smells amazing. It's sturdy enough that I know it won't smash and leak all over my bag, which is a winner! I'm that person who has a cold all year round, so at least one packet of tissues can always be found at the bottom of my bag.
Earphones are necessary for jam-packed bus rides home from work, I genuinely think I'd go insane without them. I also need to carry a bottle of water with me at all times or I'll get a major headache. It saves me buying one while I'm out and about, and I'm more likely to drink plenty of water if I see a bottle in my handbag.
An umbrella is spoken for as I live in Ireland, and it's guaranteed to rain if I don't bring it with me. I always have a pen in my bag, even though I don't have a notebook, I'm not sure why. It comes in handy though, and what kind of journalist would I be if I didn't carry a pen?
My car and house keys are one of the heaviest things in my handbag, I've so many key rings on them! Of course, I always carry my phone but I was using that to take the picture. #bloggerprobs
Not going to lie, usually there are about ten abandoned bus tickets, receipts and food wrappers in my bag too, but no one wants to see that, right?
Let me know what your handbag essentials are in the comments below!