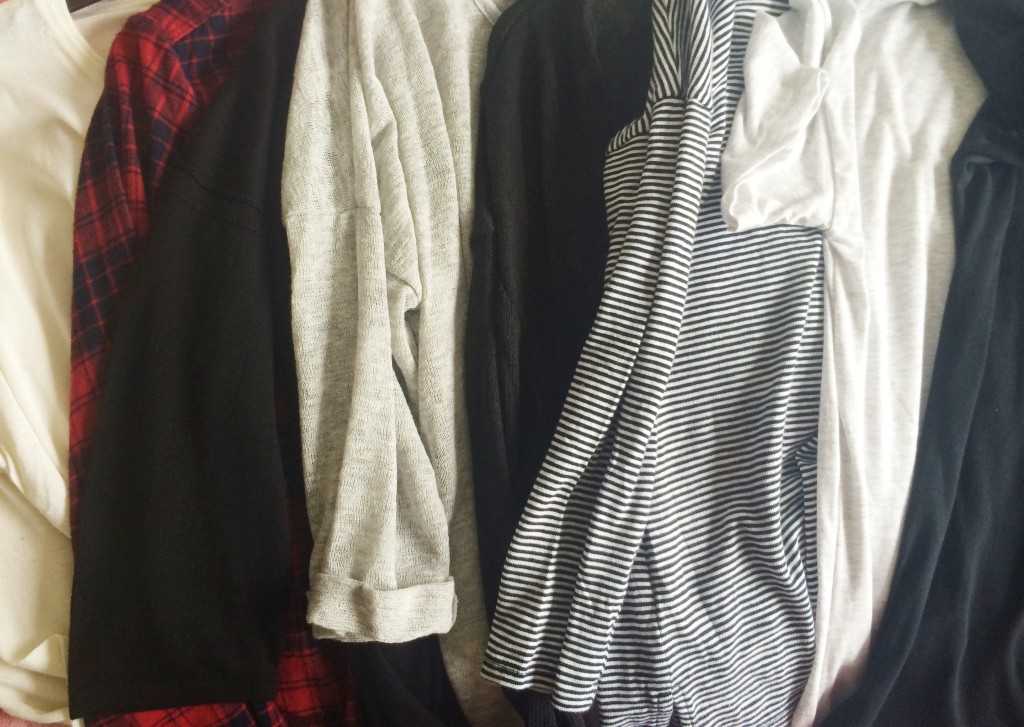 When it comes to dressing for college (or anything, really), comfort is always the biggest factor for me. There's nothing worse than wearing uncomfortable shoes, a top that sits just a little too low, or jeans that mean I can't breathe out for the duration of my day. I'd like to think that I've found a balance between comfortable, casual and stylish, that means I can walk to and from college without hobbling, and I can go the day without having to adjust my top/skirt/jeans.
There are a few pieces that I found myself wearing repeatedly last year, so I stocked up on a few different variations of them and realised that no matter what, wearing a crop top won't be an option, no matter how pretty it is. I like having pieces that I can mix and match, layer and dress up or down as needed. They're all available from H&M, Topshop, Penneys, New Look, Forever 21, Zara, and nearly every high street store, which means they're affordable and won't break the bank. Obviously these clothes aren't reserved just for college, they can be worn nearly anywhere!
These are the items that my college wardrobe revolves around, let me know in the comments below what your essentials are!
*Warning: grab a cup of tea, this is going to be a long one*
Check shirt – A check shirt is a really good piece to have in your wardrobe because it can be worn on its own or layered over a t-shirt. I always buy my check shirts in a size or two bigger than what I'd usually wear so they're oversized and really comfortable.
Grey tee – Having a few different t-shirts in your wardrobe is really handy. I personally love Topshop's basics range, but I've heard great things about the tees in H&M. A plain t-shirt paired with jeans and a statement necklace can look really well put together, although it's really simple. Having a few tops of the same colour but with different necklines, sleeve lengths or fits gives variation to your wardrobe and outfit.
White tee – A white t-shirt is such an understated piece, but is really gorgeous. I love wearing white t-shirts when I have a tan because it makes it really stand out. Try to avoid eating anything with sauce while wearing this!
Black tee – I only added a black tee to my wardrobe recently, but I absolutely love it. I think that black always looks so expensive, and worn with skinnies and some gold jewellery you'll wonder why you didn't have one in your wardrobe sooner.
Stripe tee – A stripe tee is one of my favourite things to wear, although I haven't found the perfect one yet. A black and white striped tee worn with black jeans looks really classic and is a nod to the monochrome trend without looking like a mime. Put a slick of red lipstick on and you've taken the outfit from drab to fab (cheesy, but I couldn't resist).
Converse – I couldn't write any wardrobe essentials post without mentioning Converse. I live in these shoes – they're so damn comfortable. Plus, wearing trainers is no longer reserved for just sport, they were even worn on the Chanel SS15 runway. My most worn Converse are low-top white leather, which are great for keeping clean and keeping warm! I'm looking into buying a pair of white and grey New Balance, but can't decide if I'd get the wear out of them! Let me know what you think in the comments below.
Boots – Forget autumn and winter, I wear boots all year round. My black Chelsea boots from Topshop are my most worn pair of shoes, I think I might just have to pick them up in brown too. They look great with everything – jeans, dresses, skirts – and make an outfit look a little more dressed up if you don't want to wear Converse. I wore my Jeffrey Campbell Coltrane boots to death last year – they're a statement in themselves. Investing in a good pair of boots is always a good decision because, chances are, they're what you'll wear most.
Leather jacket – A (faux) leather jacket is something I've always had in my wardrobe. Again, they dress up an outfit and look just as nice worn with jeans as they do worn with a dress for a night out. I picked up a leather jacket in Mango a few days ago and know I'm going to wear it to death. The thing with leather jackets is there are so many variations – you can get ones with loads of zips and hardware, or none at all, with ribbing and quilting or cropped, the list goes on. A good leather jacket will only get better with age, and there are loads of affordable options on the high street at the minute.
Blue jeans – Of course, jeans are an essential. Topshop Leigh jeans are my absolute favourite because they're so soft and comfortable. I'm not really a skirt or dress-during-the-day kinda gal, so I live in jeans. Skintight jeans are the only kind I wear because I love wearing oversized tops, but find the shape that suits you and you feel most comfortable in and you'll never look back.
Black jeans – As I said, I think black looks so expensive. Plus, it goes with everything, so you really can't go wrong no matter what you pair it with. Black jeans are really handy because they look great for nights out too, so if you're heading out after college you can just bring a change of top (or lipstick) and bam – you're good to go.
Big scarf – If you saw my autumn outfit post, you'll know how much I love scarves. The bigger the better because a) they keep you warm and b) they dress up a dull outfit. You can buy coloured ones, patterned ones, or just plain ones, either way they always add something to an outfit. Penneys have some gorgeous ones in at the minute for less than a tenner, while Zara have some more expensive, similar options. I currently have my eye on a monochrome one that I just might have to pick up when payday rolls around.
Big bag – A big bag is an absolute essential for any college student. I'm more of a fan of handbags and tote bags than backpacks (because I'm always afraid something will fall out without me noticing), but whatever floats your boat. Chances are you'll have a lot to carry, so make sure your bag is big enough to fit everything comfortably in and won't rip en route to a lecture.
*Takes deep breath* – Wow, who knew you could talk so much about clothes?! Anyway, I hope this was of help to anyone who's starting college for the first time, or who's going into another year, or any shopaholic like myself. Of course everyone's style is different, these are just my favourite pieces, so wear whatever your heart tells you!