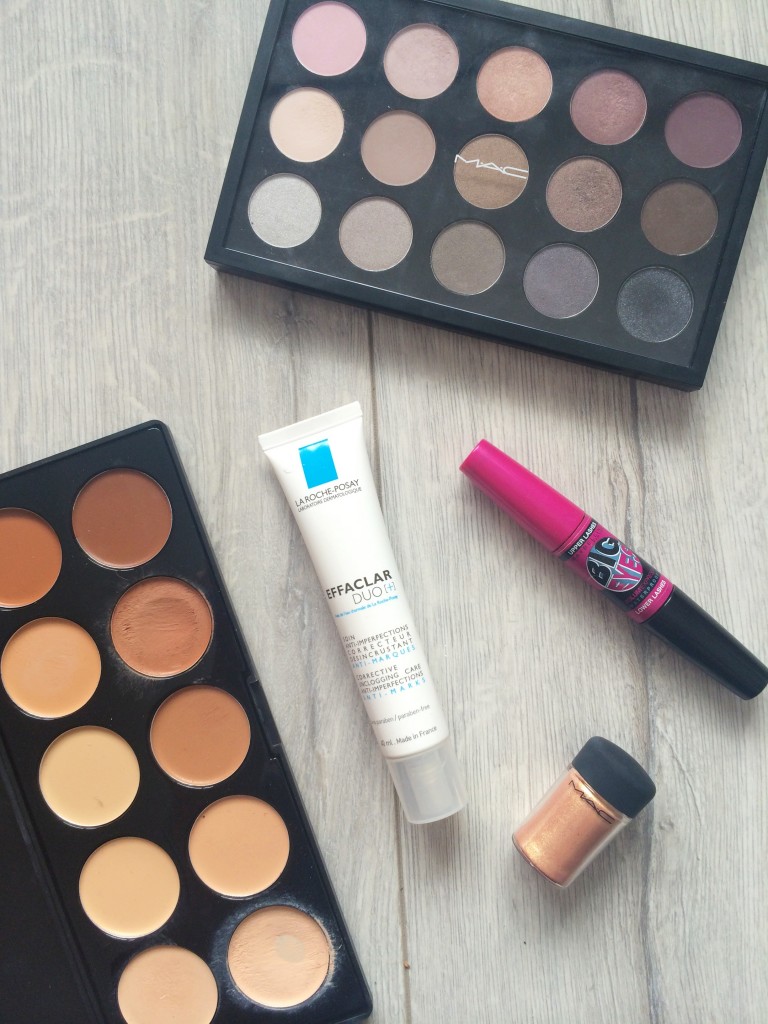 Every so often in a beauty blogger's life, a few products manage to escape without a review being made about them. Considering that every makeup/beauty related purchase I make is justified by, 'Sure I'll write about it on my blog', I can't help but feel that I need to give every product a mention here or there.
I'm not quite sure how these products have slipped away without a review as I really like most of them, but hey, it happens.
Crownbrush UK Contour Palette – Cream contouring exploded in the beauty world after Kim K's famous snap of how she bronzes and highlights appeared on Instagram. In an attempt to be in any way like Kim K, I picked up this palette from Crownbrush. It was pretty pricey at just under €30, plus €6 post and packaging, but the fact that there are twelve different shades justified the purchase.
You can see which colours I've used most, especially the lighter shade which hit pan quite quickly. I really enjoy painting my face with these for nights out before blending them all in, and find that they give a really nice result. I wouldn't use cream products to contour during the day, but they're great for nights out and blend easily into the skin without disappearing completely.
MAC Cool Neutrals Palette – I bought this palette in a moment of weakness in MAC, and I hate to say it but I hardly ever use it. I heard that the quality of the eyeshadows wasn't as good as the singular pots, but dismissed it as a theory. After using it a couple of times I've sadly come to realise that it's true.
The colours aren't as pigmented, and although I love all of the shades in the palette you really have to work at them and warm them up with the brush to get good colour payoff. I need to leave this out in view on my dresser to make myself use it more often, it's such a waste sitting in my drawer! Next time I go to get a palette from MAC I'm definitely going to make it up myself instead of buying a pre made one.
Effaclar Duo [+] – As soon as I heard of the release of this product I knew I wanted to get it. I stalked the shops for weeks and even considered ordering it online and paying €8 p&p to get my hands on it, until I finally found it in Boots a few weeks later. I really, really wanted to be impressed by this product and had such high expectations for it but sadly I didn't see any difference or improvement in my skin after using it religiously for weeks.
It sounded like the perfect product for me, to correct the appearance of imperfections, but I genuinely didn't see any change at all in my skin. I absolutely love La Roche Posay as a brand, so I'll continue to pick up products from them but unfortunately I won't be repurchasing Effaclar Duo [+].
Maybelline Big Eyes Mascara – Maybelline is my favourite brand for mascaras, I'm always really impressed with which ever one I buy. The same applies to Big Eyes mascara. I love the concept of this product – one brush and formula for the upper lashes, and another for the lower lashes. This gives a really nice 'your lashes but better' effect and isn't clumpy at all. It does everything you want a mascara to do – lengthen, volumise and lift the lashes.
The brush is quite small and thin compared to what I'd usually use so I was quite sceptical at first, but I grew to love it. The smaller wand for the bottom lashes is just the perfect size and saves you from getting mascara all over your bottom lash line.
MAC Melon Pigment – Oh baby, I love this pigment. It's the perfect rose-gold shimmery colour for dotting in the middle of your lid. As the name suggests, it's very pigmented so only the tiniest bit is needed. I can see this little pot lasting me a lifetime.
Let me know in the comments if you've tried any of these products and what you think of them!