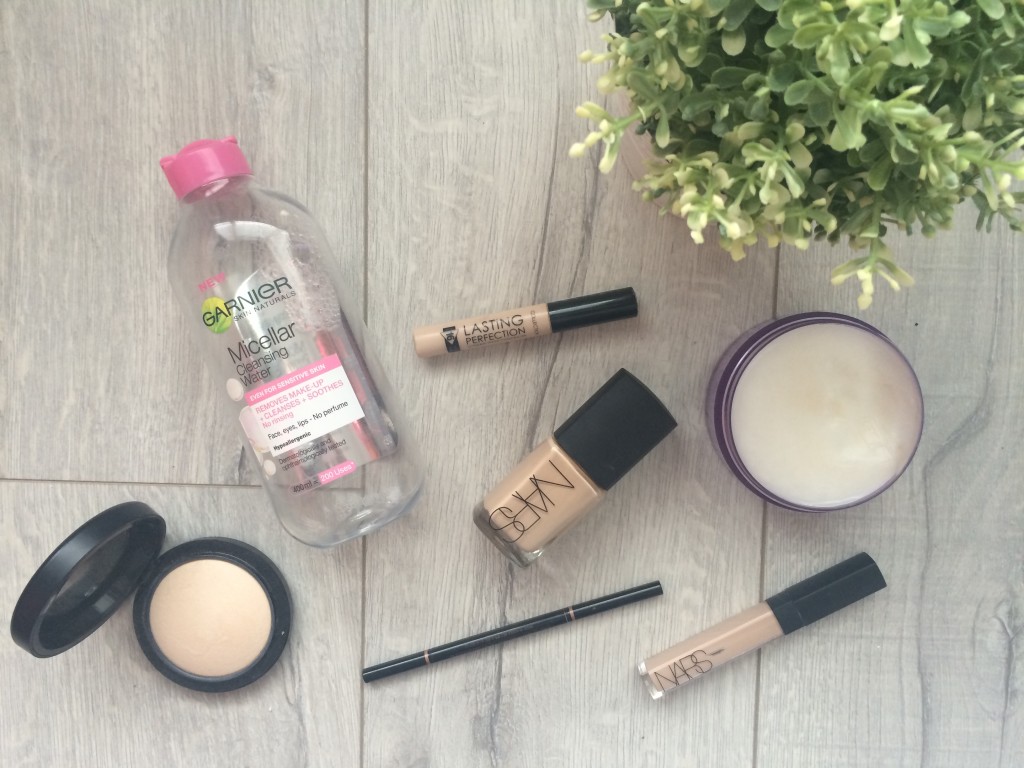 Seeming as there's so much choice available in the aisles of Boots, it's pretty a special occasion when the same product is added to the basket again, and again, and again. As much as I love trying out new products, when I find something that I love chances are I'll keep repurchasing it until I hear or read about something better.
There are a few things in my makeup bag that are ol' reliables, that I buy when I'm not looking to try anything new and that I know I love. Then there are a few things that I buy on repeat so much that I almost don't have to think about it anymore. These are the products that I'm going to talk about today.
First of all, there's Garnier Micellar Cleansing Water. Using a micellar water has genuinely revolutionised my skincare routine. I use it in the mornings to cleanse my face and again at night to make sure I've removed 100% of my makeup. It's really refreshing and doesn't irritate the skin at all. Basically it's water formulated to remove makeup and cleanse the skin. Plus, a bottle usually lasts me about six weeks and costs around €6 in Boots. It doesn't get better than that.
Collection Lasting Perfection Concealer – need I say more? I've lost count of how many times I've repurchased this concealer, it's that good. I keep one in my purse for top-up emergencies, and one in my makeup bag. It's creamy, blendable and covers spots and dark circles like no other. What's better is it doesn't break me out. Usually I can't use drugstore concealers or foundations because my skin reacts badly to them, but I've had no problems at all with this one. Bonus points because it's only €5.
I've raved about Clinique Take The Day Off Cleansing Balm more times than I can remember, but I'm just going to keep on raving. This is easy makeup removal in a tub. And by easy I mean as easy as your ABC's. Just scoop half a teaspoon-sized amount out of the tub, massage it all over your face and BAM – your makeup has melted away. Even waterproof mascara. I can't praise this stuff enough. Just make sure to wash your face with water and maybe another cleanser after to make sure you've removed all of the balm itself.
MAC Mineralise SkinFinish was one of the first powders I tried, and it was the last. It provides a teeny bit of coverage and the smallest amount mattifies the whole face. It's not talcum powder-like, nor does it make you look 2D. The new compact design that includes a mirror positions itself even more firmly on my repurchasables list.
When I picked up NARS Sheer Glow last December I'd no idea how much I would love it. It's the perfect everyday foundation. It isn't cakey yet it provides great coverage and isn't shiny yet gives a dewy finish. I wrote a whole post about this foundation last week, so give it a read if you'd like to find out more.
My brows have never been the same since trying Anastasia Brow Wiz a few months ago. The nib is so tiny that it replicates eyebrow hairs, so you get a really natural effect. The formula is long lasting and the thinness of the nib means you can make your brows as strong as you like. The spoolie at the end is so handy for brushing and shaping the brows before filling them in, and is handy for touch-ups during the day.
Finally, there's NARS Radiant Creamy Concealer. This is extremely similar to Collection's concealer that I mentioned above, but is a slightly more improved version. It applies just a little bit better and wears slightly more natural on the skin. I use NARS on days when my skin needs a little extra attention and TLC (read: when I've eaten too much chocolate over the weekend) and Collection on a more everyday basis.
Let me know in the comments if any of these products make your repurchase list and what else is on it!