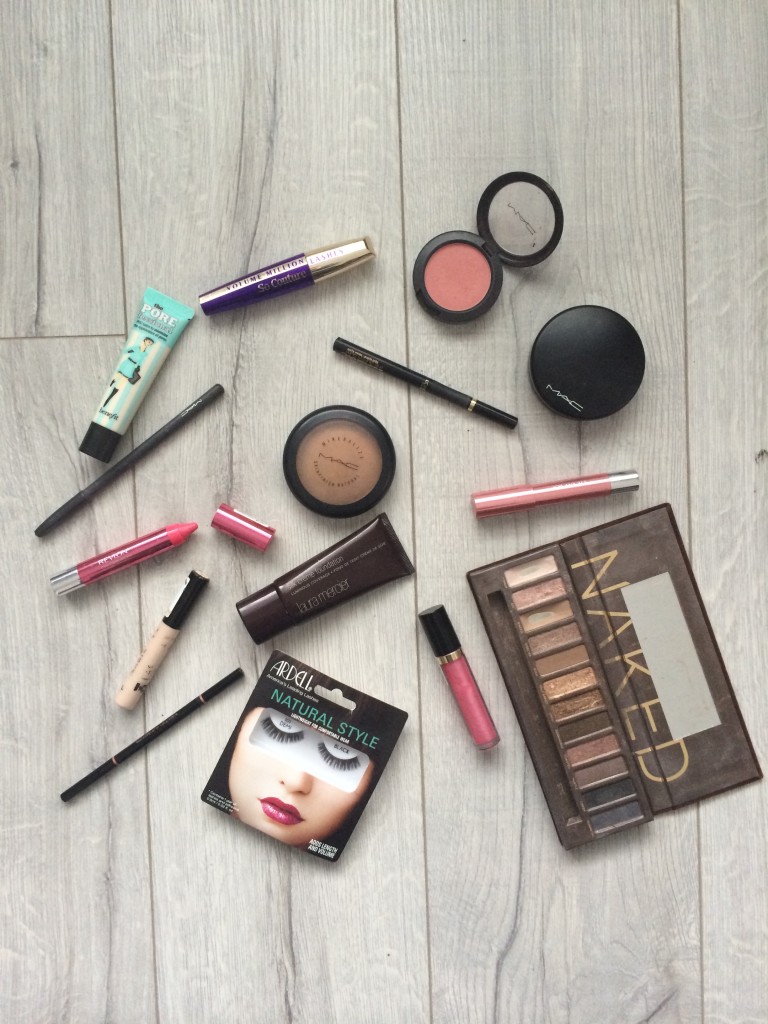 The final addition to my three part series of college makeup looks is The 'Heading Out Later'. Sometimes going home to reapply makeup just isn't an option and slapping it on in a badly-lit fluorescent bathroom is the only choice. I find that if you prep your makeup in the morning for the night ahead that it makes the whole process a lot easier, and no one will know that you've had three two-hour lectures that day.
As usual, starting with primer is key. Benefit Porefessional is perfect for giving the skin a smooth base, and will make your makeup last that little bit longer. If I'm going out I'll always wear a high coverage foundation, like Laura Mercier Silk Creme Foundation. It covers all imperfections and doesn't contain SPF so you don't get any flashback in photos. I apply this in the morning, and then add an extra dab or two all over the face in the evening just before I go out. It freshens the base and saves you from reapplying everything from the beginning. Concealer, of course, is used for under the eyes and any pesky spots, and is great for touch ups as needed. The Naked Palette has every colour you could ever need for day and night, meaning you can go for a matte, simple eye during the day and then add some shimmer and smoke on top for the evening.
Adding a slick of liquid liner, such as L'Oreal Super Slim Liner, makes all the difference. Add a bit of kohl pencil along the waterline to immediately take the look from day to night. I love MAC Coffee pencil as it's not as dark as black but still adds intensity. Do I even have to mention mascara? L'Oreal Volume Million Lashes mascara doesn't clump when you add layers to it, and doesn't smudge on the bottom lash line either. I use Anastasia Brow Wiz, as usual, to fill in the brows. Blush and bronze can add so much to your makeup look, so before I head out I apply a swirl of bronze all over the temples and cheeks, and a dab of blush to brighten up the look. Reapplying powder every few hours will keep shine at bay and leave your base looking fresh. I think that most simple way to transform makeup from day to night is with lipstick. Start off with a nude for lectures, then layer some gloss and a bright pink when you're heading out and everyone will be wondering how you got the time to do your makeup again. Finally, pop on some false lashes for the ultimate transformation and there you have it!