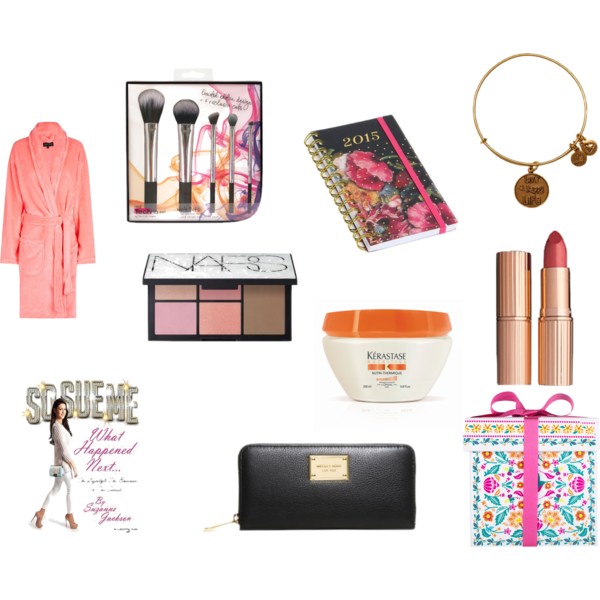 With today being the 1st of December (woo!), I decided to begin the festivities on WhatSheDoesNow with my Christmas Gift Guide! There'll be a post up on Tuesday, Wednesday and Friday to cover all of the different categories of presents you might need.
What better way to kick it all off than with gift ideas for the women in your life? I've picked 10 gifts of varying price ranges and styles that will hopefully give you a present idea for every woman in your life, whether it be your mam, your best friend, or your granny!
For The Girl Who Loves To Be Comfy – Dressing Gown – I don't think there's anyone I know that wouldn't like to receive a neon pink fluffy dressing gown as a gift! Perfect for lounging in after all of the food has been eaten and your Christmas clothes don't fit anymore.
For The Makeup Maven – Real Techniques Brush Set – Whether it be for your 12 year-old cousin who's only getting into makeup, or your best friend who can do her makeup with her eyes closed, this limited edition brush set would surely be hugely appreciated.
For The Organiser – 2015 Diary – A new year means a new diary. This pretty floral one from Paperchase would be perfect for the list-maker in your life!
For The Quote-Lover – Alex and Ani Bracelet – Alex and Ani bracelets have been everywhere this year, and for good reason. There is a huge selection of bracelets with different quotes, signs and symbols on them, so pick one that suits the person most and they'll be amazed by your thoughtfulness.
For The Girl Who Has Everything – NARS Virtual Domination Cheek Palette – This baby is on back order on spacenk, so it's almost guaranteed she won't have it. This is a present that anyone who has a makeup stash, big or small, will appreciate. Place a backorder now, or put yourself on the waiting list to get one in time for Christmas.
For The Girl Who Loves A Treat – Kerastase Hair Masque – A hair masque isn't something that a lot of people would splurge on for themselves, but it's a present that's great to receive! There are loads of types for different hair conditions, so have a look and see which would suit the person most.
For The Girl Who Has Six Lipsticks In Her Bag – Charlotte Tilbury Lipstick – A girl can never have too many lipsticks, right? The packaging alone of Charlotte Tilbury products is to die for, and there's a shade for everyone in the Matte Revolution range.
For The Fashionista – So Sue Me Book – If she's obsessed with makeup, hair or fashion, this book is for her. Blogger Suzanne Jackson shares her tips and tricks from life to career, a guaranteed must-read.
For The Girl Who Loves A Splurge – Michael Kors Wallet – To me, nothing says luxury like a designer wallet. If you're looking to splash out on someone this Christmas, you really can't go wrong with a wallet. It will always fit, it'll never go out of style and it's something she'll use everyday.
For The Pamper Queen – LUSH Gift Set – We all love a pamper now and again, and this LUSH set contains everything for the ultimate pamper session. It includes five best sellers – a bath bomb, a scrub, a bubble bar, a moisturiser and a body lotion.
I hope you enjoyed my gift ideas, and maybe got some inspiration for your Christmas list (even if it's for yourself!) Gifts for the men in your life will be up tomorrow!