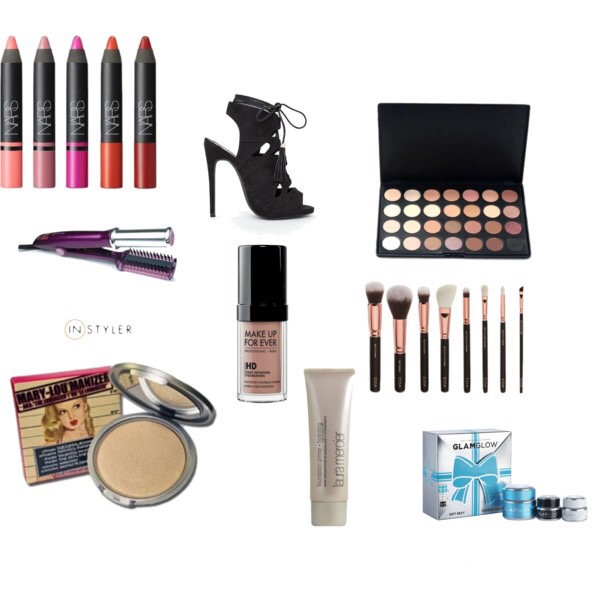 As I write this I am currently on the plane to London for the weekend and am fully in the Christmas spirit!
With presents being bought for friends and family all throughout December (and November if you're very organised!), there's bound to be a few things that we spot for ourselves or that are on our wish list.
I thought I'd share with you my wish list I've built up over the past few weeks, so maybe you could get some inspiration for your own list or for presents.
NARS Lip Cofrett – I've had NARS lip pencils on my wish list for a while, and I think this gorgeous set might just be the push I need to finally purchase them! There's five gorgeous colours, and one is limited edition. Need I say more?
Missguided Shoes – These caged shoes have my name written all over them. They'll look just as nice with a pair of jeans as they will with a dress – I can see myself wearing these all year round.
Blank Canvas Cosmetics Neutral Palette – There's 28 neutral shades in this palette for €10.95. At that price, buy one for yourself and for your friend!
Instyler – I got my hair styled last week with the Instyler and I absolutely loved it. It gave volume and held a curl like nothing else I've ever used, it's the perfect at-home blow dry!
Makeup Forever HD Foundation – This foundation is made for photographs, television and basically making your skin look (even more) flawless. With my skin acting up at the minute, this is something I could really do with.
Zoeva Rose Gold Brush Set – This is the most beautiful brush set I've ever seen – and that's saying something.
The Balm Mary Lou Manizer – This stuff is apparently better than MAC Soft and Gentle, which I've been using for years. That's one statement I have to test out for myself.
Laura Mercier Hydrating Primer – I think primers are really good to invest in as no matter how good the foundation you put on your face, if your base isn't smooth it'll be useless. The hydrating properties of this one would definitely be beneficial in the colder months too!
Glam Glow Trio – This set includes three face masks, one full size and two (relatively big) minis. Perfect for trying them out and seeing which works best!
I hope you enjoyed my Christmas Gift Guide this year, let me know what you thought in the comments below!