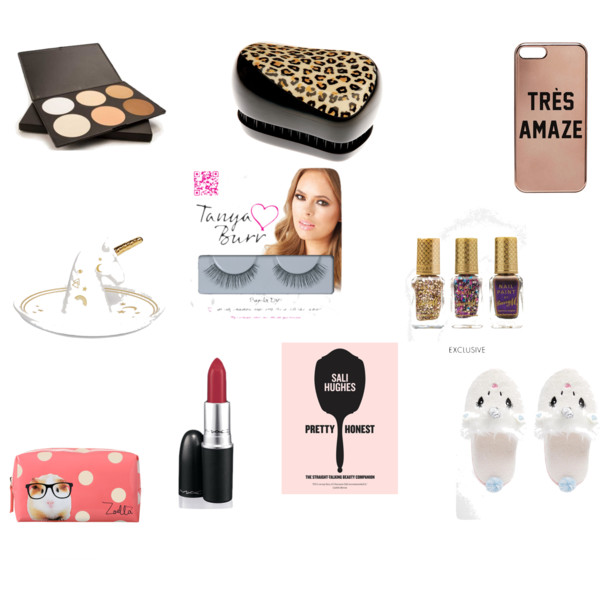 As much as I'm sure we'd all love to spend a lot of money on our friends and family at Christmas, the €50 top or €35 lipstick isn't always possible. Although, you don't have to spend a fortune to get someone a really good Christmas present. There are loads of things on the market to suit whatever your budget is.
So, I've picked out 10 really good (if I may say so myself) presents that won't cost any more than €20. Even better, you could pick two or three little presents and wrap them up instead of one big present, which always goes down really well. I'm not mad about most gift sets as I find that the products aren't usually that great and go to waste most of the time, so you could even put some of these things together and make your own personalised gift set!
Blank Canvas Cosmetics Contour and Highlight Palette – Contouring is the new black, don't cha know? Since Kim K's viral Instagram snap of how she achieves her killer cheekbones, everyday contouring has become the norm in the beauty world. This palette has six contour and highlight shades, and for around €10 you really can't go wrong!
Tangle Teezer – Gone are the days that brushing your hair meant losing around 20 strands as you went. The Tangle Teezer is designed to brush hair without breaking or pulling it, even when it's wet. Perfect for your best friend who loves her hair.
iPhone Cover – This metallic iPhone cover will turn your phone from a necessity to an accessory!
Unicorn Ring Holder – The picture of this didn't transfer too well, so click on the link and see how cute it is for yourself! It would be really nice to get this as a gift and put some rings on it as part of the present.
Tanya Burr False Lashes – Any girl who loves getting dressed up and doing her makeup will surely love these. They're only €7.04, so if you've a bit left in your budget you could buy a few and wrap them in a bow together.
Barry M Nail Polish Trio – Now this is one set I wouldn't mind buying! It's on sale on ASOS and has three gorgeous, glittery shades.
Zoella Makeup Bag – How cute is this guinea pig makeup bag?! Again, if you've a bit to spare in your budget you could buy a few makeup essentials and pop them in the bag.
MAC Lipstick  – At €19.50 this fits just inside the budget, but is a really nice way to give someone a present that's luxurious but doesn't break the bank.
Pretty Honest by Sali Hughes – If she's just getting into makeup, or has been wearing it her whole life, this book is full of tips and tricks that even a professional could learn from.
Unicorn Slippers – Who wouldn't want to receive a pair of these on Christmas day?! Super cute and super fluffy, they're sure to put a smile on someone's face.
Let me know what you think of my suggestions in the comments below, and stay tuned for my last Christmas Gift Guide post on Friday!