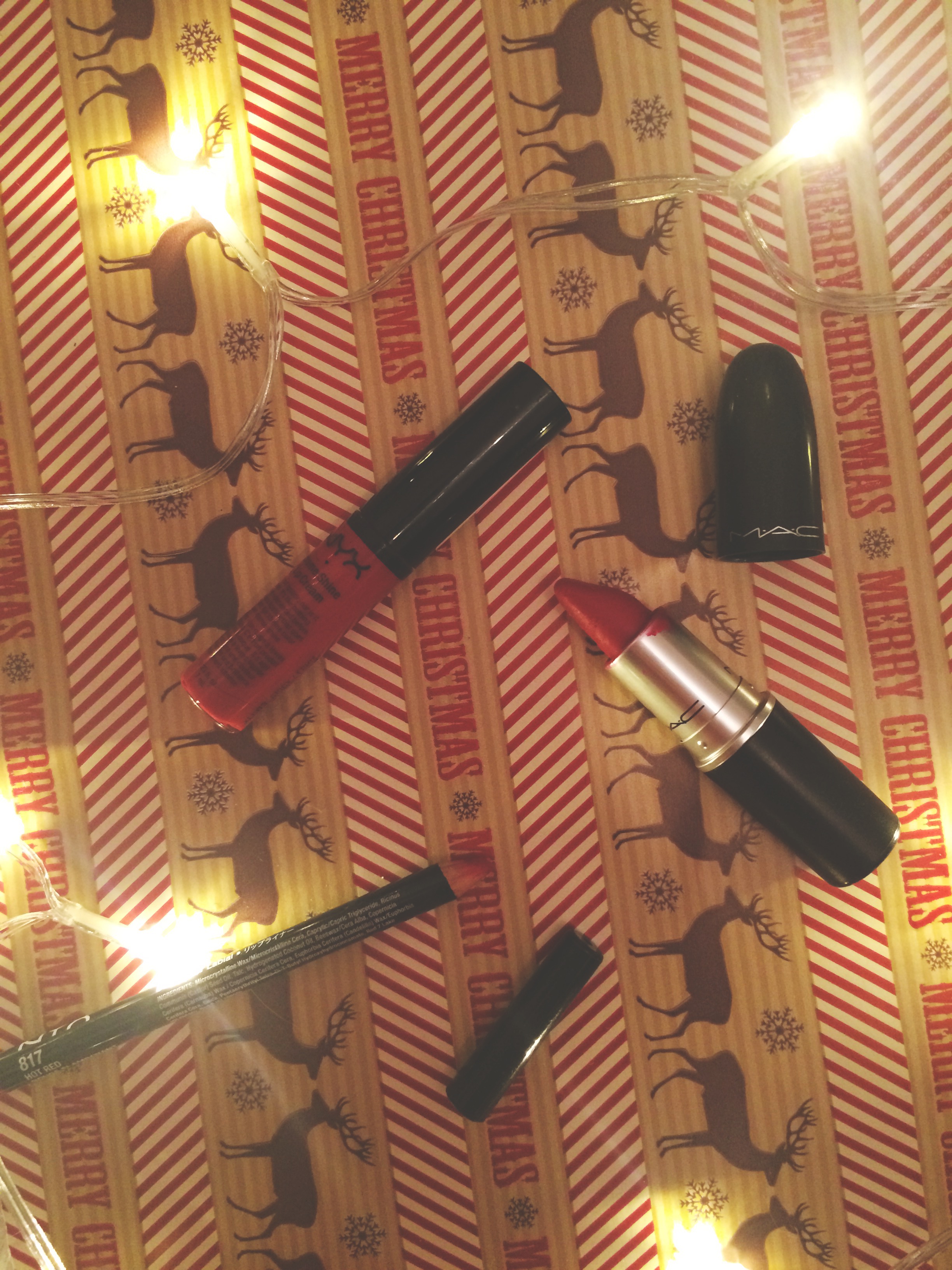 If there's any time of year to wear a red lip, it's Christmas! I'm not much of a bold lip-wearer, but at Christmas everything changes. A red lip is the norm, and I feel almost naked without it.
The upkeep of a bold lip is what turns me off the most, so whenever I wear one I always make sure it's long-lasting, won't smear all over my face and is easy to reapply if needed.
I've established a three-step formula to cover all of these areas, and tested them to ensure they're food-and-drink proof!!
1. Lip Liner – Before Kylie Jenner said lip liner was the secret to her suddenly full pout, beauty gurus were using them to prep bold lips. I use NYX Lip Liner in Hot Red to outline my lips and fill them in, which makes the colour last longer and makes your lips look fuller.
2. The Lipstick – Although matte lipsticks tend to stain your lips and make the colour last longer, my lips are quite dry so I need something creamy and moisturising. MAC Red is my go-to red. It's not at all drying, yet isn't shiny or glossy. It's really pigmented and easy to apply as well – what more do you need?!
3. The Gloss – A gloss isn't always associated with a red lip, but I think glosses are great to use to top up bold lip colours. The doe-foot applicator of NYX Xtreme Lip Cream  in Spicy, as well as the smooth, creamy formula makes it easy enough to apply without a mirror.  Whereas you need to sit down and apply a bold lipstick in a mirror to make sure it doesn't go all over your face, there isn't that problem with a gloss.
I've read for ages that a bold lip gives you great confidence, but I always thought it would just make me conscious of having it on my teeth for the entire time I was wearing it. Since wearing this combo a few times over the past few weeks, I've totally changed my mind and seen the true power of a red lip!
If you've ever wanted to wear a red lipstick, but haven't had the confidence, now is the time to try it out! You won't regret it!