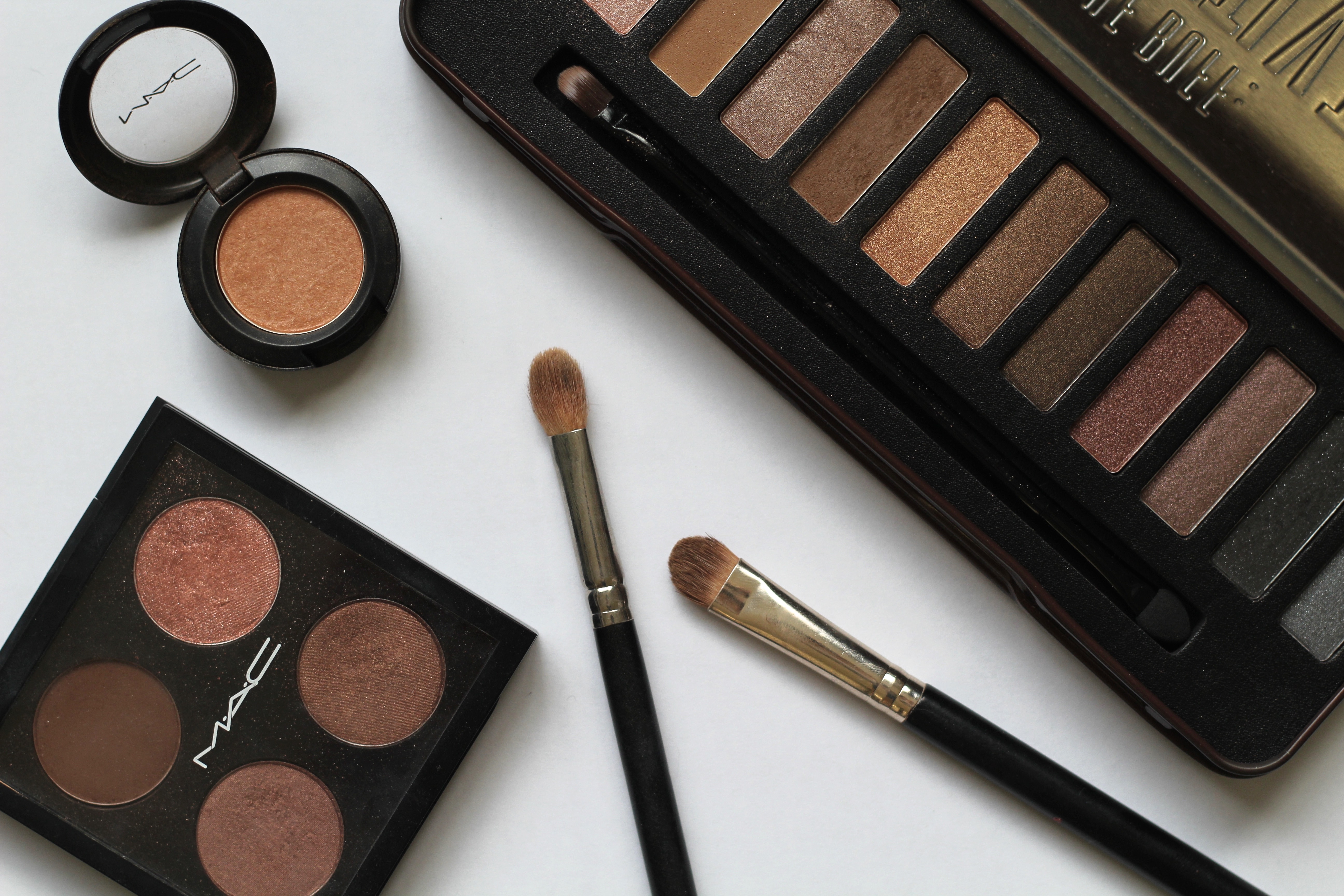 Bare with me – all of the colours in the photo makes it look like this smokey eye will be anything but easy, but you only need four of them.
A few weeks ago I accidentally created a simple matte-brown smokey eye when my usual bronze, shimmery look just wasn't doing it for me anymore. I pulled together a few of my favourite brown shades and blended and hoped for the best until I was done. The result? An uber quick makeup look that I can't stop wearing.
Start off with putting some concealer all over your lid, so you've a blank canvas to start with. Before putting any product on, I always put a strip of sellotape from the corner of my bottom lashes to the end of my eyebrow to keep things neat and tidy and prevent fallout. Try to take some of the tackiness off the tape by pulling it on and off the back of your hand so it doesn't tug at your eyes when you're taking it off.
Dip a blending brush into any rusty, light-orange shade you have. I use MAC Arena (the single pot pictured above) and the MAC 217 brush. Blend it right through the crease, building the colour up as you go along. Then, using a flat brush, pack on a matte, dark brown shade. I use MAC Corduroy (top left in the quad) on a MAC 239 brush. Any dark, matte brown colour will do. Pack it on all over the lid, trying not to get any in the crease. Two or three applications should give a strong colour payoff. Then grab your same blending brush as before and dip it into a lighter matte brown shade and blend it upwards, right through the crease. It's easier to start with lighter colours and build it up bit by bit. The darkest matte brown shade in the w7 Lightly Toasted palette is what I use, there's an identical one in the original Naked palette if you have that.
Using an angled eye-liner brush, dip it into a matte black shade and run it tightly along the upper lash line. Again, build it up and smoke it out as you go along. I use the black shade in the w7 palette, which also has an identical shade in the original Naked palette. As for the bottom lash line, press whatever colour is left on the flat brush right under the lashes, and blend it out with the blending brush.
And that's it – done! There's not a whole lot of method or steps to this look, it's really just about building it up and blending it out as you go along. I love it because it looks like you've spent a whole lot longer on your makeup than you actually have – nobody needs to know, right? Adding a cat-eye flick, some highlight in the inner corner, a dot of shimmer on the centre of the lid or a load of eyeliner on the waterline can totally change it up too.
Let me know in the comments below what your favourite eye makeup look is or what you think of this look, I'd love to hear!