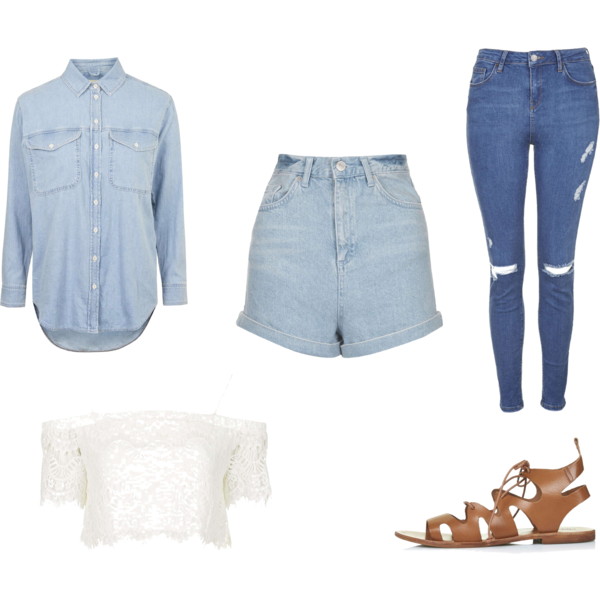 Although it has always been my favourite store, Topshop is killing it lately. Every time I step inside it's guaranteed that I won't be leaving empty handed, much to my bank account's despair.
I went into the Topshop off Grafton Street last Saturday and my hands were full with stuff before I'd barely gotten inside. I picked up a few summery tops and a pair of jeans, as well as adding 101 things to my to-buy list. I have them sitting in my basket waiting for payday – Thursday can't come quick enough.
Black tie-strap top  – Giving a nod to the current 70s trend, this bardot-style cold shoulder top will be perfect for dressing up with heels or wearing with denim shorts during the summer.
Lilac split back top  – My wardrobe mainly consists of black, white, grey and navy, so this lilac top is a bit outside my comfort zone. It has a really nice split back, which adds something extra to a simple outfit. Again, this will be ideal for dressing up or down.
White longline top – White is always a safe bet for the summer. It looks great against a tan (real or not) and this top is really simple but really gorgeous. Plus, it might just be long enough to throw on over a bikini if you're heading to the beach.
Navy cami top – I vowed to myself not to buy another cami top this summer, but I've already bought three. This navy one was only €20 – what a bargain!
Ripped Jamie jeans – I haven't stopped wearing these ripped jeans since I picked them up last week – they're so comfortable and go with everything!
Wish List
Denim shirt – It's not so much your traditional summer piece, but I just love the look of this denim shirt. It would be great for when the weather (hopefully) gets a bit warmer but you still want to wear something incase it gets cold again. Oh, the joys of living in Ireland…
Lace crop top – The only time I ever wear anything cropped is with high waisted jeans/shorts/skirts. Burgers are just too good to have abs. This lace top is so dainty and pretty and would definitely get you through the summer months with shorts and maxi skirts.
Denim shorts – I'm definitely feeling the love for denim in this post, amn't I?! It's so hard to find a nice pair of shorts that don't show 80% of your behind, but I think this pair might be a game-changer.
Lace up sandals – Lace up shoes are having a big moment this spring/summer, from heels to sandals to regular flats. I can see myself getting major value for money out of this tan pair, that also come in gold too. Decisions, decisions…
Shout out to my dad for holding my tops for me while I was trying to photograph them :')
Let me know in the comments what you think of these pieces, and what's on your summer wish list!