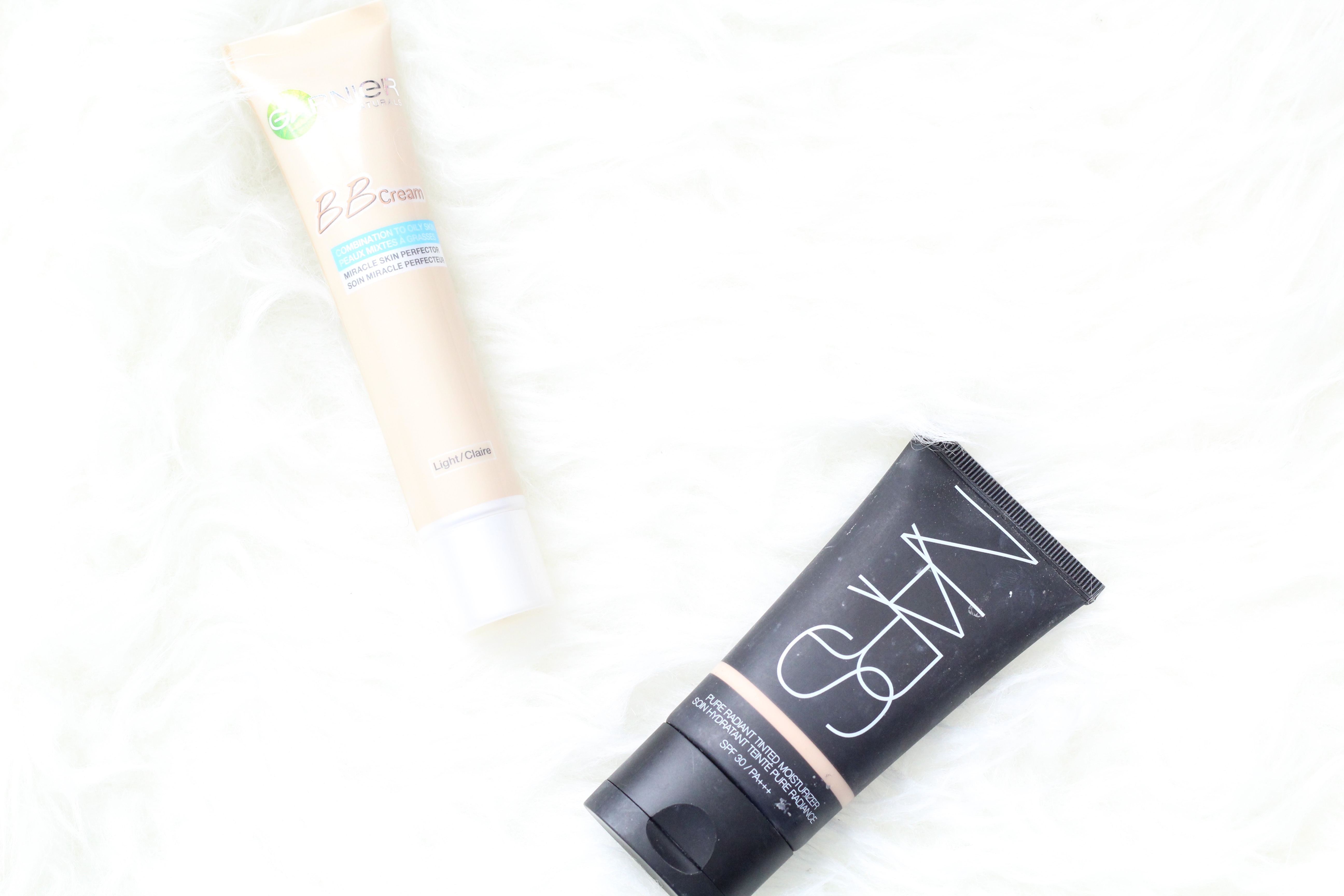 No matter what season, no matter how hot it is outside, whenever I wear makeup it's always full coverage. Thanks to some pesky blemishes and redness, that's always the case for me, although they don't stop me from going makeup free when I feel like it.
For days that it's too warm to wear a foundation, I always opt for a BB cream or tinted moisturiser instead.
I picked up Garnier BB cream for combination to oily skin a few weeks ago and I love it. My skin isn't very oily, but buying a BB cream during the summer for oily skin is a good idea as it's likely that your skin will be oilier because of the heat. The formula is quite liquid-y, but it isn't very runny. (Does my great use of descriptive words give away that I'm studying journalism? Jokes!) It gives medium coverage with one application and is buildable, so I usually apply one layer, then another on top of my problem areas for better coverage. There's no SPF in the formula, so be sure to put some suncream on underneath if you're heading out into the sun! With a small bit of powder on top, the BB cream lasts nearly all day without any touch ups. It wears off evenly and doesn't cling to any dry patches. I use the shade "light" and it's a pretty good match.
On the high-end side of the scale is NARS Pure Radiant Tinted Moisturiser. Tinted moisturisers are great because you can build as much or as little coverage as you like. One layer and another on my problem areas (the same as the BB cream) usually does it for me. I love the finish of this tinted moisturiser – it leaves your skin looking fresh and awake, even if you don't feel it! I use the shade "Finland" and it's perfect, I just add some bronzer on top when I've false tan on! The fact that this tinted moisturiser has SPF 30 in it gives it a slight advantage over the BB cream for me as it saves you that extra step!
Both products are great choices for a summer base as they not only provide coverage but they also hydrate and treat the skin. I use the Real Techniques Buffing Brush to apply for a flawless finish and add a little bit of MAC Studio Finish concealer where I need it.
I don't think I'll be throwing away my Estee Lauder Double Wear Foundation anytime soon, but these two beauties are firm contenders for the summer months!
What's your favourite summer base?