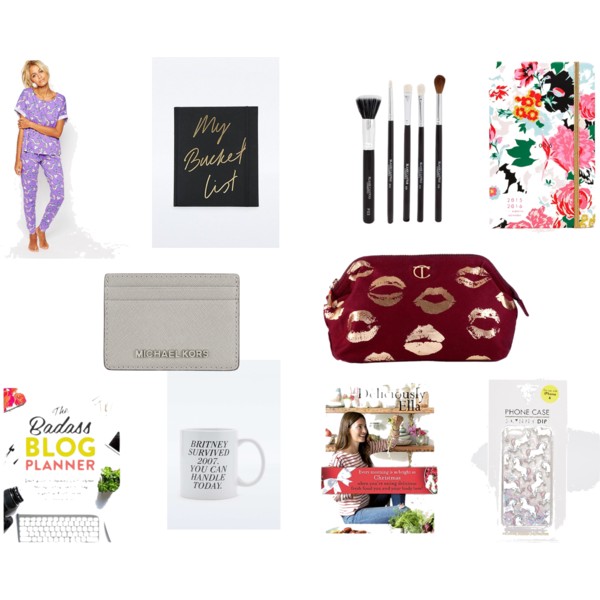 Today marks the start of this year's Christmas Gift Guide series – and I'm so excited! I'm starting off with the ladies, and guess what? Everything is under €50! This is a mixture of different products that I think will suit all ages and will be something any woman in your life will love.
For the one who likes to be cosy – These ASOS pyjamas are covered in mermaids. What more can I say!? If you've a friend who's anything like me and who's pyjamas are a mix of old t-shirts and flannel bottoms, I'm sure they'll appreciate these. Pj's are such a nice present to get as they aren't something people tend to spend a lot of money on. For a more affordable option, Penney's have a great selection in at the minute.
For the dreamer – We all know someone who has a bucket list as long as their arm, so give them somewhere nice to write it all down. I love this book from Urban Outfitters – it's sure to go down a treat with whoever you give it to. Unfortunately it sold out online since I made this post, so check your local Urban Outfitters or buy them a pretty notebook and decorate it yourself.
For the beauty novice – Whether it be your little sister who's just getting into makeup or your friend who uses the one brush for everything, a selection of hand-picked makeup brushes is a great gift. I love the E24, E23 and E26 brushes from Blank Canvas for eyes and the F03 and F28 for the face. Blank Canvas is a really affordable makeup brand and the quality of the brushes is incredible. Pop them in a pretty makeup bag and you're all set!
For the one who's always organised – This Ban.Do planner is a list-lover's dream. The floral cover is absolutely gorgeous and it has plenty of space for all of your plans and to-do's. There's a monthly overview, monthly dividers and two pages per week. It's an 18 month planner so it'll last ages, too.
For the girl who loves a bit of glam – I couldn't believe how affordable this Michael Kors card holder is, at only €45. A card holder is great for when you don't want to carry your purse with you and can hold a small bit of cash too. To see that someone bought you something from Michael Kors is a really nice surprise and is sure to be appreciated.
For the makeup maven – In my opinion, Charlotte Tilbury is the queen of high-end makeup. This cloth makeup bag is perfect for popping in your handbag and is so gorgeous. If you're feeling generous, fill it with some of the makeup brushes mentioned above for major present-points!
For the blogger – If it's not us ourselves, nearly everyone knows someone who's a blogger. From notes on phones, on pieces of paper and at the back of notebooks, this blog planner will keep everything in the one place. It's a year long planner filled with worksheets, giving you one place to keep everything blog-related.
For the coffee addict – We all need a little reassurance once in a while, and this Britney-inspired mug is one way to get it. It's good for a laugh, and is even better if you fill it with sweets as part of the present. Plus, it'll make for some pretty good Instagrams.
For the foodie – Deliciously Ella is my favourite cookbook that I bought this year. It's packed with easy, delicious (excuse the pun) and healthy recipes that anyone could make. Whether it be your mam or your best friend, anyone who can make toast will love this book.
For the magpie – If you know someone who loves glitter and anything shiny, this is the present for them. This Skinny Dip phone cover is covered in glitter and unicorns – what's better than that?! I'll be buying this for myself as a present for sure.
I'll have to stop myself from buying all of these as "presents to me". Let me know in the comments below what you think of these present suggestions!
Tomorrow's post will be for the people I find hardest to buy for – men!