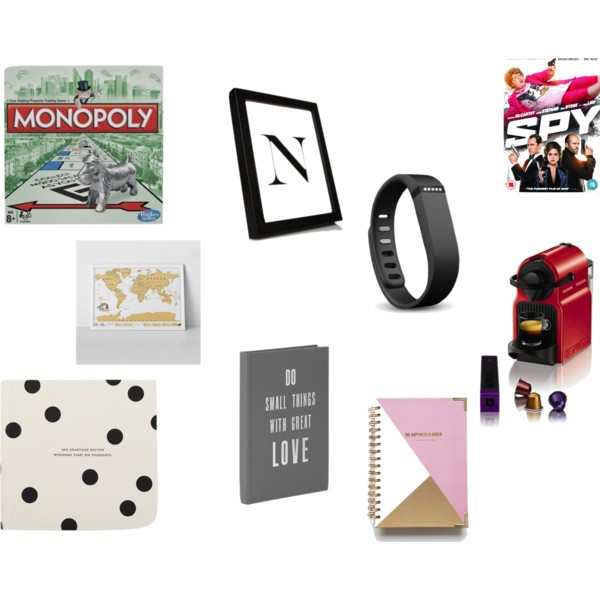 This year I've introduced two new categories to my gift guide series, the first being lifestyle. These presents are great for men or women, young or old, couples, family etc. I love lifestyle presents because I find that you always get the most use out of them and they can be really thoughtful. The prices range from €15 to €99, so there's something for everyone!
Monopoly board – It's not the first thing you'd thing of giving as a gift, but it's sure to go down well! Board games have totally disappeared over the past few years, so bringing a Monopoly board out is bound to bring back memories. It's something everyone can use on Christmas Day and over the few days off. Disclaimer: I take no responsibility for the family arguments that may ensue because of this game.
Letter print – Next have some lovely homewares bits in at the minute, like these letter prints. You can personalise it to whoever you're giving it to or spell out a word, "ME & U" or "LOVE" for example.
Fitbit watch – Whether it's your mam who goes on walks in the evenings or your best friend who's a gym fanatic, a Fitbit is a really fun present to give. It tracks your steps, sleep, distance taken, calories burned and loads of other things. You can connect it to the app on your phone to see all of the data, too.
Spy – Spy was, I think, one of the funniest movies of 2015. Although so many movies are streamed online, it's always good to sit down and watch an old-style DVD. It's guaranteed to make the whole family laugh.
Scratch map – I absolutely love the idea of this map. The countries are covered in foil and you scratch off everywhere you visit to reveal the colours underneath. For the wanderlust in your life, this is the perfect gift.
Nepresso machine – At some stage in a coffee-lover's life, instant coffee just doesn't do it anymore. Bring the barista to your house (not literally) and get a Nespresso machine. They're nice and compact and come in a few different colours, too. Don't forget to buy the pods to go with it!
Kate Spade album – Another old-style gift is the photo album. You can start it off with pictures of yourself and the person you're giving it to, or leave it blank for them to fill it in. There's nothing like having a nice photo album to make you print out some of the thousands of pictures on your phone!
Do Small Things with Great Love notebook – I love the idea of giving a notebook to the person in your life who's always full of ideas. Whether they want to write a book, always make lists or just make a few scribbles, a notebook is something nearly everyone will get use out of.
2016 Happiness Planner – For the person in your life who might need a little pick me up or the person who's always smiling, the Happiness Planner is an original and thoughtful gift. Everyday you write down different things, like your goals and what you're thankful for. I bought one this year and found that taking the time to write down what I want to achieve, change and be grateful for really improved my mood.
Hopefully at least one of these gifts will apply to someone in your life! I know they do in mine!
Do you have any lifestyle gift ideas?