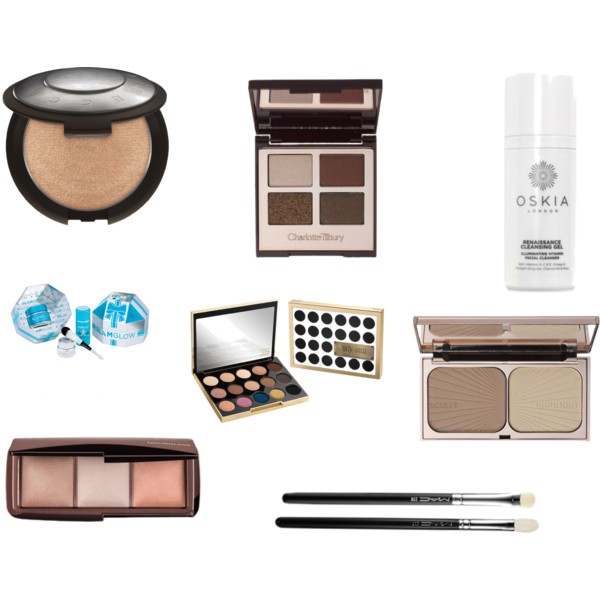 There's one week until Christmas and I'm putting up my last Christmas gift guide. I'd planned for this to go up earlier but, being honest, I honestly haven't had a chance to put it up sooner! I thought it was better to put it up late than never, and if you're anything like me, chances are you've a few bits of shopping to still get done!
I couldn't have a gift guide series without a luxe beauty addition, so here's my picks of the best beauty bits to splurge on this year!  Whether it be for your mam, best friend or granny, any woman in your life is sure to be happy with one of these gifts.
Becca x Jaclyn Hill Shimmering Skin Perfector in Champagne Pop – This is the product that made highlighter so popular this year. It has only recently launched in Space NK in the UK and Ireland after selling out numerous times in the USA. You can't go wrong with highlighter shades or textures, so this product is bound to suit whoever you buy it for.
Charlotte Tilbury Dolce Vita palette – I cannot praise this palette highly enough. The colours, the pigmentation, the formula, the packaging – everything about it is amazing. At €50, it is pricy, but I think it's worth every single penny. There are loads of different palettes with different looks to choose from at Charlotte Tilbury, so there's something to suit everyone.
Oskia Renaissance Cleansing Gel – A cleanser might not be the first thing you think of to buy someone, but it's something that a lot of us wouldn't splurge on for ourselves. I've had this cleanser for nearly a year, I use it minimum 4 times a week and there's still some left. It's a gel to oil cleanser and feels so luxurious on the skin. It takes every bit of makeup off easily and makes cleansing something to enjoy!
GlamGlow Gift Sexy Dazzling Hydration Set – I am not a fan of gift sets whatsoever. Usually they're filled with stuff you'll never use and work out at terrible value for money. However, this one changes the game. I was Christmas shopping, saw this and actually picked it up for myself. It includes the Thirsty Mud Hydrating Treatment 50g, Supermud Clearing Treatment 15g and Thirsty Cleanse Hydrating Daily Cleanser 30ml. The set costs just under €80, but to put that into perspective, the Thirsty Mud Treatment 50g retails for €67.50 on its own. Now that's value for money. I love GlamGlow products and think this is an amazing gift to give to any woman in your life.
Urban Decay x Gwen Stefani palette – Again, I'm not a huge fan of celebrity collaborations with makeup brands, but this is one not to miss. There are 15 matte and shimmer shades in the palette, all of which are totally wearable. Even the yellow and pink are nice as a small pop of colour. Urban Decay's palettes are always of the highest quality and are perfect for every makeup look.
Charlotte Tilbury Filmstar Bronze and Glow – Anything from Charlotte Tilbury is an amazing gift, in my opinion. Unlike a lot of contour kits, this one is really easy to use and gives a really natural contour and highlight.
Hourglass Ambient Lighting palette – *angels singing* How beautiful is this palette?! Like honestly, I'd be happy to pay just to look at it. There's a powder for glow, for blurring imperfections and for warmth. At £56 (nearly €80), it is very expensive, but taking the three powders into consideration and how much use you'd get out of it, the price doesn't seem so bad.
MAC 217 and 239 brush – I think it's always a good idea to invest in good makeup brushes as you'll have them forever. Two of my favourite eye brushes are the MAC 217 blending brush and the MAC 239 flat shader brush. It's a nice way to start building a makeup kit and is sure to be greatly appreciated.
Hopefully this will give you some ideas of what to buy the beauty lover in your life! If all else fails, check out my gift guide for the women in your life 🙂