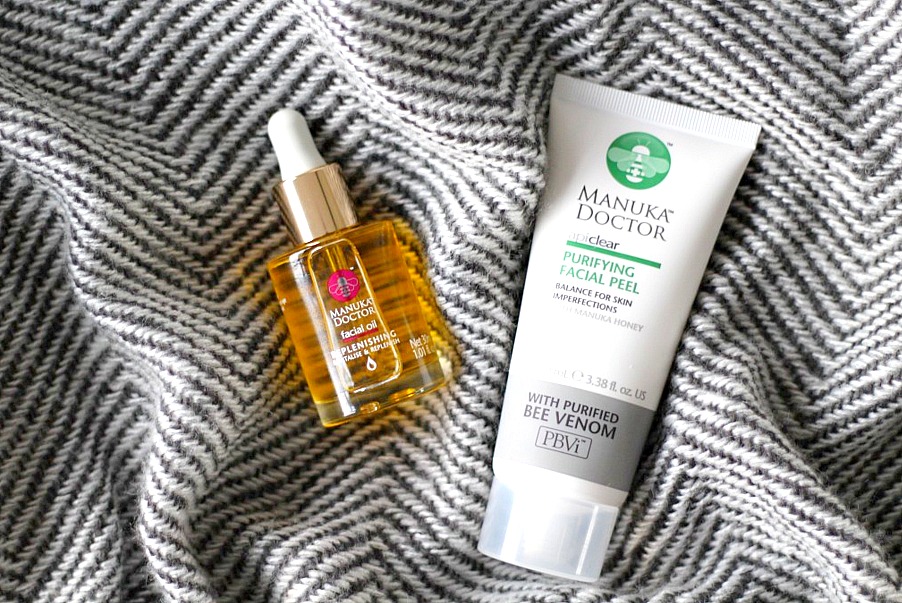 A few months ago I got the chance to try out two products from Manuka Doctor, the Replenishing Facial Oil* and the ApiClear Purifying Facial Peel*.
I'd never before tried a facial oil or peel, so I wasn't sure what to expect. I've problem skin, with regular breakouts and a combination of dry and oily patches. Because my skin is prone to breakouts, up until a few months ago I was afraid to regularly use masks or new products on it in fear of making it worse. I then realised that by not treating my skin, I was actually making it worse instead of better. Then began a new obsession with skincare and the hunt for products that could make it feel and look its best.
I was so excited to try the facial peel after seeing Shaanxo using it in one of her vlogs. Basically, it's a mask that you let dry in and then peel off your face. How satisfying is that?! It's like peeling off PVC glue from your hands like we did in primary school, but obviously much safer :')
The formula of the peel is quite gloopy and thick, but it's easy to spread over the skin. Apply a thin layer and then wait for the magic to happen. As this mask is part of the ApiClear range, it's specially formulated for congested skin. It lifts out blackheads and dead skin cells, as well as treating blemishes. Once the mask is totally dried in, peel it off. It lifts off easily without pulling at the skin. Any remaining little pieces of the mask can be removed by gently rubbing your skin or with a damp face cloth.
The mask doesn't leave my skin feeling sore or tight, but instead leaves it feeling soft and smooth. I use this once/twice a week and have noticed a visible reduction in the blackheads on my nose and chin, and any spots I have aren't so red or inflamed. My skin is smoother and looks brighter, too!
As for the facial oil, I was also apprehensive about using this. I thought it would be too rich for my skin and cause more breakouts. Unsurprisingly, I was wrong. The ingredients include manuka oil, argan oil and rosehip oil, all of which have multiple benefits for the skin. The oil can be used day or night but I only use it at night as I feel it's too rich to wear under makeup and might affect how my makeup lasts.
First thing's first – the product itself doesn't smell so great. But once you get past that, it's pretty impressive. I use about three drops on my entire face after I've cleansed and moisturised at night time. It sinks in after a few minutes and doesn't leave a greasy or heavy film on the skin. The next morning my skin is plump, soft and radiant. There's no residue left from the oil and my skin feels great. Any dry patches on my skin are treated, and areas around blemishes are smoother and less sore. As the oil is quite rich I only use it about twice a week.
Overall, I'm quite impressed with these two products. I'd never tried anything like them before but now they're both firm additions to my skincare routine. I'm looking forward to trying some more Manuka Doctor products, especially from the ApiClear range!
Have you tried anything from Manuka Doctor?