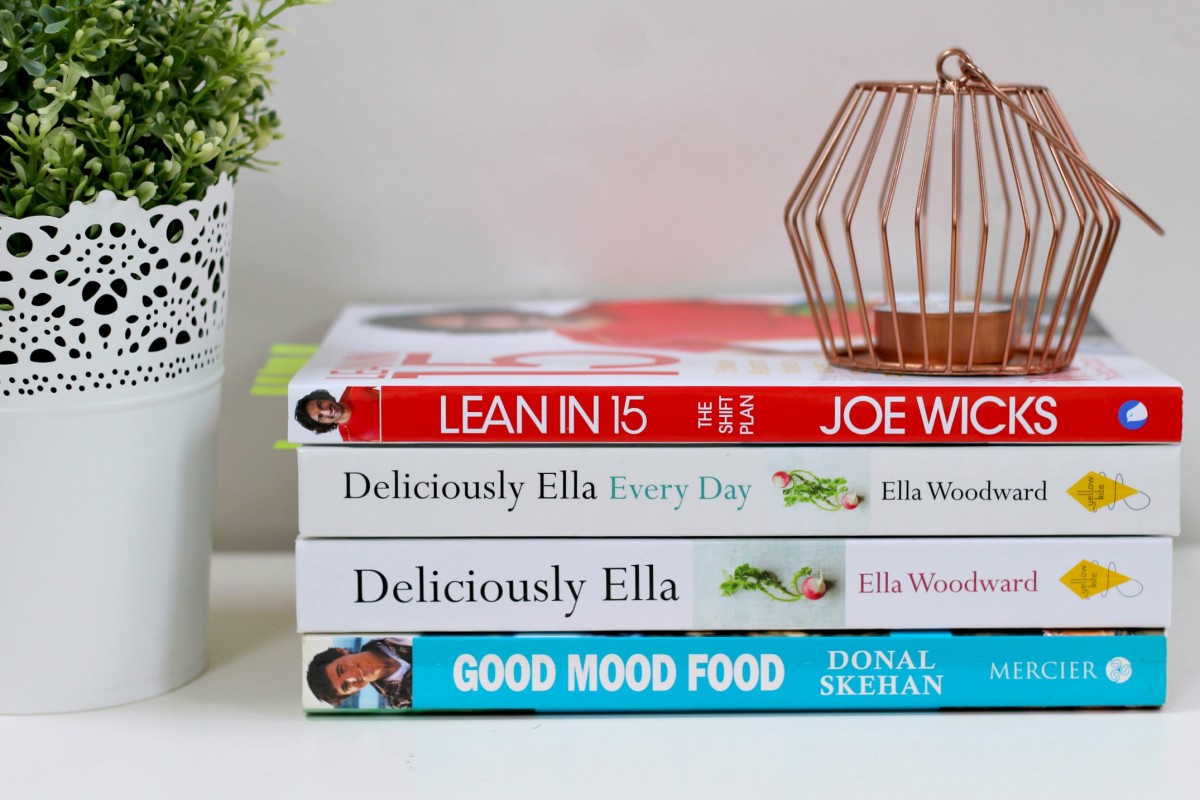 I might not talk about it a lot around these parts, but if you follow me on Snapchat (whatshedoesnow), you'll know that I'm a total foodie. I'm always baking, cooking and trying out new recipes. I love making filling, delicious food that doesn't take an age (who doesn't?!) and have built up quite a collection of cookbooks. Ordering cookbooks on Amazon is my weakness. I've a lot of books that I love, but some of them only have a few recipes that are quick and easy to make, and the rest include 40 minutes preparation. Here are my favourite cookbooks that are jam-packed with simple, amazing recipes.
Lean in 15 by Joe Wicks – I only got this a few weeks ago, but straight away it became one of my favourite books. I've followed Joe on Instagram for a few years and constantly scribbled down his recipes from his 15 second videos. To say I was excited when this came out was an understatement. As the name says, each of these recipes (except for maybe 3) take less than 15 minutes to make, are healthy and nutritious, and use ingredients that you already have in your cupboard. The Bad Boy Burrito, Thai Beef Stir Fry and In-a-Hurry Curry Fried Rice are three of my favourite recipes from this. *drools*
Deliciously Ella Every Day by Ella Woodward – Another recent addition to my collection, I knew as soon as I had a flick through this that I'd love it. You might know that I've gone vegan for the month of February, so this book has been a total lifesaver for me. I love how each section has a shopping list, making it really easy for doing the food shop. The aesthetic of this book is absolutely gorgeous. The Easy Pasta Arrabbiata has become one of my go-to recipes – love, love, love.
Deliciously Ella by Ella Woodward – Ella's first book introduced me to the plant-based lifestyle and made me become more aware of what I'm putting into my body. Again, the recipes are easy to make and have become some of my everyday staples. I don't feel like Ella's two books double-up on each other, though. They're both packed with wholesome, healthy dishes to curb any craving. I've made the Apple and Blackberry Crumble and Flapjacks more times than I can count.
Good Mood Food by Donal Skehan – This was the first proper cookbook I bought myself, and it's probably what got me so into cooking. There's not one recipe in this that I wouldn't make. There's a recipe for every occasion, and I think I could live solely on this cookbook. It'll filled with hearty, feel-good dishes (as the name suggests) and I love that. The Hasselback Potatoes are reason to buy this book alone.
I love sitting down at the start of the week and bookmarking my favourite recipes to plan meals for the next few days. Each of these books are no-fuss and don't require having to order a specific ingredient online which you'll never use again (we've all been there).
Writing this post while I'm hungry was a very, very bad idea. Time to get cooking!
What are your favourite cookbooks?