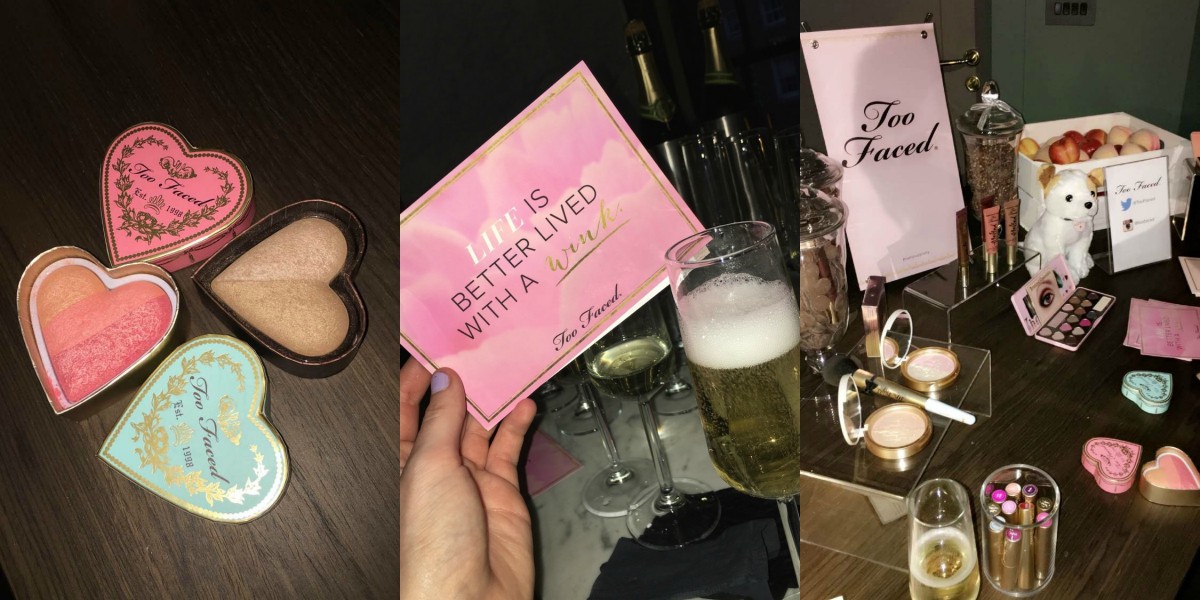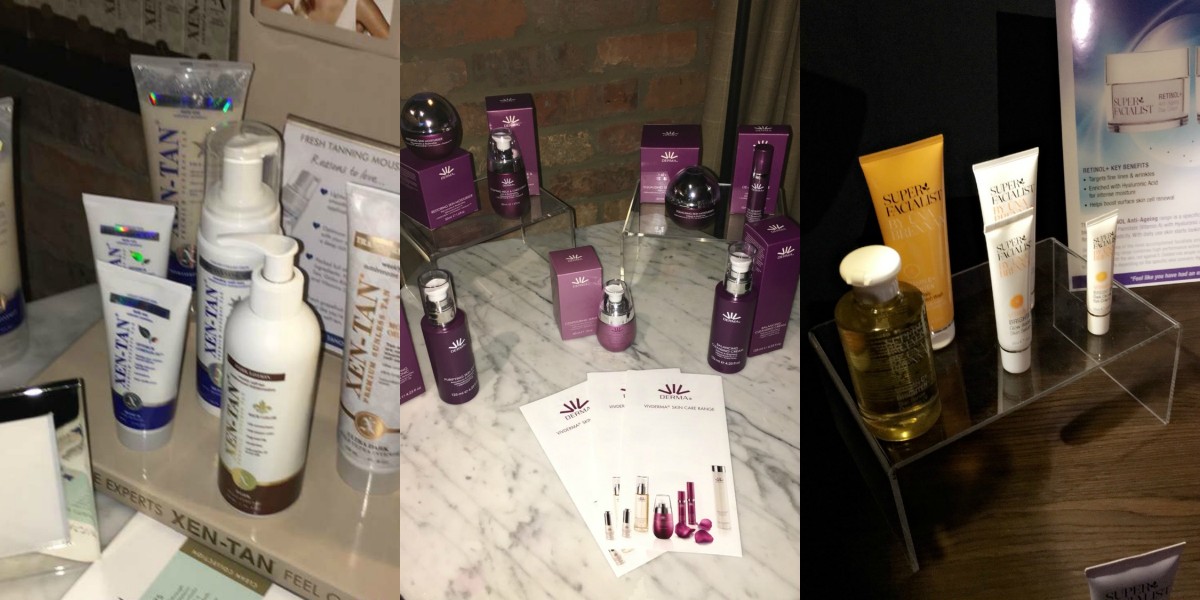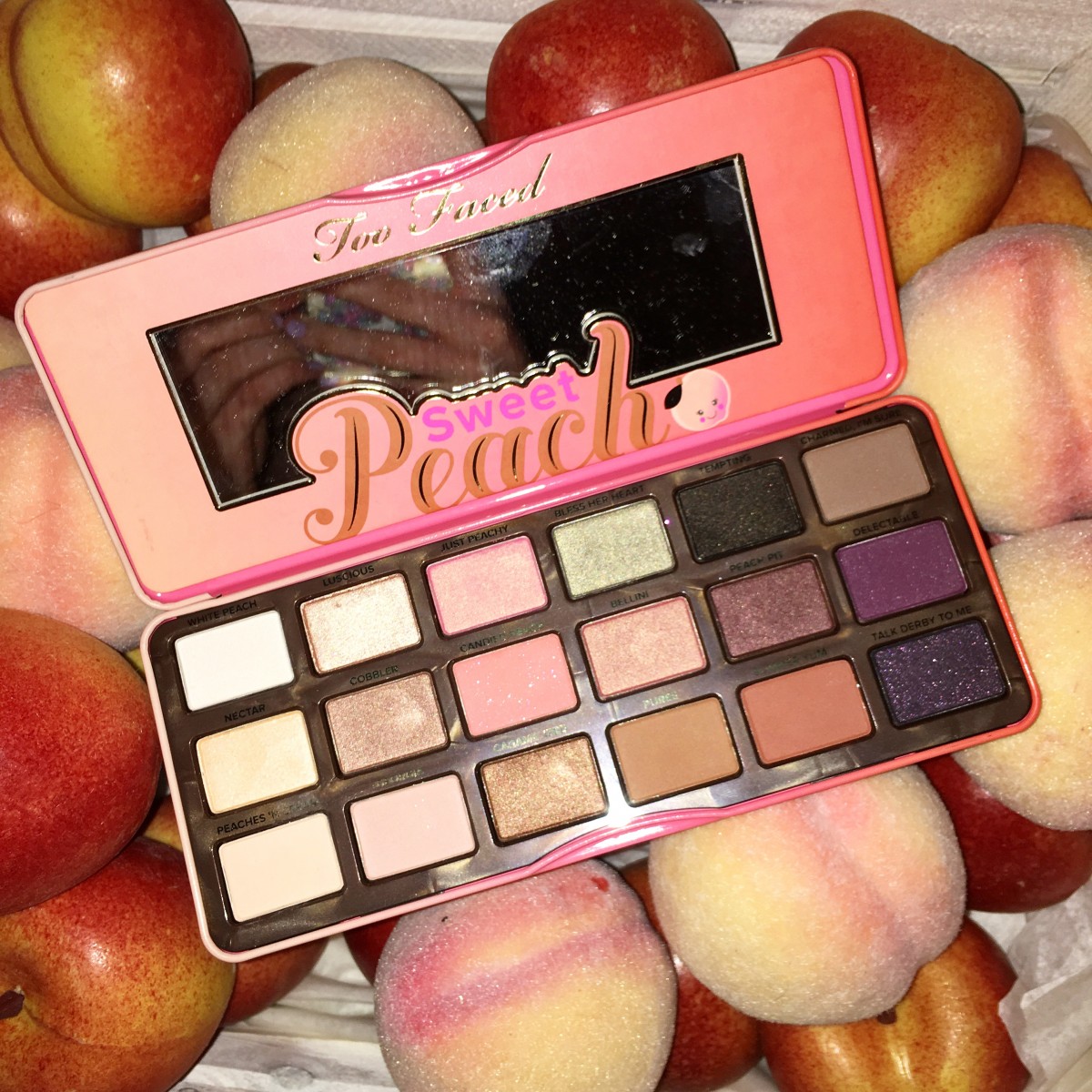 Yesterday evening I went along to the beauty product launches event for Makeup Forever, Too Faced, Xen Tan, Super Facialist, Derma and Amazing Cosmetics. It was on in The Dean Hotel on Harcourt Street, which is one of my favourite venues. I went with the gorgeous Clare from Clare With the Hair and we had an absolute ball looking at the new products that will be coming out over the next few months. We were literally spoiled with champagne, nibbles and a gorgeous goody bag.
I usually don't write event-style posts but I was so impressed with the event yesterday I had to share it with you!
Here's some of what's coming out:
Too Faced // I've only ever tried one product from Too Faced before, but after last night I'm sure it's going to become one of my favourite makeup brands. There are loads of new launches coming from Too Faced over the next few months. I'm most excited about the Sweet Peach palette, which comes out this summer. It literally smells like peaches and as you can see above, the shade range is gorgeous. The Mr Right Perfect Powder Brush (€36) also caught my eye, and can be used for powder, highlight, blush or bronzer. The Candlelight Glow duo in Warm Glow (€30) has a gorgeous champagne and peach highlight, ideal for getting that summer glow. Too Faced also have a wide range of lipsticks, the most unique being Unicorn Tears (€22). It's a shimmery, pale blue opaque unicorn sparkly colour! Head to Debenhams if you want to make some Too Faced purchases.
Xen Tan // Again, Xen Tan is a new brand to me. I'm a huge fan of false tanning (you probably know that by now!), so I'm always on the hunt for the nicest and best tan. Xen Tan have brought out the Fresh Prep Scrub (€24) that's specially formulated for using before tan and to prep the skin for tan. The Moroccan Tan Ultra (€67) is also new product, which develops in just two hours to give a deep olive colour. The tan claims to last up to two weeks (!!!) and contains Moroccan oil to keep the skin smooth and hydrated. Xen Tan is available from Boots.
Derma // Derma is a new brand to Ireland that specialises in effective and hard-working skincare. I tried out the Comforting Gellee Cleanser (€41), which I was very impressed by. It's a jelly-like cleanser that turns into a milk once you add water. I'm dying to use this to take off my makeup! The Perfecting Facial Oil (€84) looked amazing too, and literally made my hand feel like silk. It's packed with Moroccan oil, Argan oil and Bioretinol to smooth, brighten and hydrate the skin. Derma is available online.
Super Facialist by Una Brennan // I'm a huge fan of the Super Facialist range as it's affordable but really, really works. New to the Super Facialist collection is the Probiotic range. I'm not too good with the science part of skincare, so here's what the Super Facialist website says about the range: "Traditional skincare is very sterilised which kills any and all bacteria – good and bad, however Super Facialist has recognised and embraced the benefits of probiotics, harnessing its powers for maximum benefits. Each product in this incredible range contains a unique blend of healthy bacteria, anti-ageing actives and skin soothing naturals to gently yet effectively nourish and balance sensitised, stressed, damaged or overly treated skin." Super Facialist is available from Boots.
Amazing Cosmetics // Another brand I wasn't familiar with, but am very excited by! Last night I had a look at the Amazing Concealer (from €27) which can be used to cover spots and blemishes, dark circles, sun damage and rosacea. Rosie Huntington-Whiteley, Heidi Klum and Anne Hathaway are among some of the celebrity fans for this. You can buy Amazing Cosmetics online.
Makeup Forever // The one product I've always wanted to try from Makeup Forever is the HD foundation (€40.50). It claims to give a natural finish, so much so that it looks like you're not wearing foundation. It's also specially formulated for photographs, video and television, making the skin picture perfect. That sounds like a pretty impressive foundation to me! I'll keep you updated with how I get on with this one. Makeup Forever is launching in Debenhams this summer, so it's even easier to get your hands on it!
If you've made it to the end of this, give yourself a round of applause! They're just some of the products we saw last night. There were so many, if I was to write about them all we'd be here all day!
Hopefully you're as excited about these new launches as I am. Keep an eye out for features and reviews on these over the next few weeks, there'll be plenty to come!
A huge thank you to Wizard Publicity for such a brilliant event.