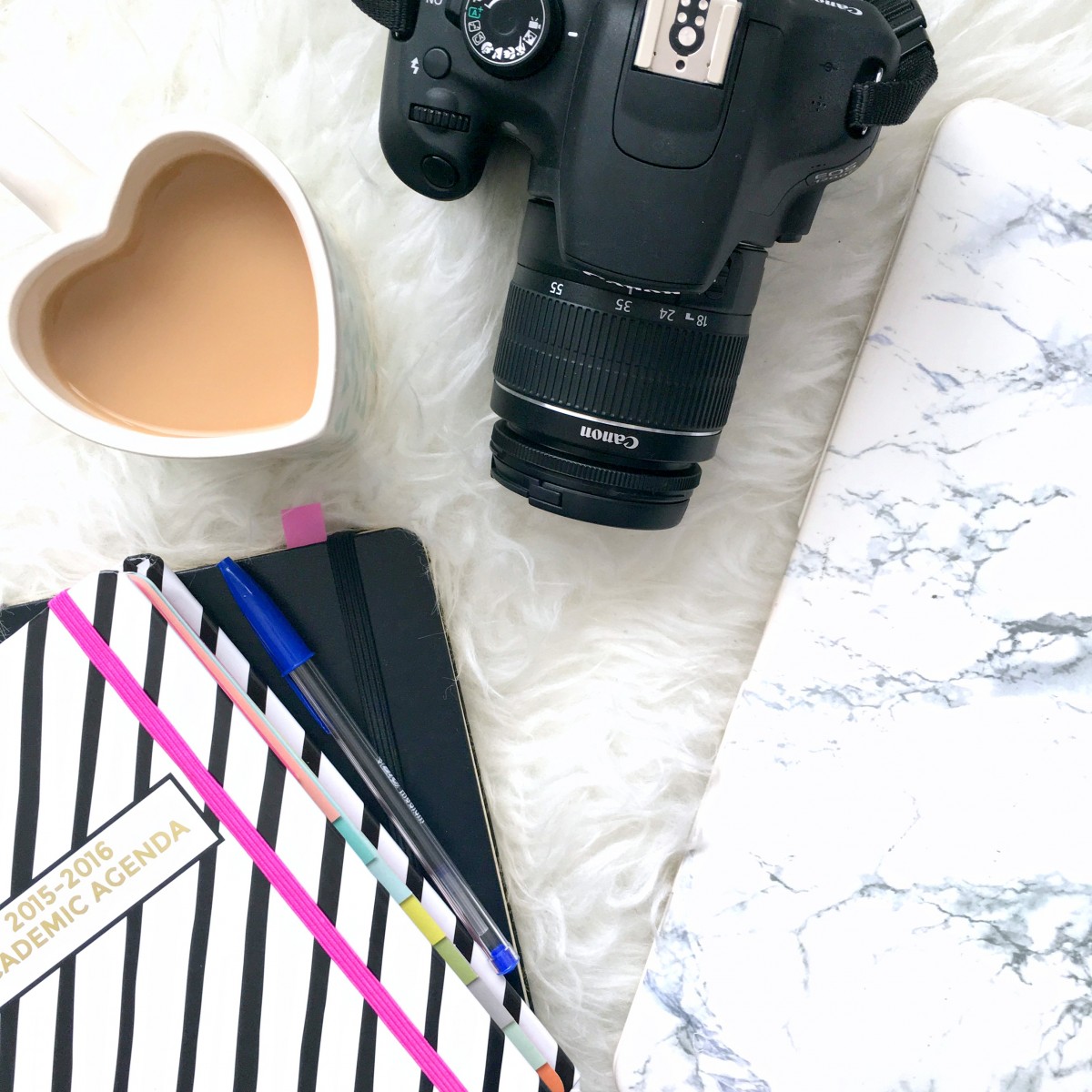 I've been blogging for nearly two and a half years now, and over that time I've gathered a few things together that have become my blogging essentials. When it comes down to it, to blog you really only need a laptop/phone, a few words and an internet connection.
Saying that, I've a few extra things that make blogging something I really enjoy and something I work really hard on. If you're a new blogger, you might be a bit stuck with what you need and where to start. Here are my essentials:
Laptop – I'd be totally lost without my laptop. I have a MacBook Air and it does the job perfectly. I write and publish all of my posts from here, edit YouTube videos, edit photos – everything. It's really fast and easy to use and has plenty of memory for all the files I store on it.
Camera – I used my iPhone to take all of my blog photos for the first year and it was ideal (the photo above was taken on my iPhone). When I wanted to improve my photography and start filming videos, I invested in the Canon 1200D. As far as DSLRs go, this one is on the affordable side of things. I use the 50mm lens to take blog photos, and the zoom lens that came with the kit to film videos. I absolutely love this camera – as a total newbie to DSLRs it was really easy to use and I'm always happy with the photos I take on it.
Notebooks – As much as I love my laptop, I always have to have lists and plans written out in a notebook. I use the A Beautiful Mess planner to plan my posts and a Moleskin notebook to write down post and video ideas and track when I've taken photos, written and uploaded them.
Tea – Do I even have to explain this one? Tea is an everyday essential for me and keeps me warm when I'm sat still at my laptop for a few hours. Some kind of snack is usually involved too.
Good lighting – I can't take any blog photos without good lighting. I like to keep things as bright and as clean as possible around here, so I try to shoot my photos between 11am and 2pm, when it's usually brightest outside. I take my photos under a window and always use natural light.
PicMonkey – PicMonkey is my favourite photo editing site. I edit my photos as little as possible – if the lighting is good enough they don't require any editing at all. I use PicMonkey to adjust the brightness, highlights, sharpness and saturation when needed. It can make a huge difference to how a photo looks, and if you do it carefully it will look like you didn't do any editing at all.
Social media – When it comes to blogging, social media plays a huge part. I'm still finding my way in promoting posts and my blog without being spammy, but sharing your blog on social media really helps to attract people to your site. I recently discovered Buffer, which is great for scheduling tweets and Facebook posts.  I love using Twitter, Snapchat and Instagram for finding new blogs and interacting with different bloggers, and Facebook for sharing new posts.
Inspiration – I find it impossible to write if I don't feel inspired or motivated. I have to mean every word I say and be excited about a blog post when I'm writing it, otherwise I won't get past the first sentence. I use magazines, books, my friends, family, boyfriend – literally anyone and anywhere to find inspiration. I look online, look around my room or think about what I'm loving lately. There are so many secret blog post ideas floating around! The best ideas are often literally right in front of you.
And there ya have it – my blogging essentials! Here's my blogging routine and a few tips for blogging, if you're interested!
What are your blogging essentials?