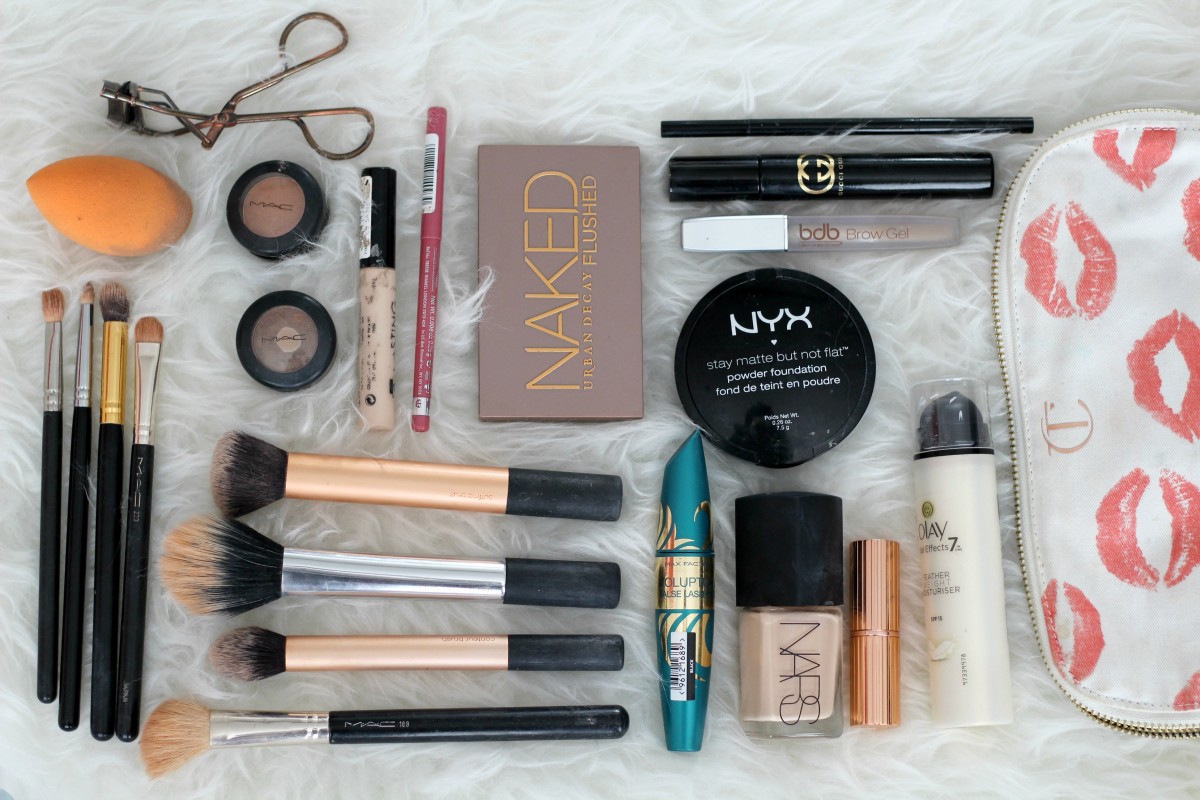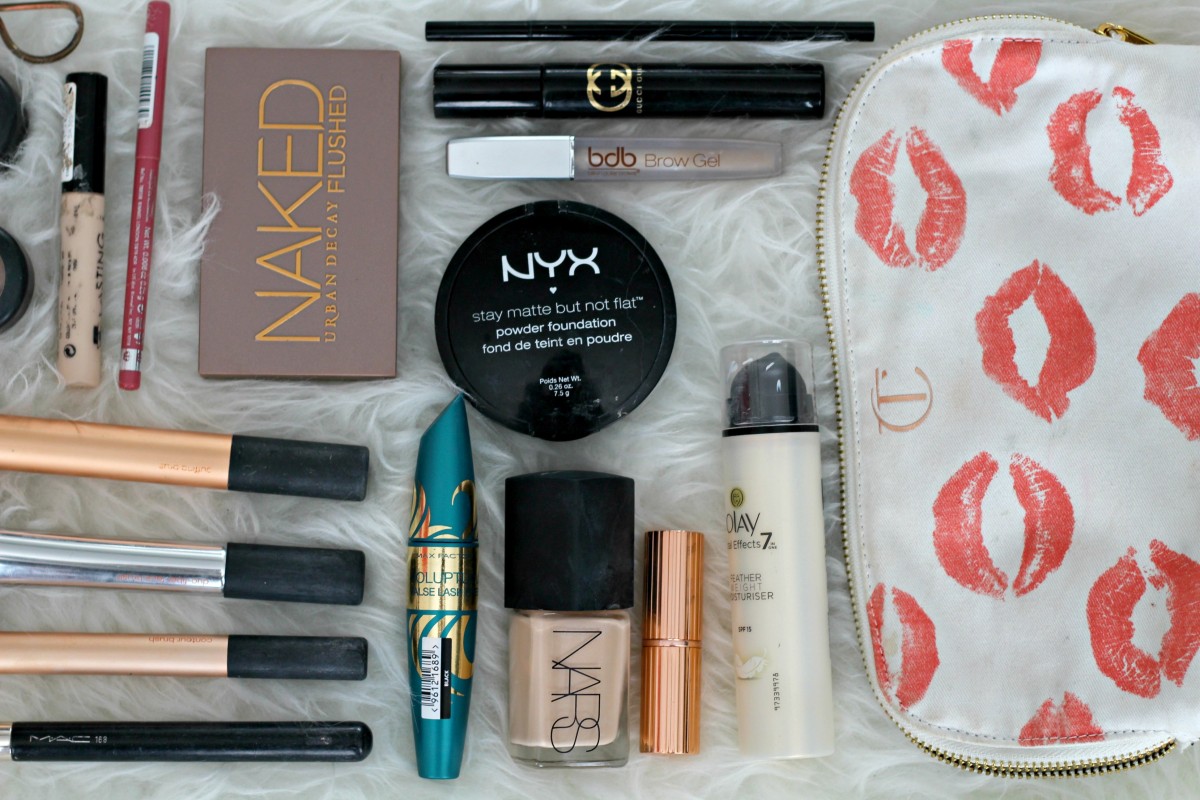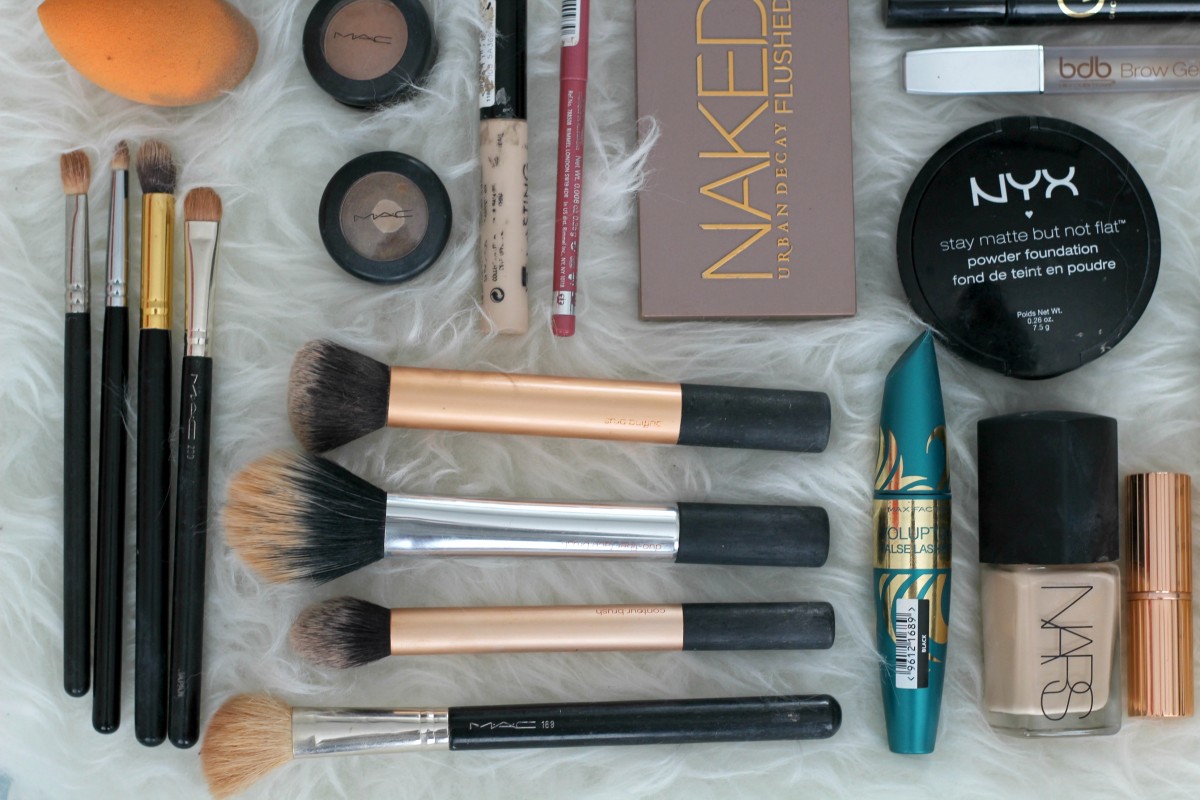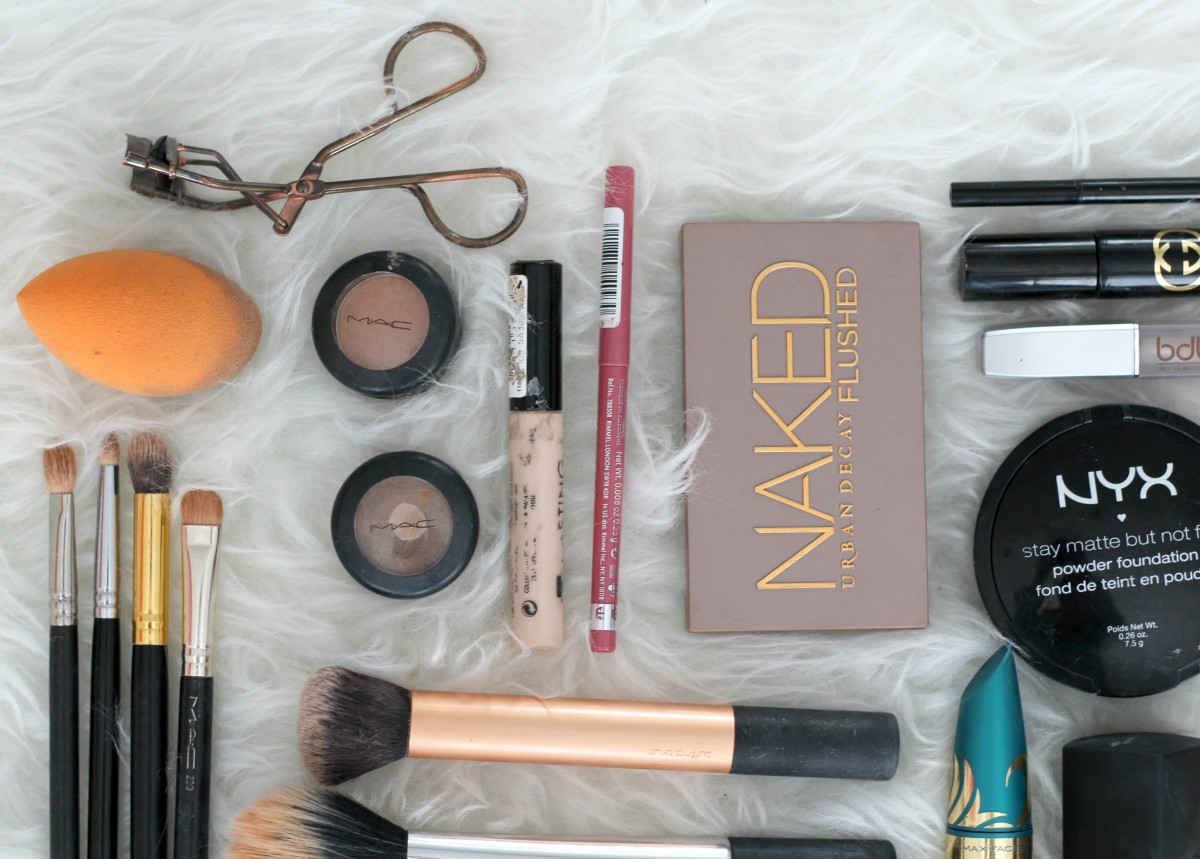 As much as I wish I could bring all of my makeup with me when I'm travelling or staying overnight somewhere, it's really not a possibility. What I end up bringing is my go-to products, the ones I know won't let me down.
As you can see from the photos above, there's quite a few products and tools that I bring. Before this post gets miles long, I'm going to get started!
The makeup bag I use is this one from Charlotte Tilbury. It's a gorgeous cloth bag that packs in way more than you'd expect. My favourite moisturiser at the minute is the Olay Feather Weight Moisturiser. I wrote all about it in this post, so have a read if you want to hear more about it. Starting with the base, I bring my NARS Sheer Glow Foundation, Collection Lasting Perfection Concealer and NYX Stay Matte But Not Flat Powder Foundation. The combination of these three gives a good level of coverage without looking cakey.
As always, my go-to brow products are the Soap & Glory Archery Brow Pencil and the Billion Dollar Brows Brow Gel. I absolutely love the Naked Flushed palette as it has a gorgeous blush, bronzer and highlight shade, all in the one place. As for eyes, I use MAC Woodwinked eyeshadow all over the lid and blend it out with MAC Arena. It's one of my favourite eye looks and is so simple to do, either for day or night. I've been trying out the Max Factor Voluptuous Lashes mascara the past few weeks and I'm very impressed.  I always curl my lashes first with the Charlotte Tilbury Eyelash Curler as, no matter what, my lashes stick straight out otherwise.
When it comes to lips, Rimmel Eastend Snob liner and Charlotte Tilbury Miss Kensington are my ideal duo for a long-lasting nude lip. I always carry a travel perfume to freshen up, I'm using Gucci Guilty at the minute.
For brushes, I use the Real Techniques Buffing Brush for my foundation, a Jessup brush for concealing spots and blemishes, the Real Techniques Miracle Complexion Sponge for under eye concealer and the Real Techniques Duo Fiber Face Brush for powder. I use the MAC 168 for blush and the Real Techniques Contour Brush for bronzer. I use MAC 239 to pack shadow onto the lid, MAC 217 to blend and the Blank Canvas E23 to smoke out my lower lash line.
Aaaaand breathe! That's everything that I carry in my on-the-go makeup bag, and is pretty much my everyday makeup look. Apologies for the slightly dodgy photos, I wanted to take them before I put everything away and wanted to show the products properly.
What's in your on-the-go makeup bag?