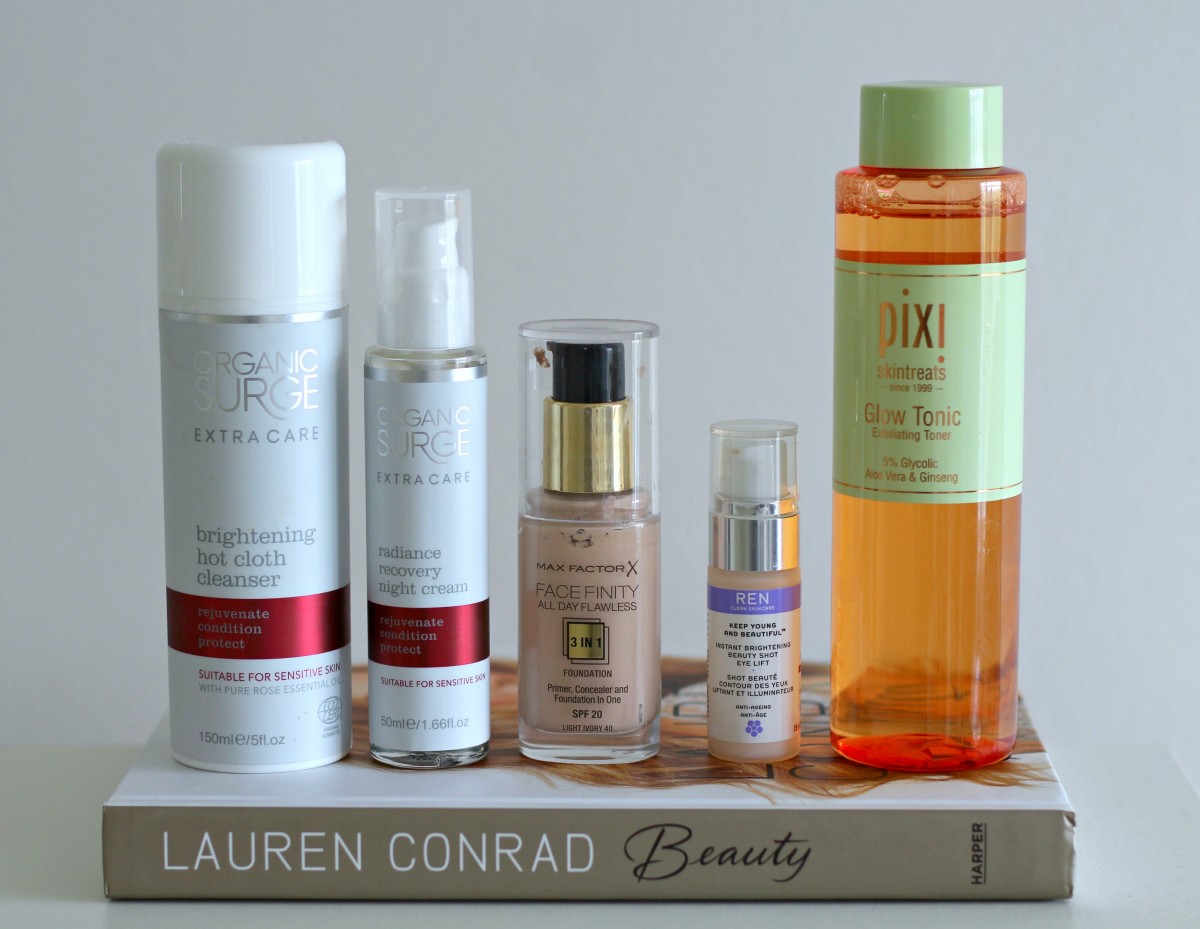 It's pretty often that I get a new beauty product, try it out for a few weeks and then totally forget to blog about it. It's not because I didn't love the product, but most of the time it just slips my mind and goes to the bottom of my list when it becomes "old".
I've a few new beauty products that I'm trying out at the moment, some that are new to just me and some that are totally new to the market. I love trying things for an average of four weeks before I write a review or give my final opinion on them as I want to make sure I've tested them out fully. But sometimes four weeks is a long time to wait, so I thought I'd share with you a few of the new bits that I'm trying out at the minute and how I'm getting on so far:
Organic Surge Brightening Hot Cloth Cleanser* – Organic Surge is a new skincare brand to hit Irish shores and, as the name suggests, all Organic Surge products are organic, 100% free of harsh chemicals and are not tested on animals. I'll have a full post up about all of the products I've tried from the brand, but for now I'll talk about the two I've been using most.
Any product that says "hot cloth" on it has me sold. This cleanser is super gentle on the skin and removes makeup quickly and easily. It feels so nice to rub into the skin and leaves my face feeling super smooth, soft and hydrated. It smells really nice too – like something you'd use in a beauticians. I'm a massive fan of this so far!
Organic Surge Radiance Recovery Night Cream* – I've gotten big into night time skincare recently, so I was very excited to give this a go. For some reason the shape of the bottle keeps making me think this is a serum, but it is a night cream. It contains argan, damask rose, safflower and geranium oils which work to replenish your skin as you sleep. The formula is a really nice cream that sinks into the skin easily, while still feeling like you're being pampered. Again, I love the smell of this.
Max Factor Face Finity All Day Flawless 3in1 Foundation* – I've mentioned before that I'm a bit wary of drugstore foundations, but my mind is slowly and surely being changed. Shade-wise, this foundation is perfect. I'm Light Ivory 40 and it's a perfect match for when I've no fake tan on, which is pretty much most of the time. This foundation is a primer, concealer and foundation all in one. I'm not too sure whether I fully agree with that statement as I still have to use concealer after this, but I'm loving the foundation itself. It gives good coverage, lasts well on the skin and has a lovely satin finish. It also contains SPF20, which I love.
Ren Instant Brightening Beauty Shot Eye Lift* – This is one product I was really interested in trying out. It sells itself on being a product that brightens, tightens and treats the eye area. It reduces puffiness and fine lines, and can be used under and over makeup. It has a pearly finish to it, which means it also acts as a strobing cream. While I don't see the results of its anti-ageing claims just yet, I'm a big fan of this product as an eye cream. It's really cooling on the skin and overall makes my eye area look more awake – which is always a good thing!
Pixi Glow Tonic – Pixi Glow Tonic is by no means new to the market, but it is new to me. After seeing one too many people rave about it, I decided I had to give it a go. I don't say this lightly, but I don't think I've ever seen results with a skincare product as quickly as I have with this. I use it in the morning and at night, and as a result my skin is brighter, smoother and has less breakouts. I genuinely can't get over how good my skin looks since I started using this. My skin usually looks quite dull and tired, but this has made such a massive difference. Love love love!
I'm so impressed with these few new products I've tried out so far. I have sensitive skin that reacts quite easily to products, but I haven't had a problem with any of these.
Keep your eye out for more details on these few in the next few weeks – plus I've more new products to share!
I'd just like to give a little reminder on my disclosure, which you can read here if you like 🙂