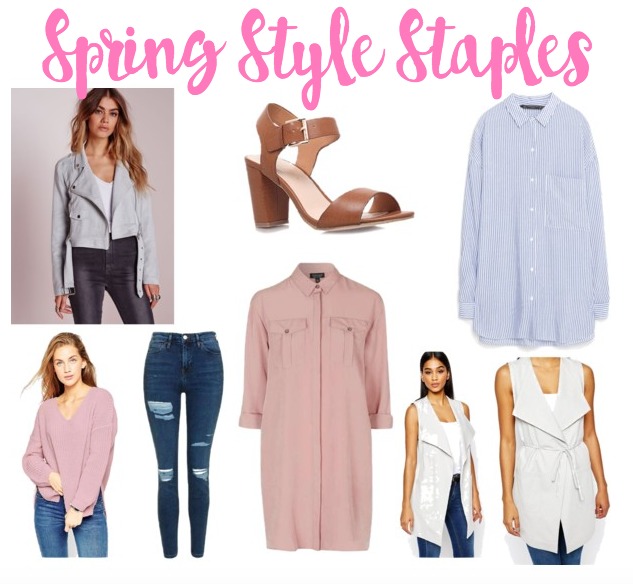 For a gal who spends a fair chunk of her money on clothes and has an overflowing wardrobe, I really don't talk about fashion and style on WhatSheDoesNow as much as I'd like to.
I love picking up a few pieces here and there to add to my wardrobe, and am really trying to tone it down impulse buying (guilty as charged). This spring has me so excited to go shopping as I'm really loving this year's trends. For once we've finally moved away from florals and have a really good selection of stylish, wearable clothes on the market.
Here's a few pieces that I either have in my wardrobe and love, or want to pick up!
The suede jacket (€56) // I ordered this jacket in black a few months ago and have gotten so much wear out of it. It's a nice change from a leather jacket, it isn't too heavy but it still keeps you warm. It looks good day or night, and grey goes with pretty much everything. If the grey was available when I bought mine I definitely would have gotten it instead!
The wear-everywhere sandals (€75) // These shoes tick all the boxes for me. The tan colour is ideal for spring/summer, the heel is just the right height and the strap around the ankle gives a nice bit of detail. I bought a pair of sandals identical to these in Penneys last year and got so much wear out of them. Whether you're popping into town during the day or having a few drinks in the evening, these shoes can be worn anywhere.
The stripy shirt (€19.95) // My love for stripes is a little out of hand, but I couldn't resist picking up a stripy shirt this season. I've gotten so much wear out of my shirt with jeans and trainers, or tucked into a skirt with heeled boots. It's dressy enough that you could wear it to work, but casual enough to wear on the weekends too. Put a nice lace bra underneath if you want to spice it up a bit 😉
The sleeveless blazer (€56) // I bought a blazer similar to this on a whim a few weeks ago and wasn't too sure about it. Since then, I've worn it a dozen times and it's become a key piece in my wardrobe. Again, the grey colour of this one goes with everything, and the waterfall fit is so flattering. I wear it tied over a leather skirt or high waisted jeans and cami top. Spring is all about layering, and this is the perfect layering piece.
The shirt dress (€55) // Blush is one of the most popular colours for spring this year and I couldn't be happier – it's gorgeous! There are so many ways you can wear a shirt dress, if you pick one up you'll wonder how you lived without one: with bare legs and trainers, over leather trousers with some killer heels, with sandals while travelling, open over a long top… the list goes on! I'm dying to pick this up when it comes back in stock in my size!
The ripped jeans (€60) // In Ireland, it's unrealistic to have a spring style staples post if it doesn't include jeans. The rips on these keep the jeans spring-appropriate, and again go with nearly everything. I absolutely love Jamie jeans – they're so comfortable!
The jumper (€40) // Jumper? In spring? Yup. Just like jeans are a necessity in spring with Ireland's unpredictable weather, so are jumpers. Going for the blush colour again, this jumper will get you through the cold mornings and roasting evenings. Either with jeans or a leather skirt, you can't go wrong with a nice knit.
Writing this post has made my urge to shop even stronger – oops! Roll on payday!
What are your spring style staples?