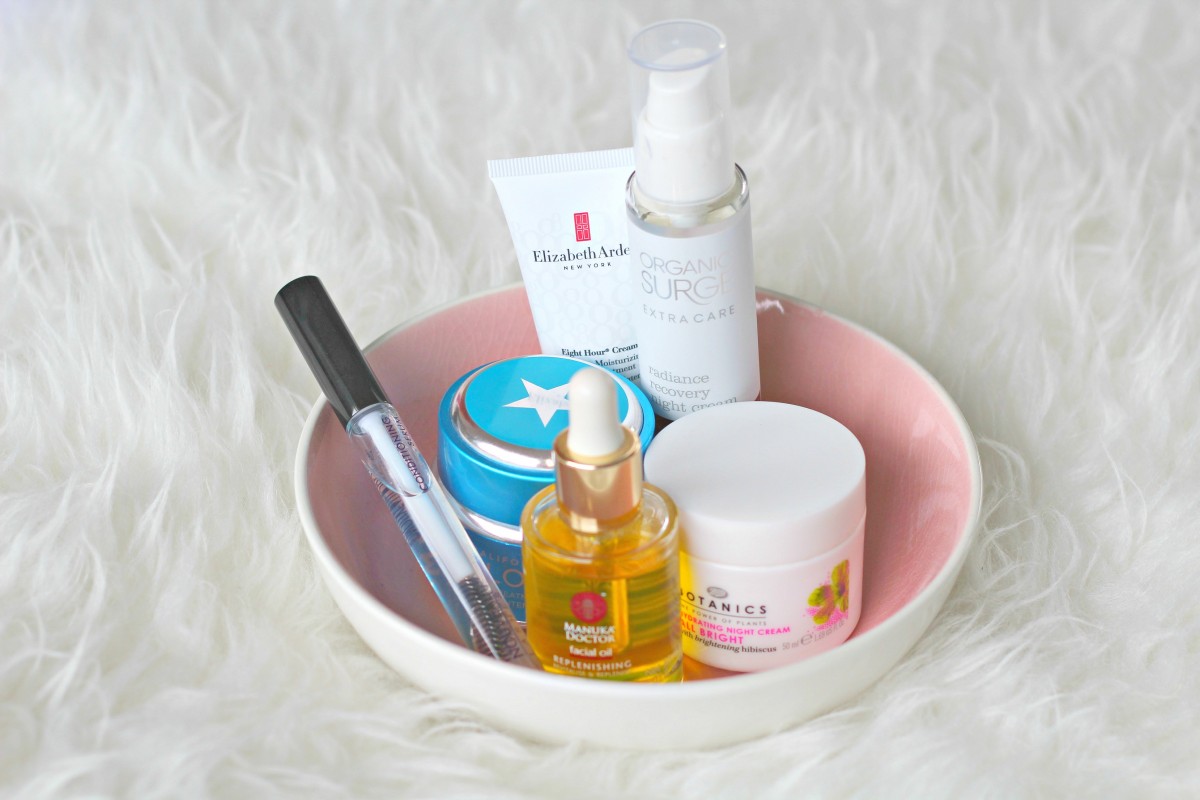 For a gal who has more moisturisers/serums/oils than I'd like to admit, for quite a while I didn't use any products at night. Not even moisturiser. I'd take off my makeup and that was it.
Now, however, things have changed. A bit of pampering is something I look forward to every night before bed, so much so that I've replaced my nightly bowl of cereal with a bowl full of beauty products.
I keep the bowl on my bedside table so I can use the products while I'm sat comfortably, rather than hopping into bed and realising I forgot to use my moisturiser that's half-way across the room. No way would I get out of bed then.
So I picked up this super cute bowl from Tiger and keep all of my night-time beauty products in it. Sometimes I swap products in and out if there's something I'm making an effort to use, so nothing gets left out.
Here's what's in my bedside beauty bowl at the minute:
Nouvelle Lashes Conditioning Serum* // I don't use this serum very often, to be honest. Putting something on my lashes before bed feels a bit weird to me, but healthy, shiny lashes can only be a good thing, so I'm keeping it in the bowl to remind me to use it more regularly.
GlamGlow Thirsty Mud // This is my one of my favourite products ever. And I don't say that lightly. I put this mask on a couple of times a week and let it soak in while I'm asleep. It truly works wonders. My skin is plumper, softer and brighter after using this mask. It improves the overall quality of my skin and I just love it. There's a full review here if you want to read more about it.
Elizabeth Arden Eight Hour Cream // I came across my first Eight Hour Cream a few months ago and I already love it. It's such a handy all-rounder to keep close by. I use it on my hands, arms, feet, legs, face, lips… you get the gist. It keeps things hydrated and soft, while being gentle and effective.
Organic Surge Radiance Recovery Night Cream* // The packaging of this product makes it a total standout for me. Unlike most creams, it has a pump to dispense the product. I love this because it isn't messy and it's great if you've long nails so you don't have to scoop the product out and get loads stuck under your nails. As the name says, it gives a boost of radiance to the skin while tackling dryness.
Boots Botanics All Bright Hydrating Night Cream // Can you see a theme emerging here? This cream is super light and soaks quickly into the skin, which is great for an everyday product. It makes my skin feel so soft and smooth and looking refreshed in the morning. It's a great budget product, too.
Manuka Doctor Replenishing Facial Oil* // I'm generally not a fan of facial oils, but this one is an exception. I use this when my skin is in need of some major TLC. Using this is like giving yourself a quick and easy at-home facial. It feels really nice on the skin and gives it a gorgeous glow.
Six products might seem a bit excessive to keep beside my bed, but while the face products are similar, they each do a slightly different job. I just grab whatever I feel like my skin needs and I'm never let down. Next time I do a product switch-up, I'll be sure to let you know!
What are your bedtime beauty must-haves?