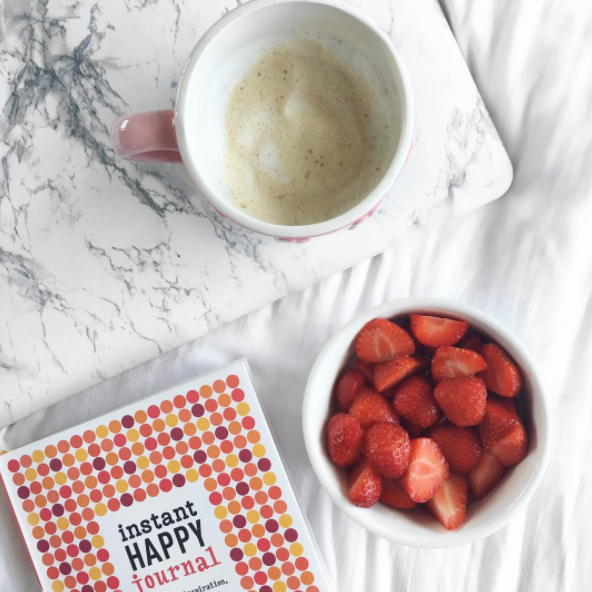 Firstly, happy new year everyone! Here we are in 2017 with 12 new months and 52 new weeks ahead of us. While I love setting goals and resolutions, I try to set them every couple of months rather than setting loads only in January as that can be quite overwhelming.
2017 hasn't gotten off to as much of a positive start as I would have liked it to, so I haven't really hopped on the 'new year, new me, new opportunities' band wagon just yet.
Saying that, I have five ways that I'm going to try to make every day (or most days) better in 2017. My main goals for this year are to be happier, healthier and more productive.
If you, like me, feel that you need a bit of a boost and want to improve each day in 2017, then these five tips are for you!
Eat a meal you enjoy // Life is too full of delicious food and delicious recipes to eat grub you don't love. Flick through some cookbooks (some of my favourites are here) or look online to get inspiration. Making and eating a meal you love every day means that no matter what happens throughout the day, you've got good food to look forward to at some stage! Bonus points if it's healthy.
Take a break from technology // Whether it be for five minutes or an hour, try to take a break from technology every day. It does wonders for your mental health as it's so easy to get consumed in what's going on behind those glowing little screens. Make the conscious effort to put your phone down and soon you'll forget that you haven't looked at it.
Read // Some people love reading, while others hate it. Either way, by reading anything (a book, magazine, article, blog) for a few minutes every day stimulates your mind and helps you take a break from whatever is going on in your head. Keep a book in your bag and read it on the bus to work, on your lunch or before you go to bed – you'll be surprised by how much time you have to read if you keep a book nearby.
Laugh // The doom and gloom of life sometimes means we forget to laugh and enjoy ourselves. Throughout the day, don't forget to laugh and enjoy the ups and downs you encounter, ring a friend to chat about your day, or even look at cute animal videos on YouTube. They say that laughter is therapy for the soul, and I honestly believe that it's true.
Do a random act of kindness // Do something small each day to make another person feel good. It doesn't have to be an extravagant act, just something small that might make someone's day, like telling them you like their top, buying a stressed out colleague a cup of coffee, or sending a text to a family member you haven't spoken to in a while. It might only take less than a minute, but no doubt it will leave that person smiling all day.
What do you think of my tips to make every day better in 2017? Let me know if you have any other tips you recommend!