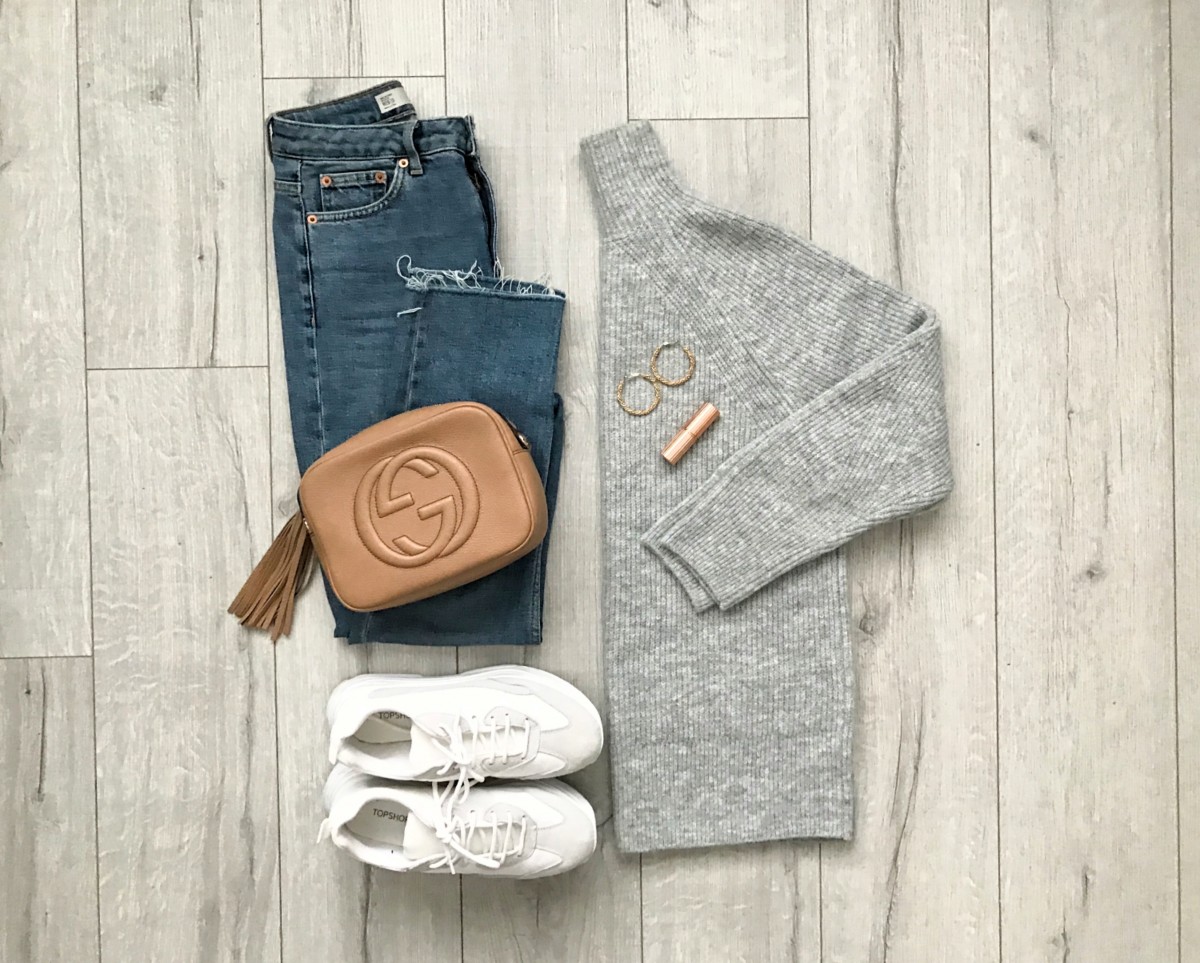 *apart from my house coat (or dressing gown, as most people call it), pyjamas, slippers and Glossier jumper
As much as I'd love to be the kind of gal who can wear skirts and dresses on the daily during autumn/winter, that just ain't me. The two most important factors in what I wear during A/W are that I'm comfortable and warm.
For me, this is no time for cute midi skirts and slogan tees. My legs get cold if my jeans even have a rip in them, and wearing a t-shirt would require at least two tops underneath. Not ideal for at least five months of the year.
So I've put together a roundup of the most worn items in my wardrobe during A/W, with links to everything mentioned below.
If you want to be cosy and warm but still look like you've put a bit of thought into what you're wearing – I've got you.
OUTERWEAR
It's no surprise to say that I'm all about coats during the colder seasons. Gone is my leather jacket (apart from nights out) and instead is coats that are lined and come to my knees.
I'm a big fan of checked coats because I feel like they make any outfit look put together. The same applies to a good tan/camel coat, which I'm yet to find this year. I also want to add a plain black or grey double breasted coat to my collection because I know I'll get plenty of wear out of it.
I recently purchased my first faux fur coat from Penneys and I love how it makes me feel like Macklemore. Even if you're wearing a plain jumper and jeans underneath, a fur coat will automatically make you look like you've got 10k+ followers on Instagram. (I can dream, right?)
[shopr collection="outerwear"]
TOPS
I plan on wearing nothing but jumpers from now until March. Turtle neck, funnel neck, oversized and slouchy – this is my jumper vocabulary. For days when I don't want something as chunky, I love a good fitted(ish) jumper and throwing a big coat on top.
Grey, black and camel are my favourite colours for jumpers, but I love a good leopard print or striped jumper too. I bought a bright mustard jumper at the weekend which will be good for breaking up dark outfits, so I might venture into more colour.
[shopr collection="tops"]
BOTTOMS
No matter how much I want to be, I'm not a fan of trousers. I can never find the right size or style to suit me, and I draw a total blank on how to style them. As I mentioned above, I rarely wear skirts/dresses in autumn/winter, so the bottom half of my wardrobe is all about jeans.
I love the Topshop straight leg jean because it's great for tucking things into and looks great with boots, heels and trainers. I have the washed black and mid-blue denim, but I'm hoping to pick up plain black too. Topshop's Jamie jeans have been a favourite of mine for years, and they're particularly great for winter as the leg is full length so you won't have cold ankles. (Am I a granny?)
I also want to add a pair of faux leather trousers to my collection but, surprise surprise, I can't find a pair that fit me well. I think they'll be so handy for when you want to dress up, but don't want to sacrifice wearing a cosy jumper.
I'll be deducted -16759 ~fashion~ points for saying this but after wearing jeans all week, usually I just want to wear leggings at the weekend. I prefer the gym style of legging because the material is a bit more structured and they look less like leggings, if that makes sense. Once they're plain black, high-waisted and not see-through I'm sold.
[shopr collection="bottoms"]
SHOES
Trainers and boots are where my shoe loyalties lie in A/W. A simple white pair of trainers go with everything, and I recently bought a pair of 'dad' trainers for when I want to change things up a little.
Black pointed boots with a small heel aren't everyone's cup of tea, but they're my favourite style. For days when I need the confidence boost of a bigger heel, sock boots are my shoe of choice.
[shopr collection="shoes"]
ACCESSORIES
I'll rarely leave the house without a scarf until March, so I'm happy to buy a few variations every season. I rotate between black, camel and grey (do you see a theme here?) but I want to buy a blue one for a pop of colour. The bigger and more oversized the better, obviously.
Berets were really popular last winter and I plan on wearing mine again this season because they keep your head warm without ruining your hair. For colder days, a bobble hat is the only thing that will do. Touch-screen gloves (I get mine in Penneys) are also an essential.
Cross-body bags free up your hands for big cups of hot chocolate and Christmas shopping bags. My Gucci Soho Disco Bag is my current go-to, although I'd love something with a bit of embellishment for the festive season.
[shopr collection="accessories"]
---
And that (I think) is everything! Please let me know in the comments below what your A/W wardrobe essentials are, I'd love to hear!