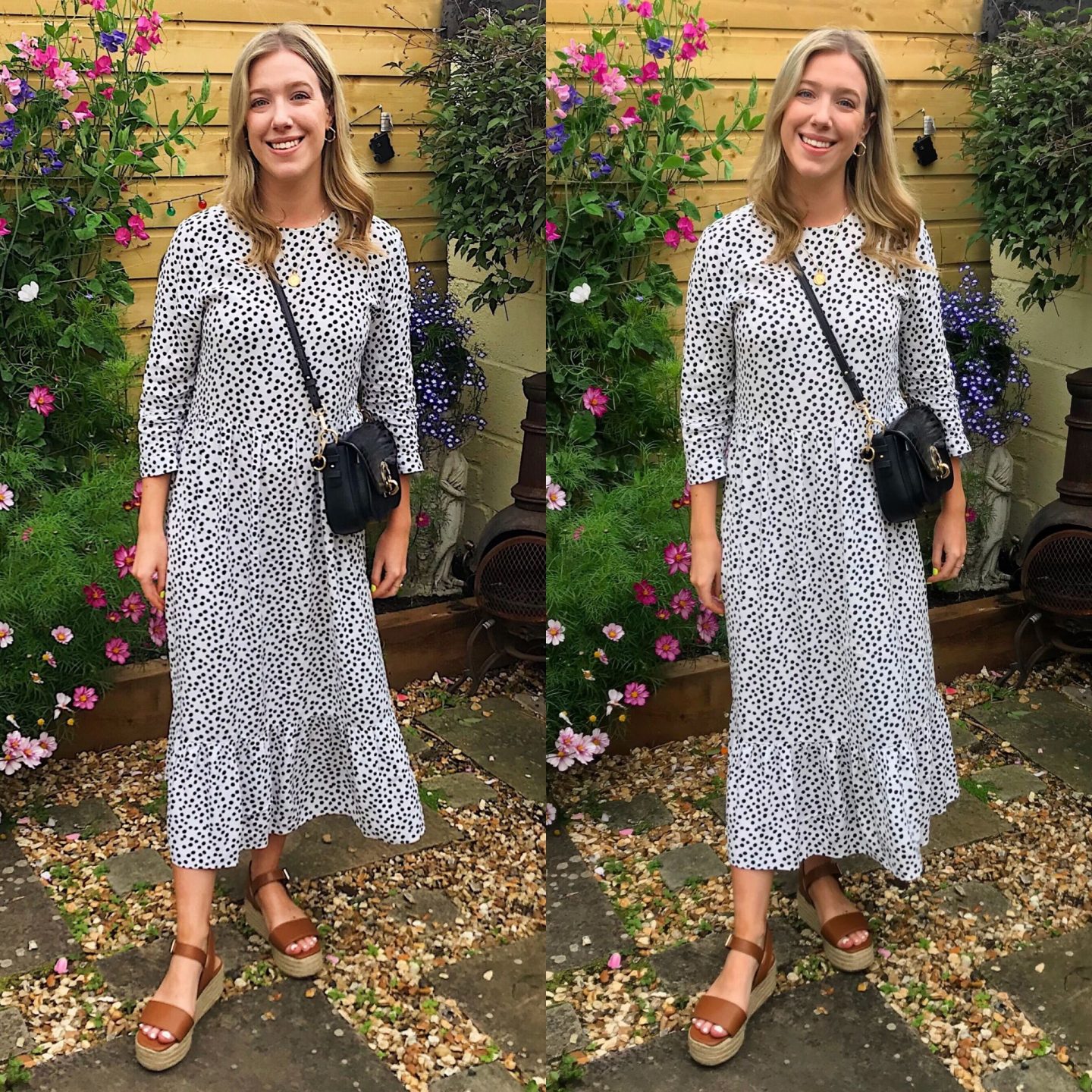 If you're a fan of Instagram, shopping or trends – or all three – you've probably recently come across dozens of people talking about *that* Zara dress.
Before I get started, this is the dress. It's €49.95, has a black and white polka dot print and has pretty much taken over the internet – and wardrobes wherever there's a Zara.
Every so often, a cult clothing item sweeps the masses and you can't walk from the top to the bottom of Grafton Street without seeing someone in it. And, dear reader, the most recent cult item is this Zara dress.
It has its own Instagram page, and countless articles have been written about it, like this one and this one.
I can't remember where I came across The Dress, but when I learned of its popularity it slightly turned me off it, despite liking it originally. Sure who wants to wear something that everyone else has anyway – and *shock horror* risk turning up to any occasion in the same outfit as someone else?
At in and around €50, I decided my money would be better spent elsewhere. However, The Dress stayed on my mind. On a trip to Bristol with my boyfriend, I decided to pop into Zara to 'just have a look' and see if it was there. Within 45 seconds I'd tried it on over my clothes in the middle of the store and had my boyfriend closing the button at the back. Shortly after, I was at the till, delighted with my new buy.
But what is it that makes everyone love this dress so much? For some, maybe it's its cult status, but for me, it's all in the design.
It's oversized (I got a size S and I'm a 8/10), it's flowy, it has mid-length sleeves and comes about halfway down my calves. All of these things combined makes it (next to my beloved leggings and Glossier jumper) the comfiest piece of clothing I own that isn't pyjamas.
This has made me realise that I – and I'm sure I'm not the only one – have become so used to wearing clothes that are ever so slightly (or sometimes very) uncomfortable. Whether it's high waisted jeans that poke into my stomach when I sit down, t-shirts that bunch up when I tuck them in or straps of a cami top digging into my shoulders – being a bit uncomfortable has become part of my every day routine.
Just a few weeks ago I went for drinks with friends and spent the night with my jeans fully open and my t-shirt on top concealing the evidence. Now, part of that had to do with my jeans not fitting me as well as they used to (and that's alright) but after that experience I swore to myself that I'd never wear anything that makes me feel miserable or uncomfortable again.
Soon after, along came The Dress in all its glory. Of course, the fact that it looks good (in my opinion) was also a big factor in me buying it, but it's the level of comfort and confidence it offers that has me sold on its popularity.
It doesn't dig in to my skin in any place, it doesn't require tucking or positioning or fixing, it's comfortable to sit down in, it's not see-through (why are so many clothes see-through these days?!) and it has plenty of room for me to eat whatever I like and not feel like I'm about to birth a child. Inevitably, all of these things combined means it makes me feel great – and that's pretty much priceless.
As for when I inevitably bump into someone wearing the same thing, rather than turning the other way I shall salute them and, if there's a drink to hand (Prosecco, if you're asking), say 'cheers' to being comfortable.