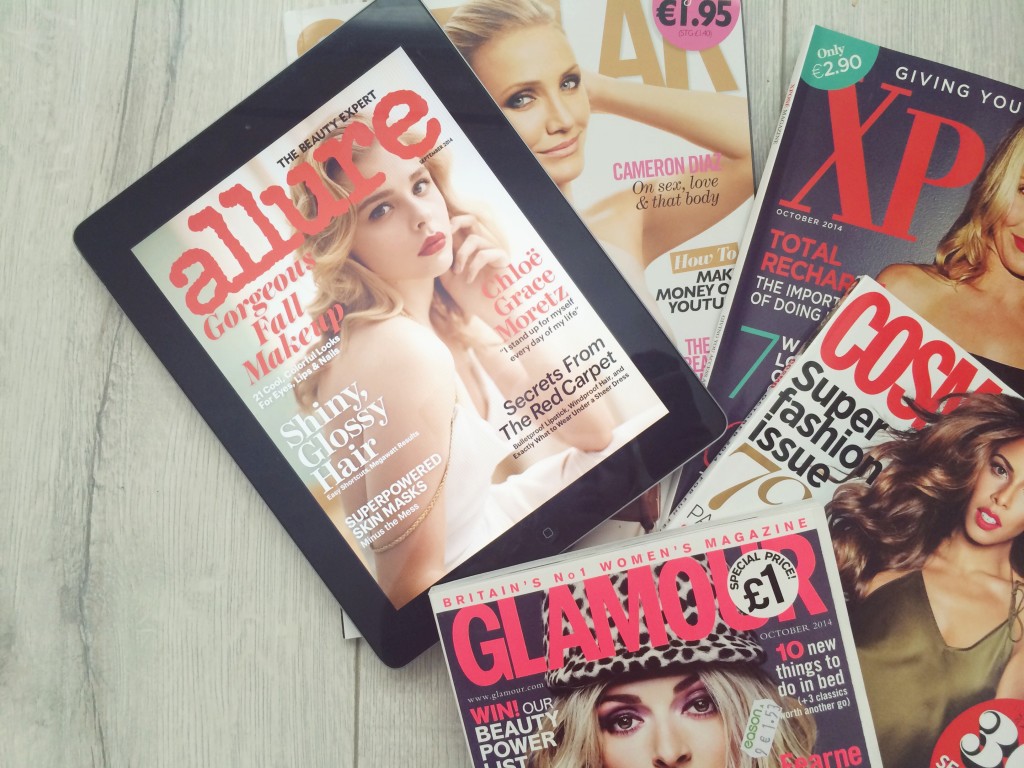 The start of a new month excites me more than it should solely because in my brain a new month equals new magazines. I stalk Easons the first week of every month and gradually pick up my regular magazine buys, ensuring that they don't get bent or creased in my bag. In fear of sounding crazy, I'm studying to be a journalist so I justify my obsession with magazines with the fact that hopefully they'll lead to a career for me one day. I may or may not keep and store all of my magazines on a bookshelf… All in the name of research, right?
Glamour is my first port of call every month. It's my all-time favourite magazine and every month I love it more than the last. Glamour is generally quite affordable, at around €2 or less, and is packed full of beauty news, fashion news, features, articles and editorials. I love Glamour because they promote a really good mental health image and always have features on how to be more positive and how to live a happier lifestyle. Also, there are always articles on what is going on in the world, politics and women's equality. I can't recommend picking up Glamour enough because it's more than just a magazine and it always leaves me feeling inspired.
Allure is my first and only e-magazine. It works out much cheaper to subscribe for an e-copy than buying the hard-copy each month, and it's so handy for travelling and long journeys. Plus, all of the recent editions are stored in one place so you can look back and read them whenever you please. Allure is the ultimate beauty magazine – it's every beauty obsessive's dream. With stunning pictures and amazing features on all of the latest beauty products and treatments, you're guaranteed to find something you want to try or learn something new in every copy. It's the everyday girl's insider into the world of Hollywood glam.
Of course, I love supporting Irish magazines. I've bought Stellar every month since its first issue came out and love it equally every month. It's great to see products and clothes that are readily available in Ireland, as well as interesting and inspirational features each month. You're nearly always guaranteed to see a familiar face in Stellar as well – gotta love little ol' Ireland.
Xpose is the most recent addition to my monthly magazine stash, but I love it just as much as all the others. There are always great makeup and beauty features, which I love, as well as style advice and makeup tutorials. There's also a two-page spread of men's skincare and style, which I've caught my dad reading on more than one occasion.
Last but not least, Cosmopolitan. Cosmo has a bit of everything in it – beauty, fashion, style, celebrities, news, health, love… The list goes on. I love the questionnaires at the end of every interview with that month's cover star, as well as the endless pages of clothes and shoes. There's so much on every page that it takes me ages to get through Cosmo, but that's what I love about it. I recently purchased Cosmopolitan Body, which is all about health and fitness. It comes out every few months and is full to the brim of inspiration and motivation. I can't recommend picking it up enough. Although it's a bit more expensive, it's more like a guidebook than a magazine.
Occasionally I pick up Marie Claire, VOGUE and InStyle, all of which I love, but just don't get the chance to read every month!
Anyone who knows me knows that sitting down with a cup of tea, a biscuit (or three) and a good magazine is the ultimate relaxation for me, although it's never long before I find myself making lists of things I need to buy and need to do after reading them!