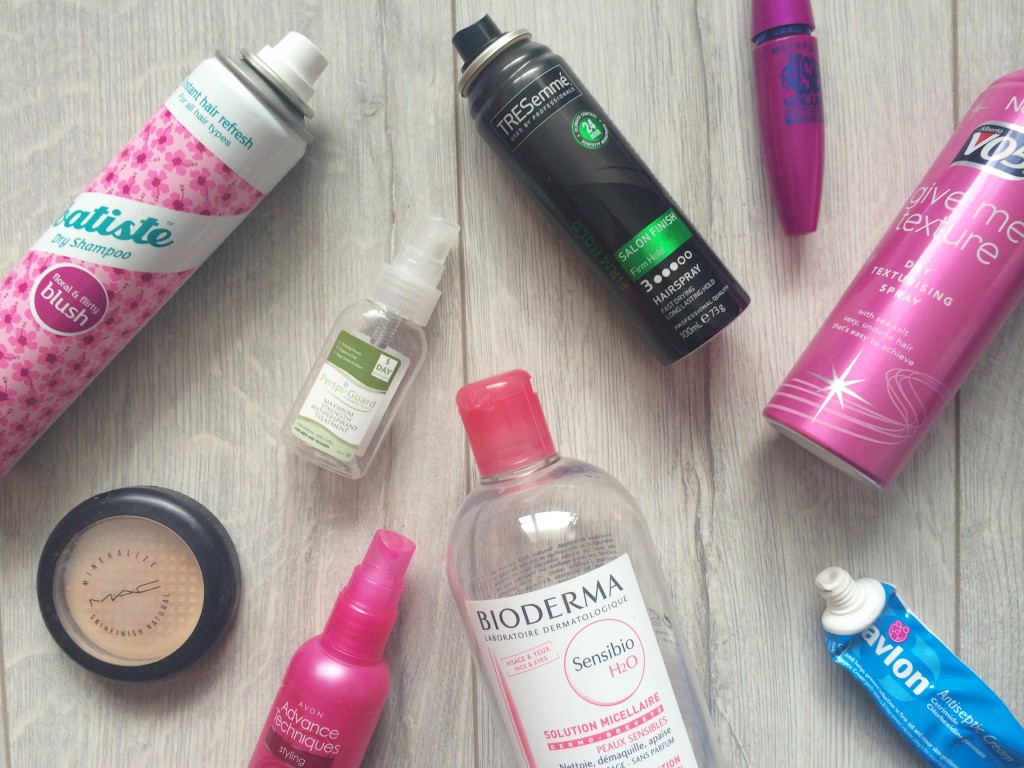 I get such a sense of satisfaction every time I write an empties post. To see that I'm actually using up products makes me feel less guilt about buying new ones, although hoarding empty bottles under my bed for a few weeks feels somewhat weird.
I'm surprised that I've only used up one bottle of Batiste Dry Shampoo as I use this stuff on an almost daily basis. I never thought I'd be able to go two or three days without washing my hair, but thanks to dry shampoo I can. I always buy Batiste Dry Shampoo as it's affordable and gets the job done. I use this to add volume to my hair on days that it's looking a bit limp, but just one word of warning – don't wear black while spraying this because if you're anything like me you'll end up looking like you've just rubbed chalk all over yourself. Not a good look.
Perspi Guard is my secret weapon in a bottle. As disgusting as it is, we all sweat and it's gross. I've found over the years that deodorants just weren't strong enough for me (lovely, I know) and refrained from wearing any colour other than black or white for months. Then I came across Perspi Guard and it changed my life, literally. You spray this stuff like a deodorant before you go to bed one night a week, and basically you don't get any sweat patches for the next seven days. It's seriously incredible. So I've no more fear of wearing grey or bright colours thanks to this amazing product. It's a bit of a weird subject which some people might be horrified by, but hey, I thought I'd share this amazing product incase it can help some of you.
I'm not much of a hairspray girl, so a small bottle usually lasts me a few months. This Tresemme one is really good, it doesn't leave the hair crunchy or sticky at all. Plus it fits perfectly in your handbag for nights out and travelling.
I was really impressed with Maybelline The Falsies Waterproof Mascara and used it up really quickly. The waterproof formula is amazing – it lasted through gym sessions and even the shower afterwards. It's easy to remove with an oil-based remover and doesn't smudge or flake throughout the day.
I repurchased MAC Mineralise SkinFinish in Light as soon as I ran out of this one. It's my favourite powder and an absolute essential in my everyday routine. While it is pricy because it's high-end, it lasted me for months even though I use it every day and is so worth it.
Using a heat protector in my haircare routine is so important because my hair is really fragile. If I don't use a heat protector before I use heated tools on my hair I can see the effects straight away, so this small bottle from Avon is really handy because I could bring it in my gym bag and on holidays.
I think Bioderma is featured in nearly every beauty blogger's empties posts – it's such a great product. Taking off my makeup has become such an easy process thanks to Bioderma, and while it's not available in Ireland, Garnier and L'Oreal have come out with similar versions of micellar waters. I picked up this bottle from Escentual.com and it lasted about three months.
Savlon has been featured in every empties post I've written, and each time I write them I always have to remind myself to go out and repurchase it. Savlon is a miracle worker on spots and blemishes and seriously works like no other treatment I've used. I use this stuff up so quickly, but it's really affordable and does so much for what it costs.
Last but not least, VO5 Give Me Texture! Dry Texturising Spray. If you've heard of the Oribe Dry Texturising Spray, this is what I'd imagine to be an exact dupe for it. This product gives amazing volume and texture to the hair in one spray and leaves no residue at all. It's really affordable at €5, nearly one-tenth of what Oribe's version costs.
Let me know in the comments what products you've used up and if you've tried any of the products I've mentioned.
Happy Friday everyone!
*The decisions we make make the life we live. So if we want to live better, we've got to decide better*