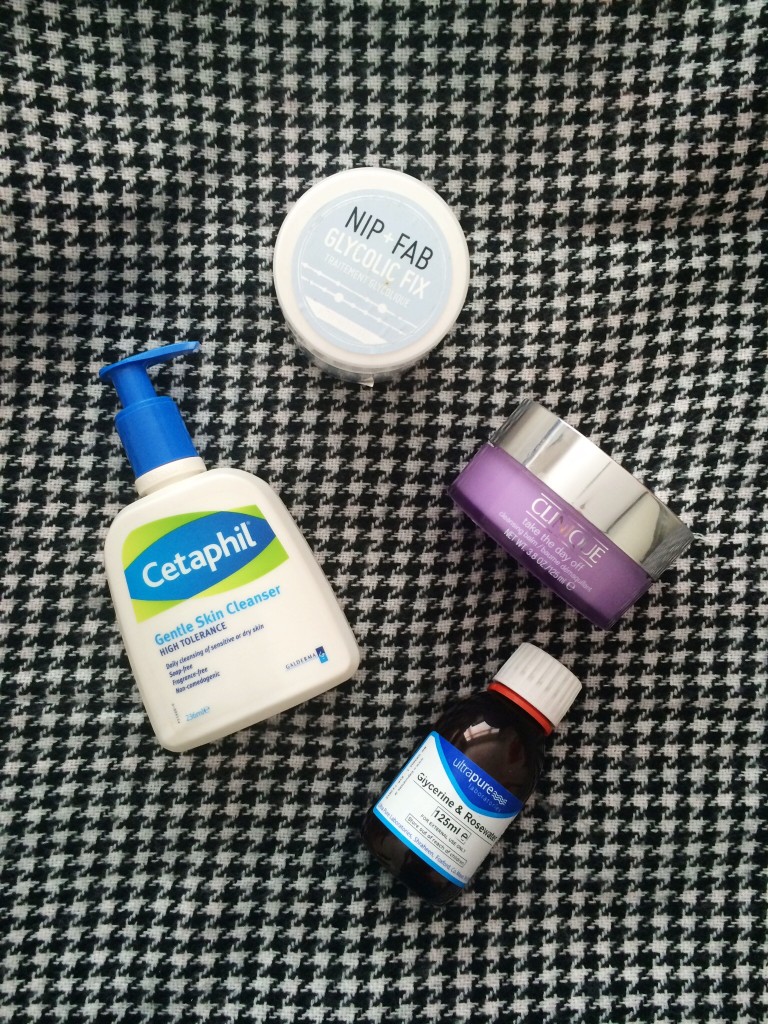 I know I'm not alone when I say that I hate removing makeup. I've gone through years of using products that sting, turn my face red and break me out without removing any makeup at all. I've slowly stepped away from gel cleansers, cleansers that have beads in them and heavily fragranced products, and somehow developed a quick and easy, and effective, makeup removing routine.
I start with using Cetaphil Gentle Skin Cleanser. This is one of the first cleansers I used when I started wearing makeup, and after a lot of trial and error I've returned to it again. As the name suggests, it's really gentle on the skin and has a balm-like formula. Two pumps is usually enough and I massage it all over my face, down my neck and onto my eyelids. Face cloths are my best friend when it comes to removing makeup, so when I think I've gotten everywhere I dampen one and wipe it over my face to remove the product.
Cetaphil isn't great at removing mascara or heavy eye makeup, so I then use Clinique Take The Day Off Cleansing Balm. This is my holy grail makeup remover, as you'll probably know if you've been around these parts a while. I used to use it on its own to remove all of my makeup, but found it slightly too rich for my skin, so now I use half the amount instead as a double cleanse. I work this into my eyelashes, and a little bit all around my face before splashing with water and wiping off on the other side of the facecloth. My eyes got incredibly sensitive a while ago, so I've stuck to using this balm for taking off eye makeup as it doesn't seem to irritate them.
A bottle of Bioderma or Garnier Micellar Water is usually on hand for this step, but I somehow happen to be out of both at the minute (opens Escentual tab to place order) so I've been using Glycerine and Rosewater. I love this step as it's really soothing and calming and makes sure all makeup and removers are gone from the skin. A splash or two on a cotton pad does the job.
While you'd think that there'd be no trace of makeup at all left at this stage, I sometimes use Nip & Fab Glycolic Fix pads. These are great for brightening and evening the skin, as well as removing dead skin cells and left over makeup around the edges. I find these a bit harsh for my skin for everyday use, so I use these every second night or after nights out when I've worn heavy makeup.
It might seem that going through these steps would take age but trust me, when there's a cup of tea and Netflix waiting for me I can have this done in 5 minutes flat.
Let me know in the comments below what your makeup removal routine includes!