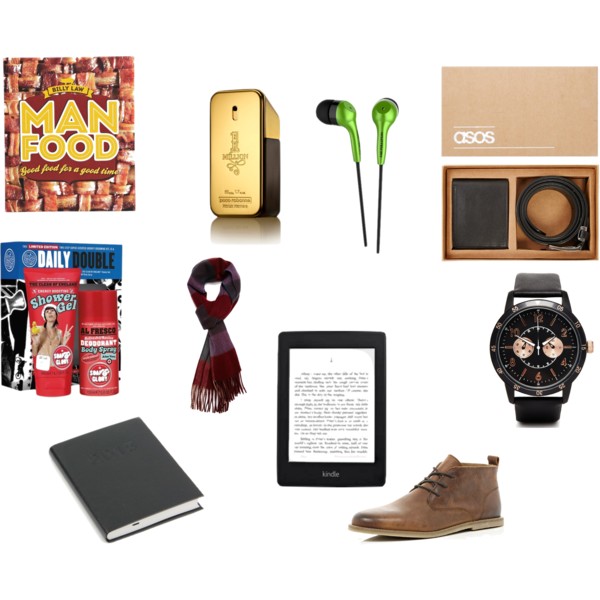 I don't know if it's just me, but I find buying gifts for men one of the most difficult tasks that I face when I go Christmas shopping. Between my dad and my boyfriend, there's nothing they really need, and I hate buying them things for the sake of it. The result is me wracking my brains in the weeks coming up to Christmas, and then finally thinking of some ideas that I know they'll love.
Whether it be for your dad, boyfriend, best friend or grandad, I think there's a present here that'll be suitable for them, whatever your price range.
For The Foodie – Man Food Cookbook – If the thought of a burger makes him more excited than he'd like to admit, this book it for him. I bought my boyfriend a cookbook last year and he loved it, plus it meant I got to eat lots of nice food 😉
For The Guy Who Always Smells Good – Paco Rabanne One Million Aftershave – Although he might not think he needs a new aftershave, One Million is guaranteed to be a great addition to his collection.
For The Guy Who's Always Tuned In – Earphones – Earphones are one of those things that tend to go missing a lot, so an extra pair is always welcome. Just don't blame me if he won't take them out!
For The Guy Who Has Everything – ASOS Gift Set – ASOS is the website to go to for men's gift ideas. I couldn't believe it when I saw this wallet and belt set, I think any man in my life would be more than happy to receive this.
For The Guy Who Secretly Loves To Pamper Himself – Soap and Glory Set – While he mightn't admit it, he loves to pamper and look after himself. This retro shower gel and body spray will make him proud to say he got it for Christmas.
For The Trendy Guy – ASOS Scarf – He likes to dress well, and will happily (well, maybe not happily) wander the shops with you. You can't go wrong with a scarf as it's guaranteed to fit him, and this tartan one will see him through the winter months.
For The Book Buff – Kindle – If reading is his thing, a Kindle will make him wonder why he didn't buy one sooner. It's a good present for someone you might want to splash out on, and it's guaranteed to get its value for money.
For The Guy Who Loves A Bit Of Luxury – ASOS Watch – This watch looks way more expensive than it is, and will make all of his friends question when he got so slick and stylish.
For The Man Who's Always On The Go – 2015 Diary – For any man who's schedule is always packed, a diary is guaranteed to come in handy. It's something he mightn't buy for himself, but he'll be glad you did once the Christmas break is over and life gets busy again.
For The Guy Who Lives In Trainers – River Island Boots  – Shoes might seem like a strange gift to get someone, but I got my dad a pair of boots like these last Christmas and he loved them. While he doesn't always wear trainers, the guy who spends his life in Nikes will soon realise why us women love shoes so much once he gets a pair of these.
I hope you enjoyed my Christmas gift guide for men, there'll be a new post up tomorrow with gifts under €20, so stay tuned!