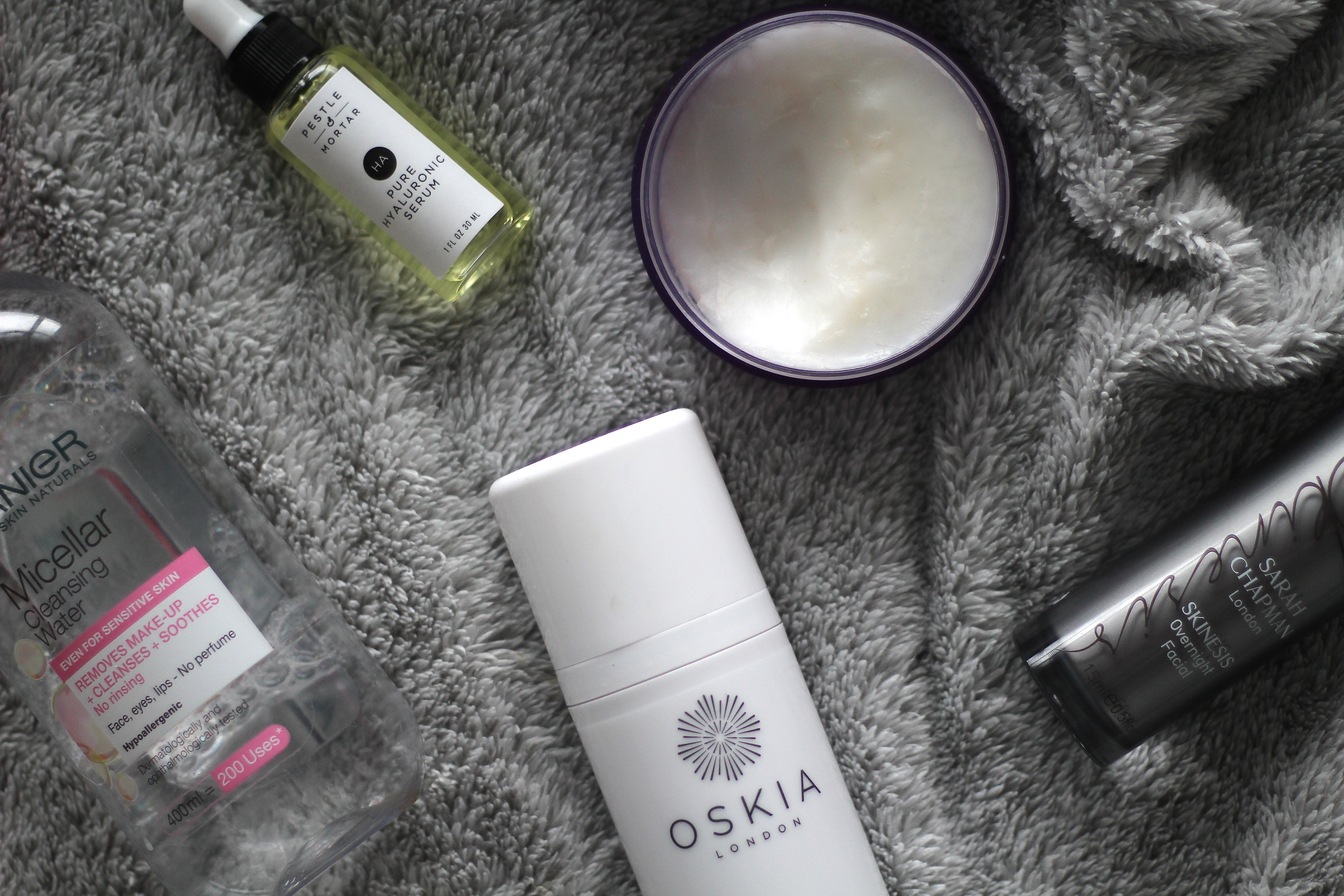 It's worse than blue eyeshadow. It's worse than a foundation that doesn't match. It's not taking your makeup off when you go to bed – the worst beauty sin of all time. It happens to us all at least once in our lives – and it happened to me on Saturday night.
Coming home from my grandad's 80th birthday party, I truly did not have the strength to take off my makeup. Not even with the easiest of method of all time, a cleansing balm. I hopped straight into bed, dreading the repercussions as my head hit the pillow. No matter what, I always take off my makeup because I know my skin will react badly if I don't, but on Saturday night I physically couldn't.
And boy did I see the results yesterday. My skin was dry, blotchy and broken out. It was time to bring out the big guns.
If you find yourself waking up with a fake eyelash stuck to your face, foundation all over your pillow and a cream contour that could make children cry, try this routine to have your skin looking and feeling great in no time.
I started off with the Clinique Take the Day Off Cleansing Balm and worked it into my skin. I love this balm because it's super gentle and really breaks down every bit of makeup on your face, even mascara. It doesn't strip the skin and leaves it feeling nice and nourished. Using a lukewarm face cloth, I wiped off the remains.
I then went in with Oskia Renaissance Cleansing Gel. Contrary to the name, this isn't a gel at all. Once it hits the skin it turns into an oil, and is also amazing at breaking down makeup. I like going in with two cleansers to make sure I get every single bit of makeup off and to deeply cleanse the skin. This product has skin-brightening properties, so it leaves the surface feeling smooth and looking fresh.  Again, I used the other side to the face cloth to remove this from the skin.
Another cleanser? Yep. For the final cleanse, I soaked a cotton pad in Garner Micellar Cleansing Water. This made sure every single last bit of makeup and cleanser was gone off my face and left it feeling refreshed.
To restore the hydration that my skin lost during the night, I packed on some Pestle & Mortar Hyaluronic Acid and left my face makeup-free all day.
Just before I went to bed, I used another cotton pad soaked in micellar water to get rid of all of the grime from the day, and loaded on the Sarah Chapman Skinesis Overnight Facial to make up for all of the damage my makeup did the night before.
Although it sounds incredibly tedious, this routine is surprisingly relaxing when you're feeling a bit groggy. Three cleansers might seem like they would strip and irritate the skin, but each of them are uber gentle and nourishing.
Make sure you change your pillow the night after you sleep with your makeup on, or else you'll undo all of the hard work. It's true what they say, sleeping with your makeup on ages you by five days – and that's just from all the work of having to take it off the next day.