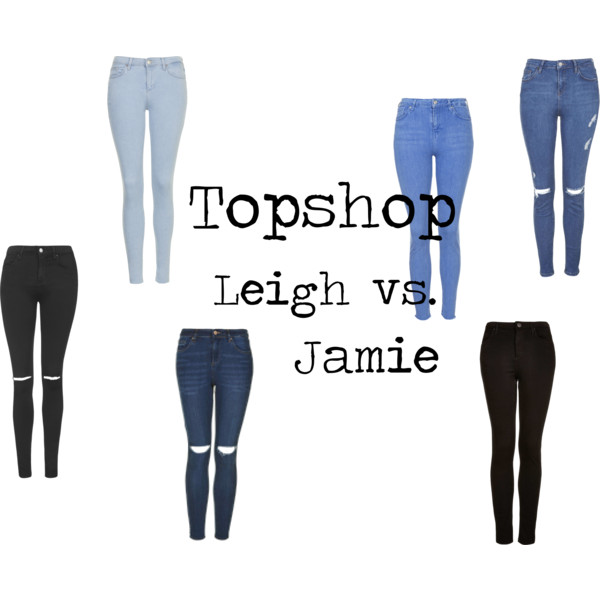 There's no denying it, I'm a Topshop jeans kinda gal. Actually, I'm pretty much a Topshop everything kinda gal. Over the years I've gone back and forth between two different kinds of Topshop jeans – Leigh and Jamie. While they're both similar, they're also quite different. If you're looking to buy a new pair of skinny jeans, have a read to see which pair would suit you most.
Leigh – Leighs were the first pair of Topshop jeans that I bought, so they hold a special place in my wardrobe. They're super skinny and soft, and have a medium-high rise, coming up around the belly button. They material is quite light and stretchy, making them uber comfortable to wear. In my opinion, they're as comfortable as leggings. They don't have much structure to them, so they don't really hold anything in. I've had a few pairs of Leigh jeans, and after wearing them for about a year two pairs ripped on the inside of the thigh, slightly turning me off them. However, I did get loads of wear out of them so I don't mind too much. As the material is quite thin it can be prone to ripping after a long period of time.
They're pretty true to size, I'm a size 10 and buy a 28 waist and a 30 leg. Make sure you look at the description before you buy them as some Leighs are cropped, meaning they're a little shorter on the leg, and some come rolled up at the ends. If you like wearing your jeans rolled up, try a longer leg length so you've extra material to roll with.
Jamie – Jamie jeans are like a step up from Leighs. They have a higher waist, are more structured and are more of a traditional denim material. They're not as comfortable, but are quite good at holding everything in and are super skinny, so they're good for nights out and when you want to get dressed up.
It took me three pairs of Jamie jeans to learn that I need to buy a size smaller in the waist because they stretch so much. While they feel fine when you try them on, after a couple of wears it becomes impossible to wear them without a belt. Again, check the description to see what the finish is like on the leg. If it's a regular length (not cropped or rolled up) I buy a size longer so I can roll them up twice because I like that look. I get a 26 waist and 32 leg in these.
Both jeans are around the £40 mark, depending on which exact pair you're buying. I always try the jeans on in Topshop and then buy them online in Pound with my Unidays student discount because it works out much cheaper than buying them in Euro in store. The perks of being a student, right?
So, it really depends on what you're looking for in a jean to see which pair would suit you most. If comfort is key, I'd say go for the Leighs. But if you're looking for something with a bit more structure, Jamie's the one for you.
Let me know in the comments below if you've any questions!
My friend Debbie has an amazing blog all about jeans – so definitely check it out for more detailed information and advice!