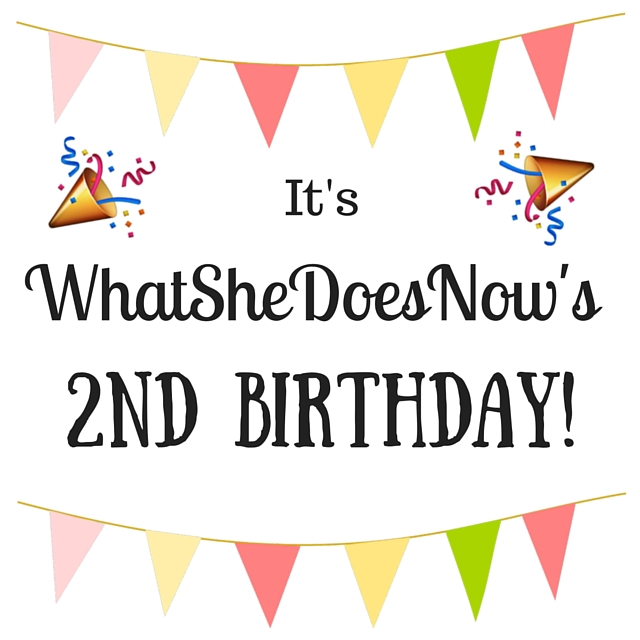 Where does the time go?! On Tuesday it was whatshedoesnow.com's 2nd birthday. I may or may not have only remembered on Wednesday, but I'm blaming my holidays for making me forget.
*Warning – cheesiness ahead*
It's crazy how so many things can change in two years, while so many other things can stay the same. Being honest, I'm not surprised that I'm still totally obsessed with this little blog. I knew when I was starting it that it was something I really wanted to do, and I'm even more obsessed with it today than I was two years ago.
Throughout the past couple of years, a lot has changed in my life. While everything else was upside down and all over the place, WhatSheDoesNow was always a constant factor. It's somewhere I can come to write about anything I like, to ramble and to share my shopping addiction. I've had so many amazing experiences through my blog, and for that I'll be forever grateful.
As I've grown as a person, my blog has grown with me. Having a blog has been a big factor in growing. I've become more confident, more creative and more honest. It's something that's given me motivation, inspiration and something I've become fully dedicated to. As cheesy as it sounds, WhatSheDoesNow has become a part of who I am, and I don't know what I'd do without it.
To anyone who's considering setting up a blog, I couldn't encourage you more. It gives you so much more than just a space to write on the internet.
Here's the link to my first post, if you want to have a read. It's funny how back then I'd no idea that this blog would mean so much to me.
In a bit of a recap, here's 10 of the most amazing things that have happened because of WhatSheDoesNow (in no particular order):
Being a finalist for Best Content in the Irish Beauty Blog Awards this year
Being short-listed for Best Beauty Blog in Blog Awards Ireland 2015
Featuring on stellar.ie as Blogger of the Week
Featuring in XPOSE Magazine
Filming a video for Vichy UK
Meeting some incredible friends through comments, Instagram and Twitter
Being told that I'm someone's favourite blogger. Usually followed by, "Me?! Are you sure?!"
Working with amazing brands, such as Magnitone, Cocoa Brown and HeShi
Attending Dublin Fashion Festival
Starting my own YouTube channel
As cliche as it sounds, there really isn't a day that goes by that I'm not grateful for my blog and the things that happen because of it. I'm constantly thinking of post ideas, photo ideas and how I can make this blog better every day. I also can't go anywhere without picking up something that's "for my blog". Even if it's just a candle for the background.
To everyone who's been around for the past two years – thank you. It's hearing that you guys enjoy my posts and content that makes having a blog so special. And to anyone who's new, welcome! Stay tuned, because you're in for a ride.
Now where's the cake…