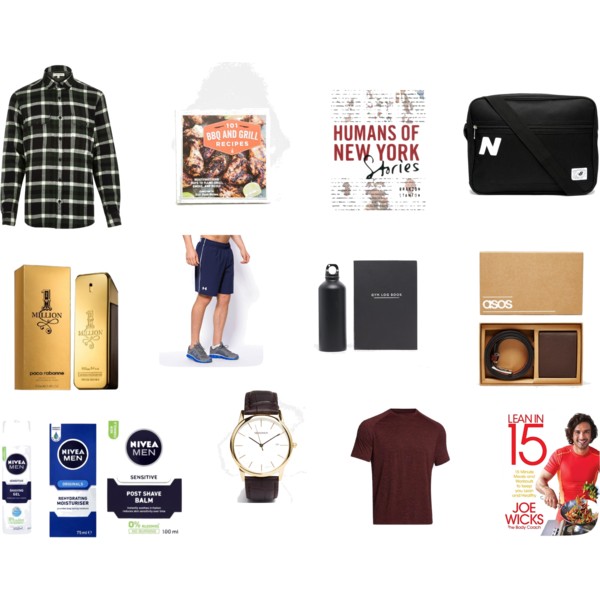 I absolutely love Christmas shopping… until I've to buy presents for my dad and boyfriend. Over the years I feel like I've bought them everything off the list, and unfortunately I can't just give them the new Naked palette. And I absolutely hate gift guides for men that are full of expensive things that no man I know will ever use. A €70 cheese-making set or garden tools, for example.
So I've come together with a few gifts which I think are pretty good, if I may say so myself. And guess what?! They're all under €50!
For the guy who never buys himself clothes – We all know this guy. He's built a capsule wardrobe down to a T and sees no need to ever going shopping again. This shirt from River Island is easy to wear and is sure to be a welcome addition to his wardrobe.
For the guy who has everything – He might have everything, but chances are he doesn't own a cookbook. For the past few years I've bought my boyfriend a small recipe book as part of his present and it's always the thing he's most interested in. This book from ASOS is a good option if he loves meat and bar food, and you might get a meal out of it too.
For the one who doesn't have Facebook – My favourite thing about my Facebook feed is the Humans of New York posts. Whether it's your grandad or your best friend who despises Facebook, everyone needs to read the HONY stories. The HONY book is filled with stories and is something that would be read time and time again.
For the stylish guy – For some reason, men are absolutely terrified of buying bags. I think it's because of that episode of Friends where Joey gets a man bag. Anyway, a few years ago I bought my dad a cross-body leather bag and he loves it. He uses it every time he goes away and thinks it's the best idea ever. This New Balance bag is a nice mix between fashionable and sporty, you could even fill it up with a few treats too.
For the high-end guy – He loves a bit of luxe and knows Armani from Hugo Boss. You can't go wrong with an aftershave, and Paco Rabanne One Million is one of the nicest out there. It's currently reduced from €73 to €45, so grab it while you can!
For the gym fanatic – When it comes to working out, you can never have enough clothes. They don't have to break the bank, however. Under Armour is a really high quality brand, and you can get both a top and shorts for under €50. Sold. If you're fella loves the gym, buy him this gym log book and flask. It's a unique present idea and gives him somewhere to track his workouts.
For your dad – Let's face it – socks just don't cut it after 20 years of "I love them!" Pick up your dad, or any guy, this leather wallet and belt set from ASOS. They're two basic pieces for any man and will more than likely replace a falling-apart wallet and bent to pieces belt.
For the guy who steals your moisturiser – What is it with men and skincare?! Women spend so much time and money on skincare, only for the men in our lives to come in a take a big gloop out of your expensive moisturiser. Nightmare. Loads of mens' skincare brands do gift sets, but I prefer buying the items separately. Then you can customise it to whoever you're buying it for, and most of the time they're on 3for2 anyway. A moisturiser, shaving gel and post-shave balm is a good place to start.
The no-fail present – You really can't go wrong with a watch. They always fit and you always need one. ASOS have a really good selection, like this one.
For the foodie – This book doesn't come out until December 28th, but will be a nice surprise after the hustle and bustle of Christmas. I follow Joe @thebodycoach on Instagram and absolutely love the recipes he puts up. They're quick, easy and use ingredients that you'd already have in your fridge. The book also includes workouts, so whether the guy you're buying it for likes to go to the gym or to cook, there's something for everyone.
When you want to be sentimental – For the past few years I've ordered my dad and boyfriend a calendar with photos of us throughout the year in it. It always goes down really well and you can keep them for years to come. I order from vistaprint.ie.
I hope this guide is useful to anyone who doesn't have a clue what to buy the men in their life. As I said, everything is under €50, so you can buy as many/as little of the things as you like to suit your budget.
Do you have any gift ideas for men? I'd love to hear!