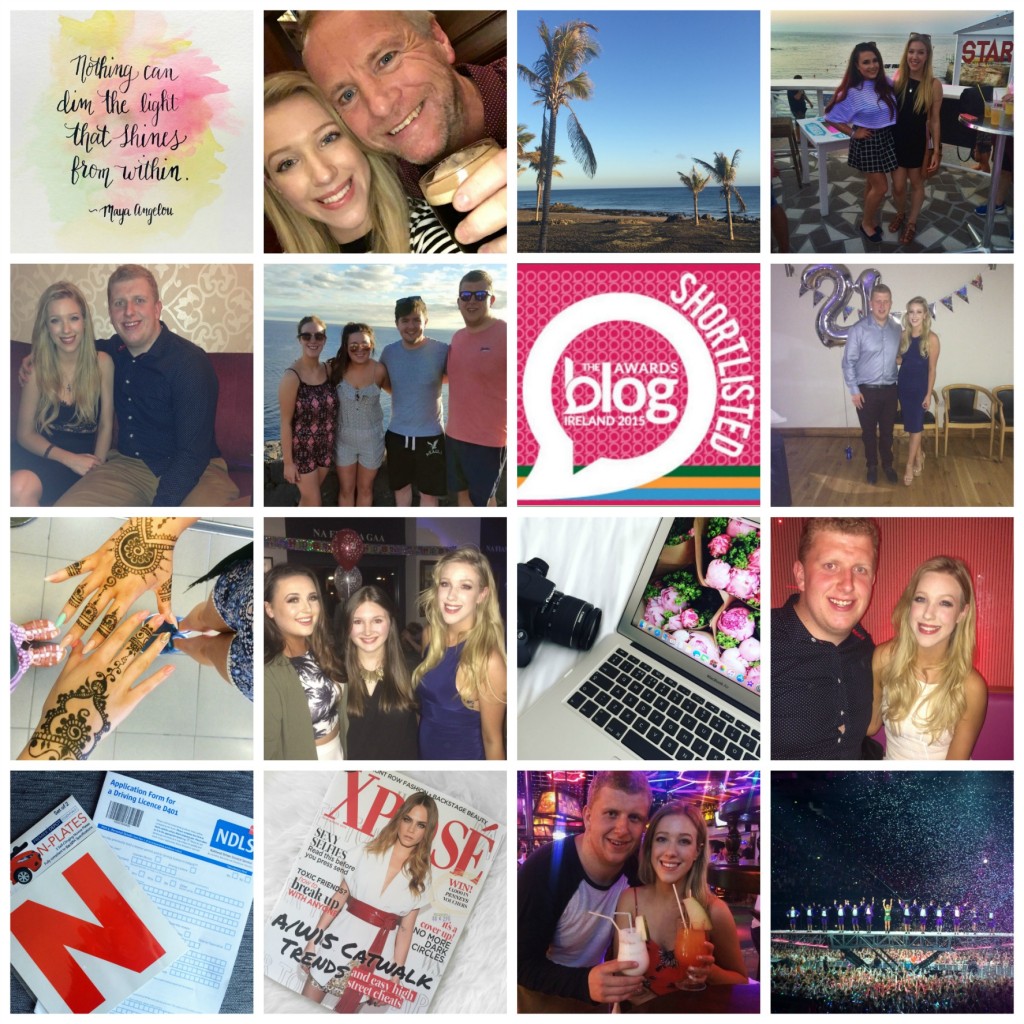 Helllooooo 2016! I am so happy to see you!
This morning I was looking back on the good and bad times from 2015 and I am so thankful to say that for the first time in a couple of years, the good times outweighed the bad by a long shot.
Coinciding with my plans to have more lifestyle posts on WhatSheDoesNow, here are some of my favourite memories from the 12 months of 2015.
[Funnily enough, there just so happened to be 15 highlights of this year! I didn't even realise there were exactly 15 until I finished writing the post – what a coincidence!]
In no particular order…
Passing my driving test! – This was the most euphoric feeling. My dad and I leapt around outside the test centre crying and hugging like absolute loons. Getting my full license meant so much to me and it's one of the things I'm most proud of.
Going to Lanzarote with my dad – At the start of the year my dad and I went to Lanzarote for a couple of days and it was so lovely to sit, soak up the sun and chill out.
Going to Crete – Myself, my boyfriend, my best friend and her boyfriend all went to Crete for two weeks in July. Again, it was so relaxing and we had so many laughs and made so many great memories.
Going to Lanzarote with the gang – The four of us went to Lanzarote in November (I didn't realise I did so much travelling this year!) and it was such a fun few days. We ate, drank and overall had a brilliant time.
My aunt and uncle's wedding – Over the last couple of years I've realised how much family events mean to me. In June the whole clan got all dolled up and spent a few days down the country for my uncle's wedding.
Paragliding in Crete – While we were in Crete we went paragliding. While myself and my boyfriend were up there we saw dolphins swimming underneath us and it was just incredible.
Being nominated for blog awards – This year was an amazing year for WhatSheDoesNow (thanks to you guys!). I was nominated for Best Content in the Irish Beauty Blog Awards (alongside SoSueMe!) and short-listed for Best Beauty Blog in Blog Awards Ireland. Receiving these two pieces of news resulted in me leaping around the house for about two weeks after each.
Being Blogger of the Week on Stellar.ie – I've read Stellar ever since the first issue hit the shelves, so making it to their Blogger of the Week feature was something I could have ever only dreamed of.
Getting featured in XPOSE Magazine – My little ol' self was featured in XPOSE Magazine talking about the boho trend. Another magazine I love, I made sure the issue was left on the kitchen table for weeks so I could show everyone who came over.
Getting a promotion in work – Getting the opportunity to move up in my job and take on a new position was some of the best news I received all year.
My boyfriend's 21st & best friend's 21st – Celebrating two of my favourite people turning 21 this year was definitely a highlight. I've known my best friend since 2001 and I've known my boyfriend for eight years, so it was crazy to see them both turning 21 and to realise that we're officially adults now.
 Seeing Taylor Swift in concert – I've loved Taylor since her Teardrops on my Guitar days, and her concert was something we looked forward to for months. Unsurprisingly, she didn't disappoint.
Going to Dublin Fashion Festival – I couldn't believe it when I got an email inviting me to the launch of Dublin Fashion Festival. It was an amazing event and I went to a couple of the other DFF events too, which were full of glam and so much fun.
Family parties – As I said, I really valued the time spent with my family this year, so every family party I went to was a total highlight for me.
Getting published on thejournal.ie – Just before Christmas a piece I wrote about my wonderful mam was published on thejournal.ie. It was a huge achievement for me and I am so proud that I got to share my mam's story.
… And that's only 15 of the many amazing memories and great things that happened in 2015! Thank you so much to everyone who contributed to 2015 and made it a year I'll never forget!
What were your highlights of the year?!