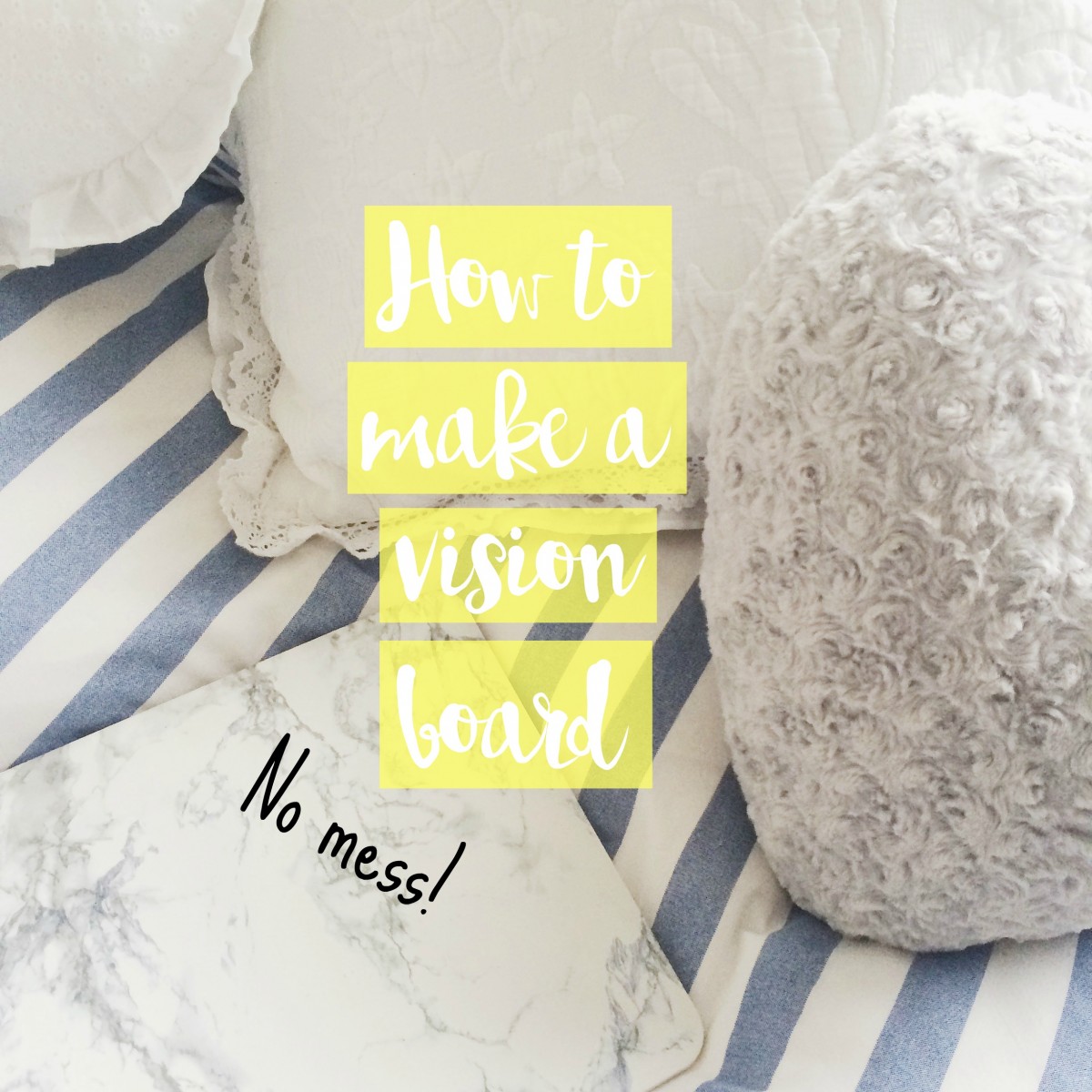 Making vision boards is something I've dipped in and out of for years. I absolutely love the idea but hate the thought of having to cut out little pieces of paper, use tape and glue and ultimately making a big mess. I've started making them so many times but always end up frustrated and with my hands covered in glue.
Vision boards have been around for years and many people believe that they're key to succeeding and achieving your goals and dreams. Because you're looking at it everyday, you remind yourself what it is that's important to you, it keeps you on track and it helps to visualise the future. I'm all about setting goals and turning dreams into reality, so I decided last week it was finally time for me to make a proper vision board.
I have an inspiration wall (pictured below), which I wrote about before. Here's how to make one, if you're interested. This time, however, I wanted something all in the one place that epitomised everything that's important to me and the goals that I want to achieve.
I decided to mess around on PicMonkey and ended up creating a vision board with no mess. I personalised it as much as I wanted to and printed out a copy for my bedroom and office. I couldn't decide whether to show you guys the finished result here, but I decided against as it is such a personal thing (it's my hopes, dreams and values y'all!). Here's a similar style one, though.
I used words, images and colours, and made it as pretty as I wanted it to be!
Here's a few tips if you decide to make a vision board online:
I used the "design" feature on PicMonkey, and customised the size to 1983 x 1586 pixels to fit an A4 printed sheet.
I uploaded any images I used as an overlay. Pinterest had loads of inspiration.
I used different fonts, colours and backgrounds to display words that are important to me like "family, friends, happy" etc
Include images and symbols of things that are important to you, such as a map of the world if you'd like to travel, your dream front door, the pet you want to own, your ideal walk in wardrobe, money, strength – anything at all!
If there's a quote that inspires you, put it in!
Vision boards are all about you, so customise them as much as you like. What you put on it is entirely up to you, so listen to your gut and put up what's important to you and what dreams you have, no matter how big or small.
I was conscious of where I put the images/words and what size they were. I put the most important things to me in the middle and made them biggest, and the rest in varying sizes around it.
I saved it as a file, printed it out and stuck it up with some washi tape – done!
Be sure to let me know if you make an online vision board, I'd love to hear!