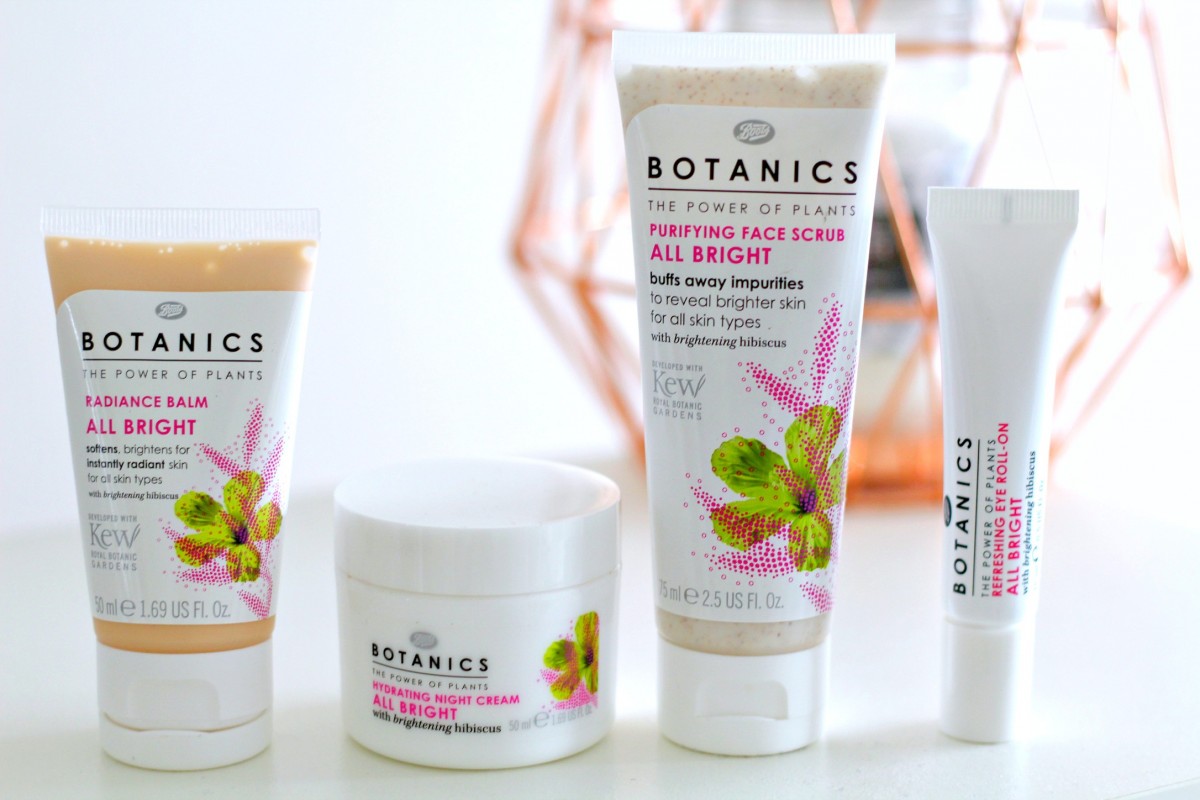 Budget skincare that works just as good as the high-end stuff? It sounds too good to be true, but when it comes to the Boots Botanics All Bright range, it isn't.
I accidentally picked up all of these products from the same range over a period of time without noticing. They're always on special offer; I think each time I bought something from the range it was half price.
I'm a self-confessed skincare fanatic and have spent ridiculous amounts on skincare over the past few years. Saying that, I'm hugely impressed with these four products. Put together, the four of them don't even add up to the cost of the average high end skincare product. Boots Botanics products are natural too, which is always good!
Here's why I love them so much:
The Radiance Balm // For a while, my skin was looking really dull and no amount of highlighter would give it a glow. I've read raving reviews about this balm, so when I saw it on special offer I picked it up. I use about a 10 cent coin sized piece all over my face after moisturising and oh my Lord, it gives the most gorgeous, natural glow. It doesn't disturb the makeup I put on top of it, it literally makes the skin radiant. As you'd expect, mixing this with a radiant foundation can make you very glowy, but even with my Nars Sheer Glow and YSL Touche Eclat le Teint foundation, it makes my skin luminous. I love using this on no-makeup days too to give a boost of brightness to my skin.
The Hydrating Night Cream // This cream is what got me back into using nighttime moisturisers. It contains hyaluronic acid, which moisturises the skin, and natural AHAs which gently remove dead skin cells. It's a really nice, light cream that feels lovely when you apply it. It's not heavily scented and doesn't leave a greasy film on the skin. In the mornings after using this my skin is brighter and feels super soft and hydrated. I really want to pick up the day cream version of this and give it a go!
The Purifying Face Scrub // An exfoliator was missing from my skincare routine for waaay too long, and I could really see the effects of it on my skin. I was getting breakouts, my skin was uneven and it looked dull.  I'd been scared of using facial exfoliators since I used them too vigorously when I was younger, doing more bad than good to my skin. I was cautious of using this one, but after the first use I was converted. It's a gentle exfoliator that contains crushed apricot seeds and walnut shells. That sounds harsh but, trust me, it's really not. It almost melts into my skin when I use it, before buffing it away with a hot face cloth. After using this my skin feels clean, fresh and basically like I've gotten a new face. It's like when you switch to using an electric toothbrush – it feels so good! I use it 2-3 times a week and it keeps my skin looking its best.
The Refreshing Eye Roll On // I've only recently started using specific skincare products for my eye area, and this was one of the first ones I tried out. My eyes are quite tired and puffy a lot of the time (who's with me?), so I love the metal roller ball on this. It is, as the name says, so refreshing and cooling. I literally go "aaaahhh" every time I use this. I roll it all around the contour of my eye and gently pat it in. This also contains hyaluronic acid, so it hydrates and brightens the skin too. I even use this throughout the day after applying my makeup if my eyes are particularly puffy. It's a great product to have in your handbag.
Safe to say, I'm a  massive fan of the Boots Botanics All Bright range. These four products are staples in my skincare routine – I can't say enough good things about them! If you haven't tried any of the products from the range before, I'd highly highly recommend it. They're on 3for2 in Boots at the minute too – happy shopping!