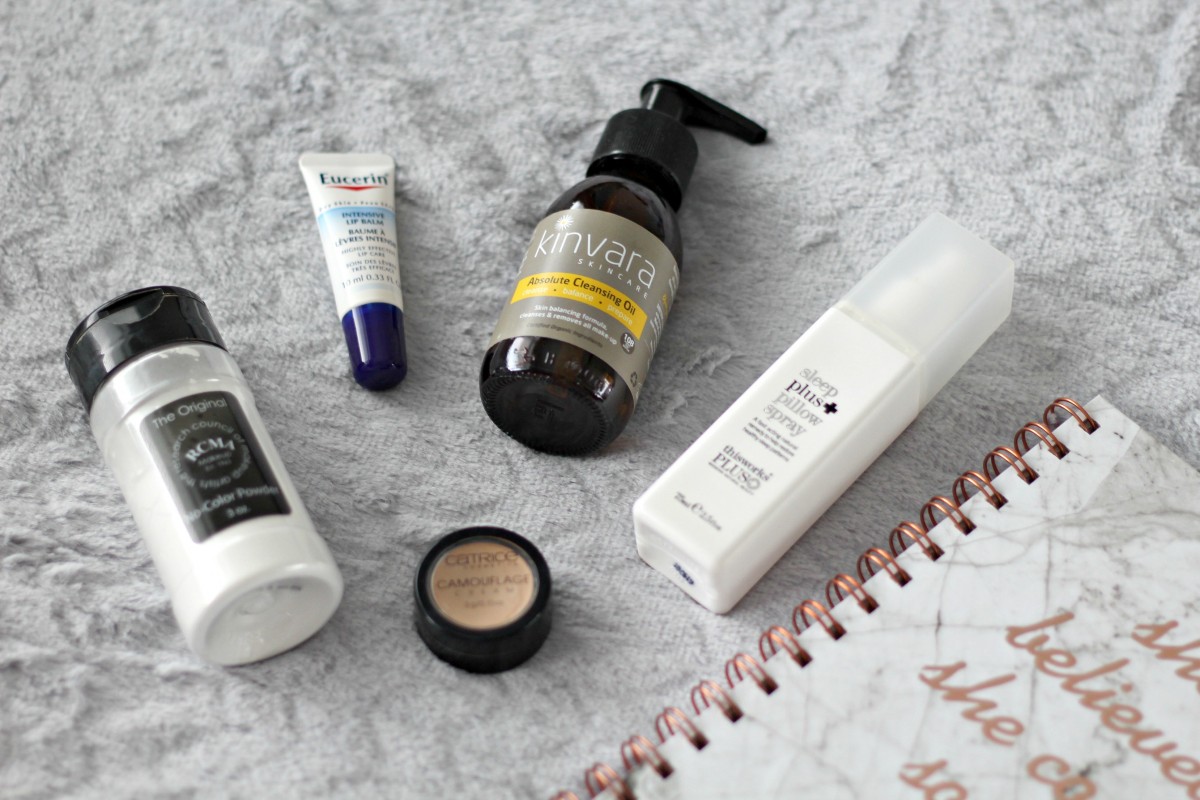 When better to overhaul your beauty and skincare routine than at the start of a new year? My answer to that would be everyday, but for the sake of this post, let's pretend I don't encourage going on an online shopping binge every other week.
Rather than do a huge post on every single product I loved in 2016 (there was a lot, FYI), I've picked out five that I've fallen in love with and would highly recommend trying out. Aside from one, each of these are new products and they've really impressed me.
Wanna know more? Keep on scrollin'.
RCMA No Colour Powder // I first heard about this through Kathleen Lights on YouTube, and when I saw how cheap it was on Beauty Bay at around €10, I had to pick it up. The product is exactly what it says on the tin – a no colour powder that is transparent when applied to the face. I absolutely love the matte but not flat finish this gives to the skin and it's ability to help my makeup stay in place longer throughout the day, however there's one gripe I have with it. The powder comes in a bottle with a flip up lid, like the one you get with the little glass spices, and has several holes to shake it out of. This makes it quite difficult to apply as I always pour too much out onto my brush and end up tapping half of it into the bin. A large plastic lid of some sort would be ideal to tap this into, but I haven't gotten my hands on one yet. Apart from that, it's a great powder that is bound to last a lifetime as you only need a small amount to dust over your face.
Eucerin Intensive Lip Balm* // Dry lips are something I have all year long and find quite hard to treat, despite trying what feels like every lip balm on the market. When this landed on my desk, I didn't have very high hopes for it to work miracles, but I was pleasantly surprised. I keep this by my bedside and slather it on before I go to sleep, and wake up every morning without fail with super smooth, plump lips. It doesn't feel greasy or slimy, which I love, but instead is hydrating and nourishing. I see a difference straight away on the nights I don't use this, and have found that it has helped to improve the feel of my lips overall. Lipsticks sit better and I can even wear matte lipsticks without my lips cracking within a few hours of applying. Plus, it only costs around €5, so it won't break the bank.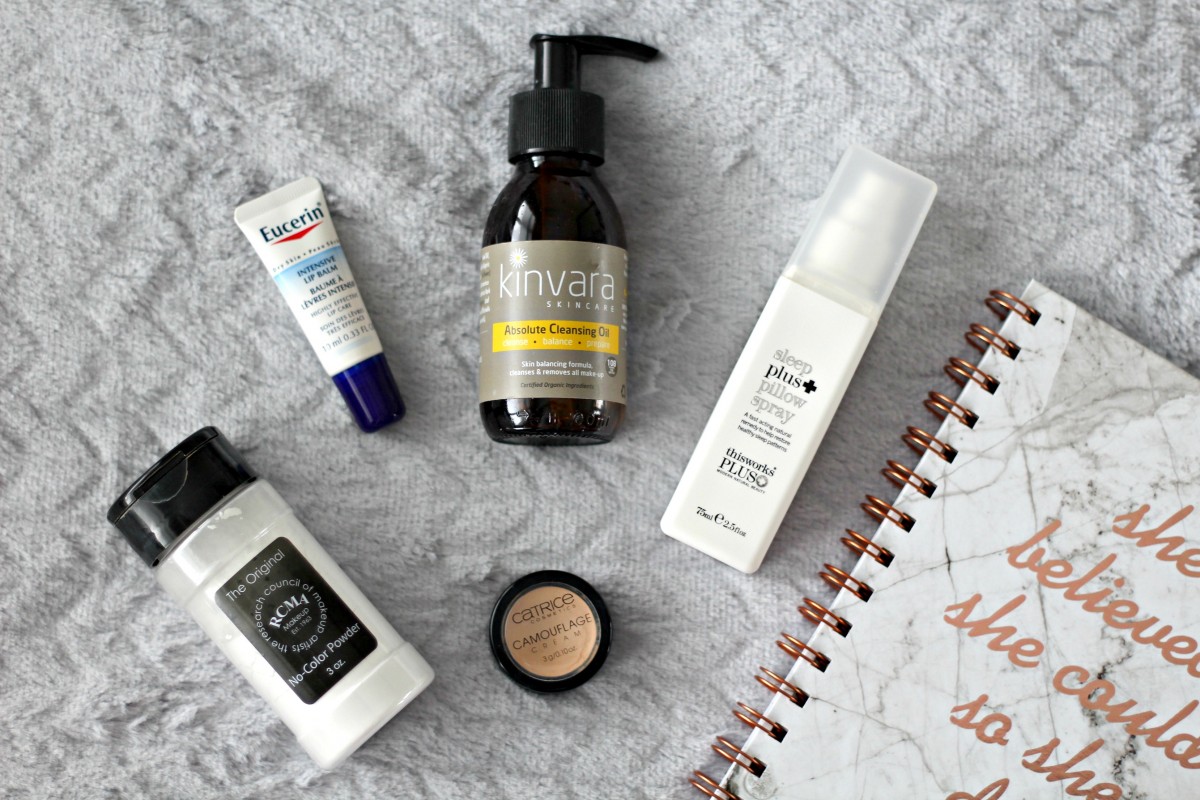 Kinvara Absolute Cleansing Oil // I've spoken about this 100 times, so I'll keep it short. This cleanser is my favourite one I've ever tried – and that's saying something. It removes every single scrap of makeup with ease (even waterproof mascara) and feels so luxurious on the skin. It's hydrating and leaves my skin feeling incredible, but doesn't leave any greasy residue. It's made of 100% plant oils and you only need one pump to remove your entire face of makeup, meaning it lasts months. You can pick it up in multiple pharmacies and health care shops, and I honestly can't recommend it enough for any skin type, whether it be dry or oily.
This Works Sleep Plus Pillow Spray // For several months I've had terrible trouble getting to and staying asleep at night. It got to the stage where I was only sleeping for maybe four or five hours and it was taking its toll on me quite badly, so after seeing this product floating around over the years I decided to finally try it – and I'm so glad I did. Combined with several other things, this spray has drastically improved my quality of sleep at night. It's my favourite part of my night time routine, where I spray it on my pillow and the top of my duvet before getting into bed. It makes the room smell amazing and honestly helps me to relax and nod off every evening. I picked mine up from Beauty Bay for €24.60, which was the best price I found, and although I was apprehensive about spending that amount on a spray, it was worth every penny. I've already ordered another one to keep as a back up for when this one runs out. A total life changer.
Catrice Camouflage Cream Concealer // I picked this up after a friend recommended it to me, and I'm so glad I did. Although I've several liquid concealers in my collection, I was lacking a cream concealer for spots and blemishes. This cost around €3 in Penneys and I haven't gone a day without using it since I picked it up. It's an exact (maybe better) dupe for the MAC Studio Finish Concealer, which I used a few years ago, and works so well at covering redness and blemishes. It's creamy and easy to apply and doesn't budge all day once it's set with powder. I can't see myself using any other cream concealer for quite a while as this one has just topped the charts for me!
What products did you love in 2017? I can't wait to see what new products I discover this year!
[PS: I realised I've mentioned Beauty Bay twice in this post, but it's in no way sponsored, nor do I have any affiliation with Beauty Bay – I wish I did! It's just my favourite beauty site and I always find they have the best prices compared to other sites. Just in case you were wondering!]