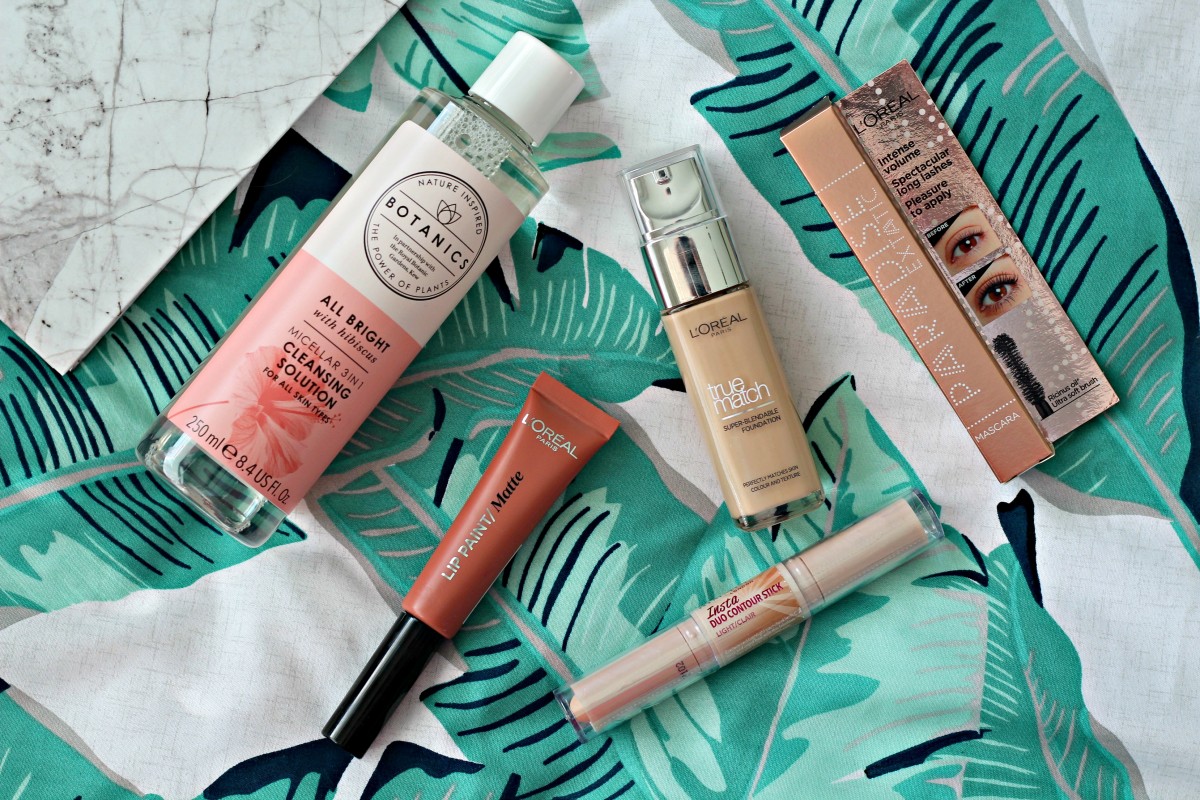 There's nothing that a trip to Boots can't fix, am I right? I don't wander the aisles of the makeup and skincare haven as much as I used to (mostly due to my lack of self control), but that almost makes it even more enjoyable when I do.
On my day off last week I grabbed a cup of coffee, rolled up my sleeves and headed into Boots in town to have a look at new beauty releases. I by no means needed any new makeup, but who really *needs* makeup anyway? With my holidays looming (six days and counting!), I tried to keep myself on a budget and not buy anything completely unnecessary, and I think I did pretty well.
I've been trialling these products over the last week, so I thought I'd do things old school and do a mini haul and first impressions. I hope you enjoy!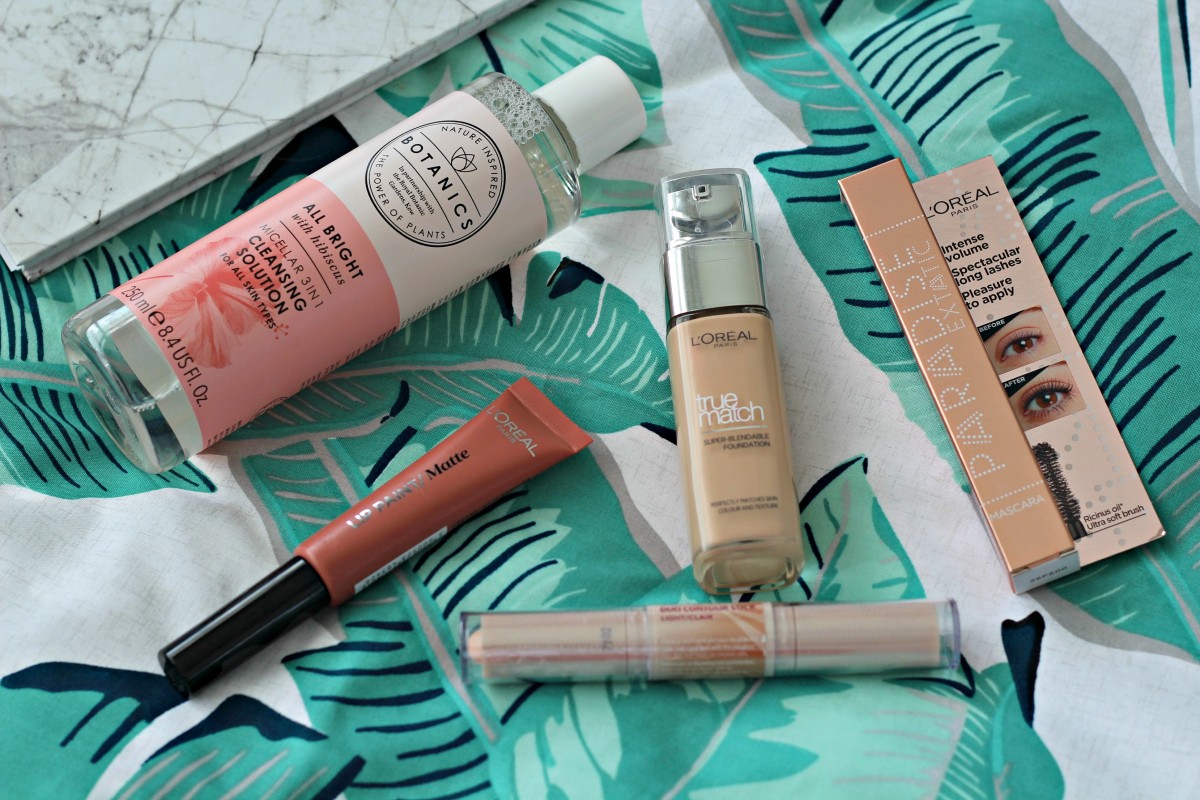 Botanics All Bright Micellar 3 in 1 Cleansing Solution, €6.99
I'm not gonna lie, I was totally sucked in by the packaging of this. Micellar water isn't strong enough for my skin to be the only cleanser I use, but I use it as a second cleanse morning and night. After being a loyal devotee to the Garnier version for what feels like years, I wanted to give something new a try. I'm not sure what makes a truly brilliant micellar water, but I do really like this one. It smells fresh and like rose petals, it's gentle on my skin and doesn't leave it feeling dry. Because I haven't been using it very long, I'm not sure about its brightening effects, but it certainly works as a cleanser.
L'Oreal Matte Lip Paint in Babe-In, €9.99
I've seen a lot of people rave about this liquid lipstick online so, despite having more liquid lipsticks than I'd like to admit, I said I'd give it a whirl. Firstly, the packaging and doe-foot style applicator are great. I love the rich nude colour, the smell that reminds me of the powdery sweets I used to eat as a kid (does anyone else remember them?!) and the almost mousse-like formula. When I apply it, it looks great and doesn't sink in super quickly so that it dries out the lips. However, I found that after an hour of wearing this, it kind of clumps together on my lips and starts to peel away. *Sad face* My lips can be quite dry, but rather than needing another layer because the product has dried in, I have to wipe it off completely and start again. I think this might work best with light, thin layers, rather than one thick one, but I'll have to keep you updated.
L'Oreal True Match Foundation in 2.R, €14.99
I have a complicated relationship with drugstore foundations. In short, my skin doesn't react well to them, and I've avoided them like the plague pretty much for the last eight years. However, after hearing about how much everyone loves this foundation and how much of a cult product it is, when I ran out of my NARS Sheer Glow I said I'd save myself the best part of €20 and try this instead. I wasn't sure of my colour, so the sales assistant was very helpful and matched me to Rose Vanilla. Yet, as I suspected, the shade is slightly too dark for my super pale skin. I was looking for something to wear without fake tan, but the only way this will match me is if I wear tan. Sigh. Aside from that, I really like the formula and how easy it is to blend in. The coverage isn't super strong straight away, but I build it up in light layers. It doesn't look heavy or cakey on the skin and lasts pretty well too. While it wasn't the colour match I was looking for, it's keeping a place in my makeup stash for my tanned days.
Rimmel Insta Duo Contour Stick in Light, €7.99
Hmm, does this look or sound familiar to anyone? Because as soon as I saw this, all I could think was 'Kim Kardashian contour stick dupe!' I'm by no means a pro when it comes to contouring, but this makes it so easy. One end is the contour shade, and the other is the highlight shade. They're literally like two jumbo crayons, and are incredibly easy to blend in. I was worried that the stick would drag on my face, ruin my foundation and leave tiger stripes all around. Luckily, I was very wrong. Each side is super smooth and soft, and literally glides over my face. A few dabs of a damp Beauty Blender and, bam, you're done. The highlight shade isn't strong enough for me to use on its own, but I just dab some powder highlighter on top and it looks pretty good. Whether you're a makeup pro or makeup novice, this is definitely worth a try.
L'Oreal Paradise Mascara, €12.99
Clearly I was feelin' the L'Oreal stand. It was this mascara that caught my eye first: shiny, rose gold packaging – how could I resist? I'm a huge fan of the Lancome Hypnose Drama Mascara, but there's always room for more. My lashes are quite long, but they're pretty much straight and blonde, so any mascara I use has a lot of work to do. For once, this mascara does exactly what it says on the packaging. It gives intense volume, length and is ridiculously easy to apply. It doesn't clump, crumble or flake, and even though it's not advertised as waterproof, having shed quite a few tears I can safely say that this stuff doesn't budge. Judging by all of the reviews I've seen online, this mascara has been a total hit all-round.
---
Despite spending a bit more than I originally intended, I'm pretty happy with all of the products that I picked up, especially the mascara and contour stick. I'll just have to try and stay out of Boots so these hauls don't become too regular – but would that really be a bad thing? 😉