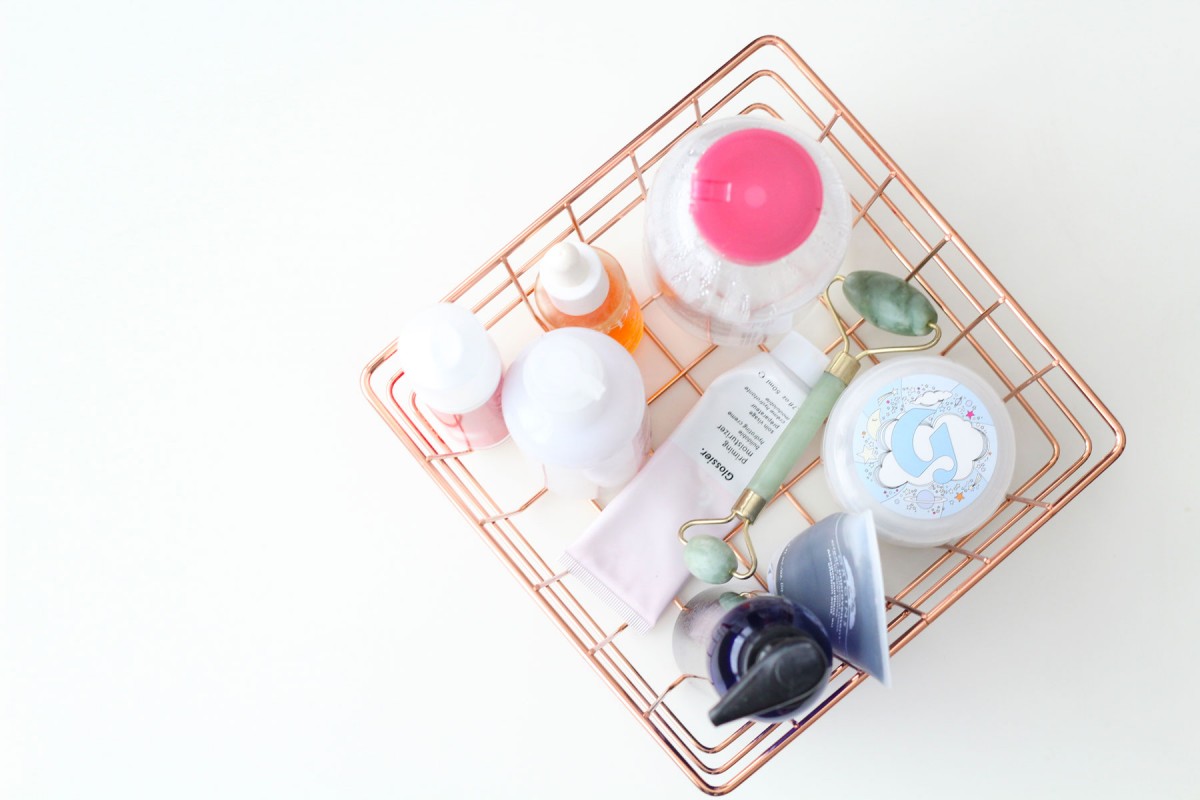 My relationship with skincare is a little complicated. For years, I used the wrong products for my skin type (normal/combination), piling them on and causing horrific breakouts.
Then a few years went by where I rarely even used moisturiser, or any products at all. Shocker, I know.
But I feel like over the past year I've really learned what works for my skin. This time last year was the beginning of the worst breakouts of my life, and they went on all the way up until December.
I had sore, severe acne on my cheeks, jaw and neck, and it really made me re-evaluate what products I used and what works for me.
Thankfully (betcha I'm gonna curse it now), I've found a skincare routine that's not too high maintenance or expensive, and has kept my skin looking much better over the past three months, with all of those scary, huge breakouts gone.
I still have some scarring and breakouts, but they don't compare whatsoever to what I dealt with before.
Anywho, I'm going to do a full blog post on how I cured my acne in the future, including a skincare routine, but for the moment I thought I'd share the best skincare products I've tried – and trust me, I've tried a lot.
Shopping lists at the ready…
If you've never tried an oil cleanser before – where have you been?! This Kiehl's remover will change your skincare life. Honestly.
One bottle lasted me about six months, it's non-comedogenic, it melts makeup in seconds, doesn't sting my eyes and oh, it smells amazing. It removes makeup so quickly, you can even do it after having five G&Ts (tried and tested).
This is what I use to cleanse my face in the morning, and at night if I've had a no makeup day, although it works really well to remove makeup too.
The formula of this feels like a dream on the skin, and leaves my face feeling so hydrated and soft. It also has the nicest smell in the entire world, and I actually look forward to using it in the morning.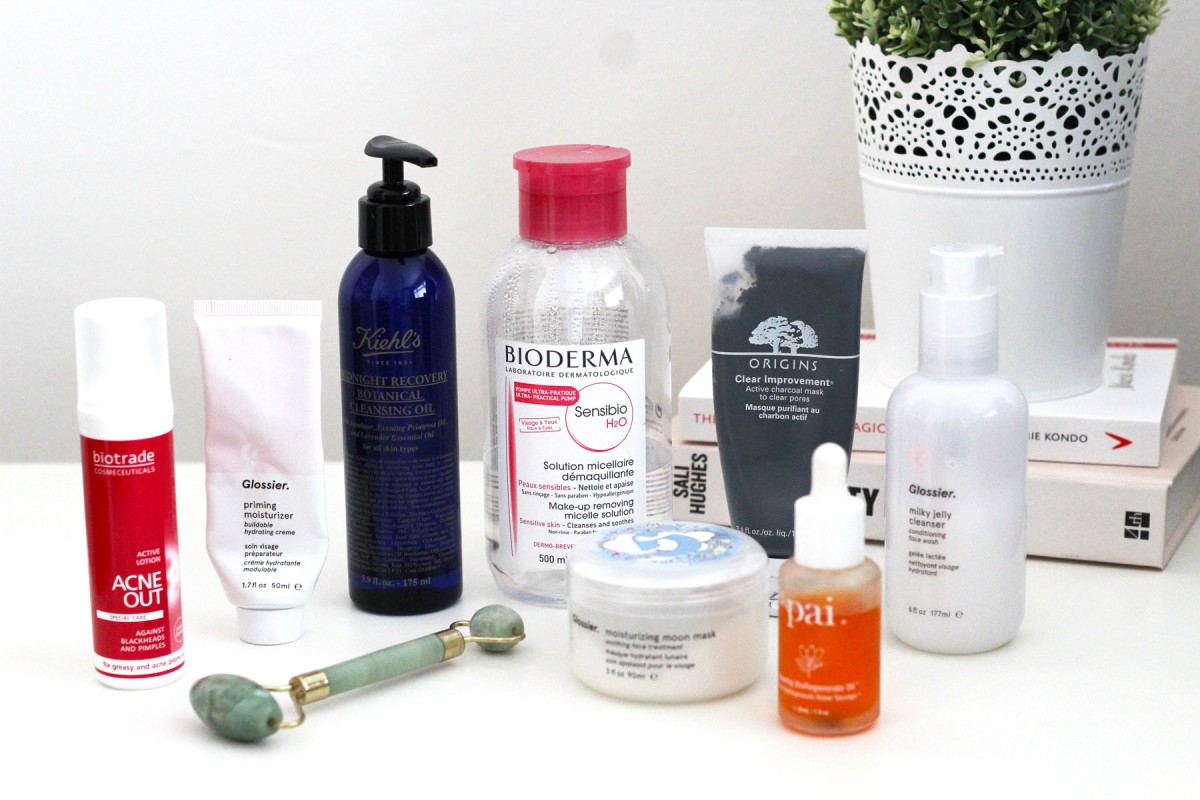 Three different cleansers might seem excessive, but they all serve a purpose, kay? I use micellar water after I've taken off my makeup to make sure I've gotten everything off, and in the morning if I'm in a rush. Bioderma is really sensitive and doesn't irritate my eyes or skin at all, unlike other micellar waters I've tried.
As I said before, there was a time when I didn't use moisturiser at all. Oh how things change. The Glossier Priming Moisturiser is by far the best I've tried, although I wouldn't say it 'primes' my skin like a makeup primer would. Instead, it smooths and hydrates my skin, while still being lightweight.
This is the magic little bottle that cured my acne. It got rid of the lumps all over my face within weeks, and since then has prevented any major breakouts.
It's a liquid that I use once or twice a day depending on what my skin needs, and I honestly couldn't live without it. Using a good moisturiser afterwards is essential though, as it can be drying.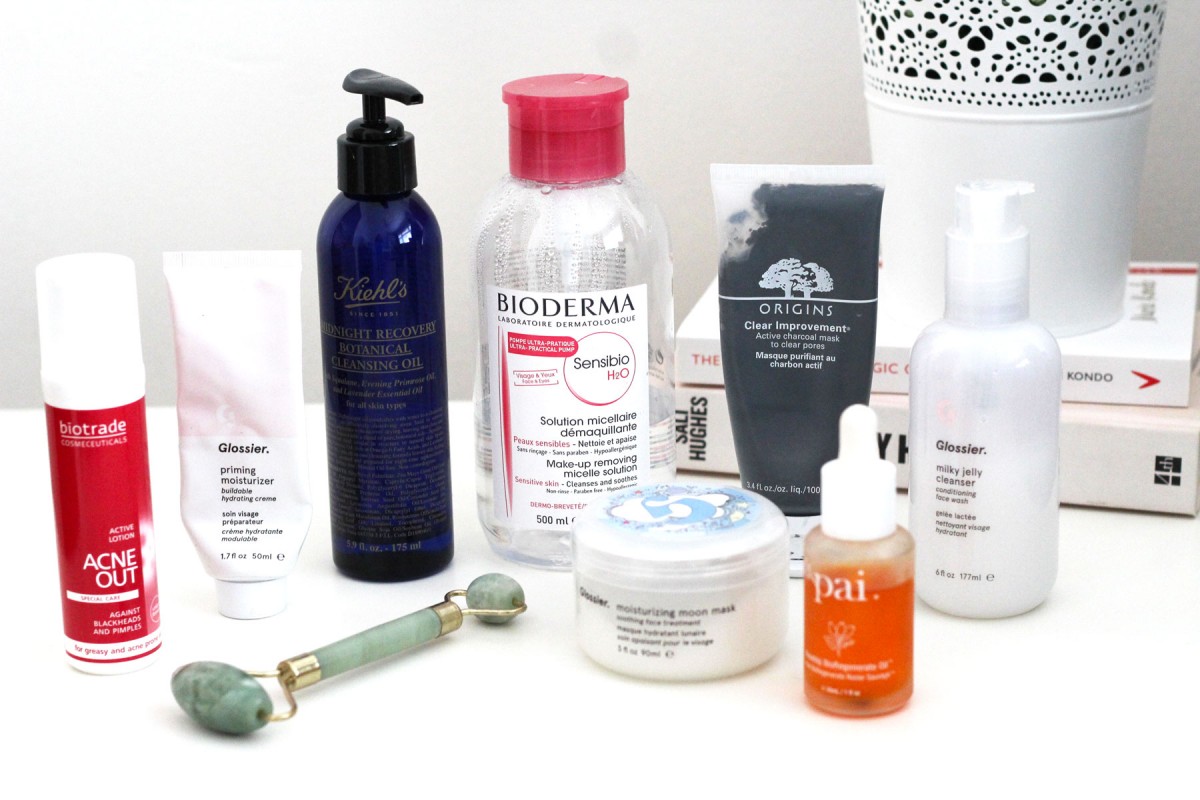 I use this when my skin needs some extra TLC and to help fade any scarring, and man does it make my face feel good. I think the key to using this is dampening your face first and then applying a few drops of the oil to lock in the moisture.
Then use the jade roller (pictured) to really work the oil into the skin. Pop a moisturiser on top and your face with look plump and glowy. Ideal.
I love a good face mask, and this is one of the best I've tried. It's easy to apply because it's in a squeezy tube, and doesn't dry out my skin or leave it red and irritated, like some charcoal masks do.
It wipes off easily with warm water on a face cloth, and leaves my skin feeling smooth and actually looking clearer.
I'll never get over how amazing this feels on my skin. It's hydrating, refreshing and makes my skin feel instantly plumper and smoother.
It doesn't leave an oily residue or break me out, so I leave it on overnight three times a week to make sure my face is as hydrated and glowy as it can be.
---
I've kept the review of these products short, otherwise this post would be 10,000 words long, but let me know if you'd like any more information or a review on a particular product and I'll be sure to do it up!
What are your favourite skincare products? Let me know in the comments below!