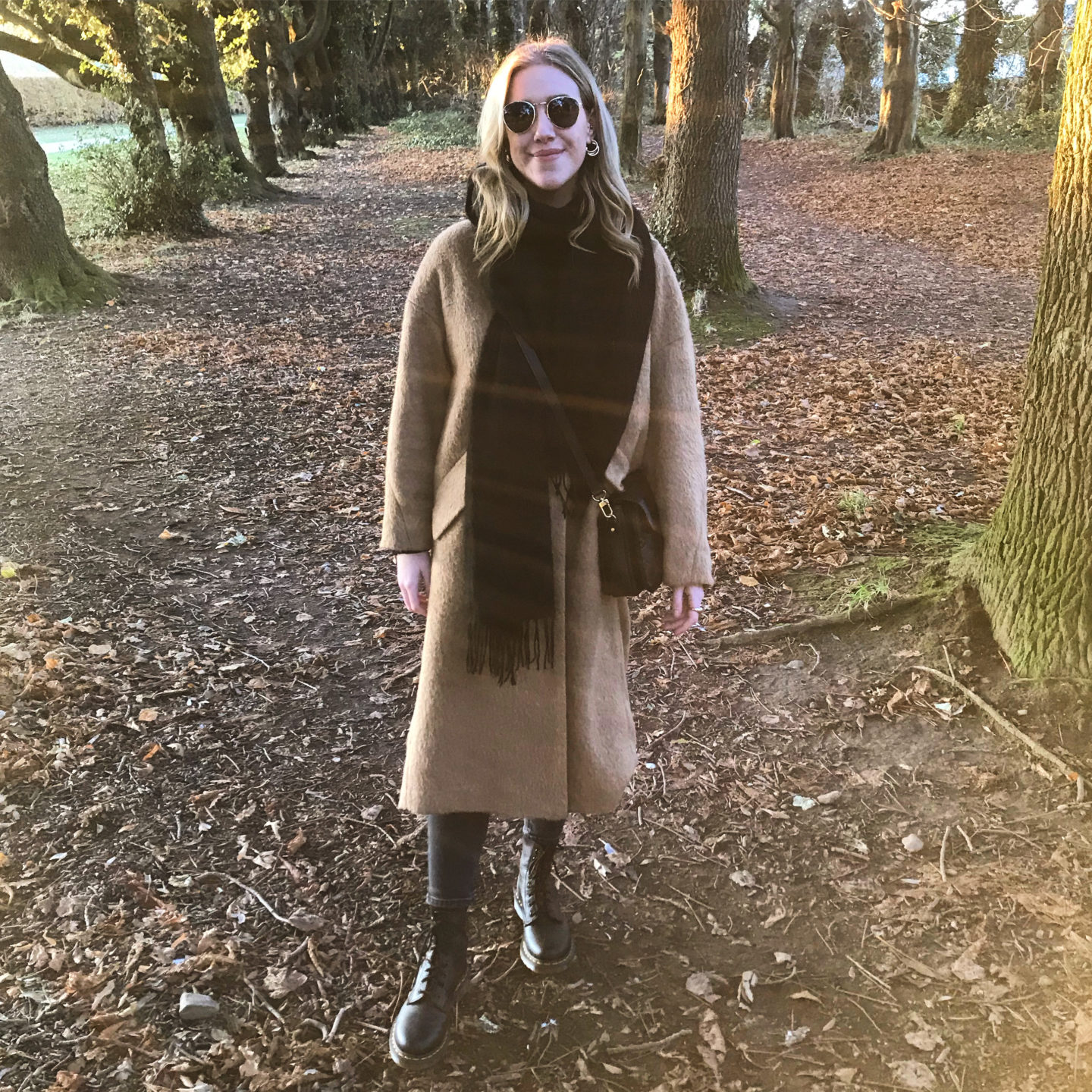 I asked on my Instagram stories whether I should share this post and 98% of people said yes, so here we are!
As I said on Instagram, last week was quite a bit more expensive than a usual week. There wasn't anything major that caused it to be more expensive – I suppose I just wasn't very strict in what I spent.
I'm quite apprehensive about sharing this, to be honest, but I thought I may as well. There are some weeks where I spend very little, and some where I spend more. While I certainly could be 'better' with my money, I generally just try my best to save every month, buy things I love and do things I enjoy. If I'm lucky enough, there'll be many years in my life when I've to pay for a house, kids and other big life events – so I may as well live a little now!
I'm only human, I definitely don't 'need' everything I buy, but I'd like to say that even if I buy things I don't 'need', like clothes, I always make sure that I like them enough to make the cost worth it, if that makes sense.
I don't spend money flippantly by any means, I may just spend it differently than others! And, as I said, there are some weeks where I spend the bare minimum. Everything in moderation, and all that!
Now my disclaimer is out of the way, here's what I spent last week…
Monday
Morning
I start most weekdays with a coffee for €3.25. I get a 15c discount for using my KeepCup and, although people always say buying coffee is a waste of money, it's one of my favourite parts of my day and that makes it totally worth it for me.
Afternoon
I brought in my lunch and snacks for the week to work, so no cost there!
Evening
Fashion Influx released a new range on In The Style, so I ordered a top and a bralette I've had my eye on for a while. I had a 20% off discount code, so it cost €52 in total.
ASOS was also doing a 20% discount, so I ordered a pair of Topshop jeans. It's much cheaper to shop on ASOS in £, so they cost €33.70 after the discount.
Total: €88.95 (eek)
Tuesday
Morning
Coffee for €3.25 as usual.
Afternoon
I've my lunch in again today. I topped up my Leap card by €20 and picked up chewing gum for 90c because I'm addicted.
Evening
I just finished a book for our work book club (An American Marriage, it was great!) and really enjoyed reading it on the way in and out of work, so I ordered The Giver Of Stars by Jojo Moyes on my Kindle for €11. 
Total: €35.15
Wednesday
Morning
A slightly different routine this morning as I went into Dunnes to pick up a few things before work. I got plasters, tissues, a cup of coffee and a few bars of chocolate for my colleagues for €11.29 in total. It's my one year work anniversary, so I just wanted to say a little thanks to the three people I work closest with.
Afternoon
I was absolutely starvin' Marvin so I picked up a packet of hummus crisps in the health food shop for €1.20, and a coffee in a pop up shop (Happy Out, my favourite!) for €3.10 as I wandered around on my lunch break. 
Evening
I had a look in a Topshop on my lunch and saw a few things I liked, so I decided to be a bargain hunter and order them on the English website in £. It worked out about €40 cheaper than if I'd paid for them in euro. It cost €6.79 to use an English address through An Post Address Pal, but the saving was worth it. For a Christmas party dress, trousers, a t-shirt and a top, it cost €97. I wouldn't make a big Topshop order like this often, but they're my weakness.
Total: €119.38 (also eek)
Thursday
Morning
No time for coffee before work – I'm late!
My beautiful colleague popped out for a coffee mid-morning and gave me life by getting one for me too. €3.80 via Revolut for a large (delicious) cappuccino.
Afternoon
I don't have any lunch in with me today, so I got a burrito bowl for €7.95. I used every bit of strength I have not to buy a Diet Coke. I've book club with work tonight, so I got a few sweets to bring for €4.10.
Total: €15.85
Friday
Morning
Coffee, €3.15. I picked up some gum and a Nakd bar in Dunnes too for €3.58. It's Friday!
Afternoon
Another day, another Dunnes trip. Today I got a lovely chicken salad for €5, which I think is really good value for a salad in the city centre.
Things start to go a bit downhill here. I wanted to pick up a few small things for my dad as a present. Sometimes I think it's just nice to be nice. I got him a few products in Boots, plus a serum, dry shampoo and body cream for myself. The total came to €48.06.
On my way back to work I thought that my dad would appreciate a KeepCup because he loves coffee as much as me, so I got him one for €16.95. If I'd looked around or shopped online for these purchases, I could have gotten them for a better price but I wanted to give him the presents today.
Evening
I went to a table quiz to raise money for a local project my boyfriend's parents are involved in. To pay my part for the table, raffle and drinks it came to €51.
Total: €127.74 (Christ)
Saturday
Morning
No sore head today – woohoo! I walked to collect my car and picked up avocado, eggs, bacon, butter and a cup of coffee on the way for €12.35.
Afternoon
I chilled out for the rest of the day and started to get ready for a night out with my family before I realised that I better eat dinner. I panic ordered a Chinese takeaway for me and my dad an hour before we were supposed to leave and prayed that it arrived quickly. (It did!). €15.80.
Evening
I headed to an event which was organised to raise money for a very worthy cause (link here) and spent €60 between taxis, drinks and raffle tickets. My boyfriend and I split everything, which works well for us both.
Total: €88.15
Sunday
Morning/Afternoon
After getting in at 3am, it was pretty late when I woke up this morning. I quickly got ready to go to Happy Out in Dollymount (my favourite place) with my boyfriend and his cousin. He very kindly buys my toastie, coffee and brownie. (They were delicious.)
We went to my boyfriend's parents' for dinner, so we picked up a bottle of wine (€16) for them. I got this as he got brunch.
Evening
I remember just before I fall asleep that I need to order a food shop, so I order one on the Tesco app for €40.75. This will do me and my dad for the week. Delivery is €5 to come tomorrow evening (Monday) and it's the best €5 ever spent. 
Total: €61.75
Weekly total: €536.97
And that's what I spent last week! There were a few unusual expenses in there (the exceptionally large Topshop order and the presents, to name two) which definitely hiked up my weekly spend. Going out on both Friday and Saturday night was pretty unusual too. I'm a 24 year old granny, in reality, and usually stay in and get a takeaway on a Friday, and then go for dinner and a few drinks on a Saturday.
This week, in comparison, will be much less spendy. Payday is a while away and I spent a fair bit last week so, all going well, Monday-Friday should have a low enough spend at least.
As I said, I really do try my best to manage what I spend. There are definitely things I could have done without last week and I'll (literally) have to pay for them this week by bringing in my lunches, avoiding impulse purchases and staying away from ordering anything online, but that's life.
It's crazy how embarrassed I feel sharing this because I'm well aware that what I spent is a very large amount of money and it's very out of the ordinary, but I think it's important to share weeks like this too and show that not everyone is a super saver all of the time, as I feel like a lot of people (myself included) feel guilty about what we spend. But what's the point in feeling guilty? We go to work, work hard, save and pay our bills, so we all deserve to spend whatever's left however we like sometimes.
I'm also aware that I'm lucky to be able to have weeks like this – even if they're not very often – but I do try my best to give back, save and make sure that the money I do spend is on things I enjoy, with a few things for the people I love along the way.
Anywho, let me know if you enjoyed this and maybe I'll share a more normal week next time!
*holds breath and hits publish*