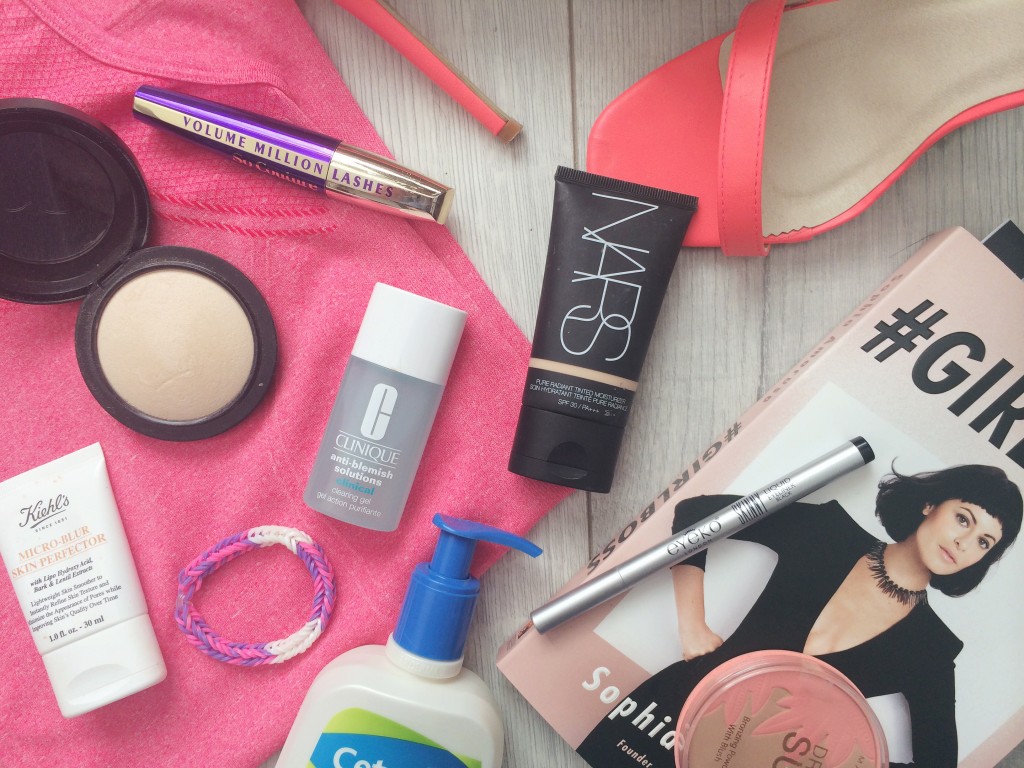 The past couple of months have flown by so much that I can hardly keep up with what season it is. In fact, the past few years have flown by so much that I still think it's 2013. I need to buy a calendar…
After a really busy couple of weeks, I realised that I totally forgot to do my June and July favourites. I've been trying out quite a few new products, reading more and doing some shopping that I really shouldn't be doing, but hey, here's to my Better Late Than Never favourites.
I picked up the Clara Neon Coral Sandal from Missguided for a wedding at the beginning of July, and after wearing them for 13 hours straight with no pain at all, I can safely say I'll be picking them up in a few different colours. They're high without being too high, and the strap around the ankle makes them so delicate and pretty. As for the neon coral colour? They didn't get 781 likes on my Instagram for nothing.
I never thought I'd be one to say it, but here it goes – I like going to the gym. Yup, the girl who once winced at the thought of doing a fitness class surrounded by 30 other people and using machines in a busy gym now looks forward to going to the gym, and actually enjoys it. I picked up some new gym gear from Penneys as extra motivation, including the pink top pictured above, and can honestly say that it's true that what you work out in can make the biggest difference to your performance.
I picked up the new Volume Million Lashes by L'Oreal when I saw it on special offer in Boots, and am so impressed with it. The brush is thick and bristly, and grabs onto every lash adding volume and length in just one coat. The only problem I have is that there wasn't a waterproof option available, which is bad news for me because I cry even watching Teen Mom.
I'm totally obsessed with the new packaging for MAC Mineralise Skin Finish, one of my holy grail makeup products. The mirror and sturdy packaging makes it easy for application on the go.
I wrote a whole post about NARS Tinted Moisturiser, Kiehl's Micro-Blur Skin Perfector and Maybelline Dream Sun, so I won't go on about them too much. I think the fact that I've used at least one of these products every day for the last two months says enough.
While I was in Lanzarote for two weeks in July, the sun didn't heal my skin as much as I had hoped, so when I came across Clinique Clinical Clearing Gel for €18 in a chemist, I couldn't resist picking it up. It is quite harsh on the skin, but works really well at keeping spots at bay and improving the appearance of existing spots quickly.
My most random favourite of the past two months is Loom Bands. My cousin made me about six of them in all different colours, and I think they look really fun and quirky. Hardly a high-end fashion piece, but I love them because she made them for me and each of them are different. Whoa – I got pretty deep there about a rubber bracelet, didn't I?
Cetaphil is a repurchase from about four years ago, and as soon as I used it this time I knew I wouldn't go that long without using it again. It's really gentle and removes makeup with ease, and hasn't caused my skin to breakout or become red at all.
I got Eyeko Skinny Liquid Eyeliner free with Glamour Magazine a few months ago, and it is because of this product that I can now do a cat-eye flick. The nib is the perfect size, with a really precise point and is just the right softness. It doesn't budge all day long and sinks in nearly straight away. I'll definitely be picking this up in Space NK as soon as it runs out.
Last, but certainly not least is #GIRLBOSS by Sophia Amoruso, the founder and CEO of Nasty Gal. If you're looking for a motivating, inspiring, kick-ass book, then this is the one. This book actually makes me forget to check Instagram and Twitter every two minutes once I start reading it, and I think that says it all.
If you've made it to the end of this post, thank you, grab a Digestive in celebration. I do tend to ramble.
What were your June and July favourites?