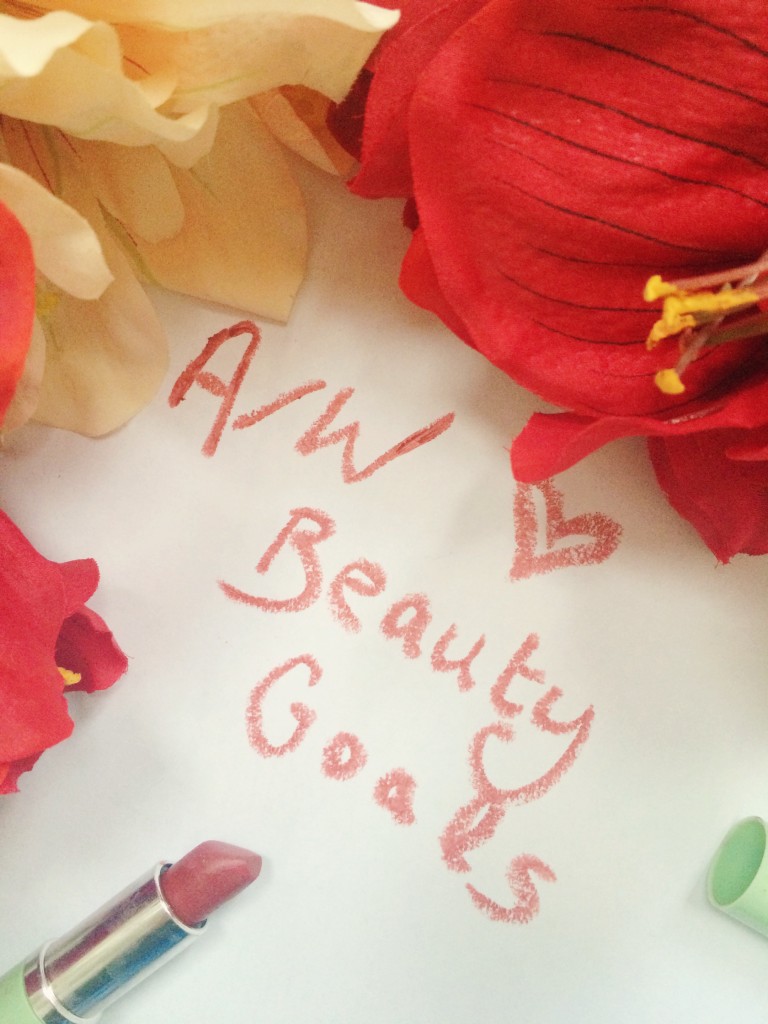 Is it strange that I have beauty-related goals for every time of year? Just like I like to set myself goals at the start of a new term for things I want to achieve, I thought 'why not set beauty goals?!' I'm the kind of person that will buy way too many bright lipsticks on a 3for2 deal in Boots in spring but never actually get around to wearing them. So this autumn/winter I've decided to set a few light-hearted beauty goals for myself. That way I'll get the wear out of the berry lipsticks I already have, plus I won't feel so bad for buying more 😉
Wear Berry Lipsticks Daily – Yup, I said daily. Coming from someone who has at least two nude lipsticks within a three-metre radius at all times, that's a pretty big goal. I always admire people who can pull off gorgeous red and plum lipsticks during the day, so why can't I? MAC Rebel, I'm coming for you.
Use The Naked 3 Palette More – Although I went crazy to get my hands on the Naked 3, after the initial excitement it slipped away from my favourites pretty quickly. However, after seeing Lily Pebbles' Autumn Berry tutorial where she mentioned the Naked 3, I whipped it out of my drawer and fell in love all over again. The pinks, purples and golds are especially gorgeous in A/W, and are surprisingly easy to wear.
Perfect The Cat-Eye Flick – The two words that send shivers down my spine when it comes to makeup are 'the flick'. No matter how hard I try I just can't seem to achieve the perfect cat-eye flick. It's a makeup look that I absolutely adore, so I'm just going to keep trying! I'll keep you updated on my progress.
Expand my blush collection – I've never been a huge fan of blusher. While I wear it on a daily basis, I only have about four in my collection (a small enough number) and they're all pretty similar. I'd much rather buy a lipstick than a blush, but after seeing so many people raving about The Balm Frat Boy, I think I might just have to pick it up.
Moisturise, moisturise, moisturise! – A skincare step that I skip way too often, I'm really going to try to amp up my moisturising game. Face and body – I don't want to resemble a snake come December.
Change Up My Hair – I won't be changing my blonde locks anytime soon, but I've slipped into the habit of wearing my hair down constantly. It's become a comfort blanket, and when I wear it up it's as if I've taken a scarf off my neck. So I'll be scouring Pinterest for inspiration of messy buns and cute plaits. Plus, I think I *might* be going a little shorter when I get my next set of extensions in…
Keep My Nails In Good Condition – Eek, I feel like I say this every season. I might indulge in a session of Shellac to get me going, because keeping my nails Instagram-able is a bit of a struggle at the minute. Maybe a few autumnal nail polish purchases will be enough to keep me on track?
Let me know in the comments your beauty goals for A/W, and stay tuned for my fashion goals on Friday!