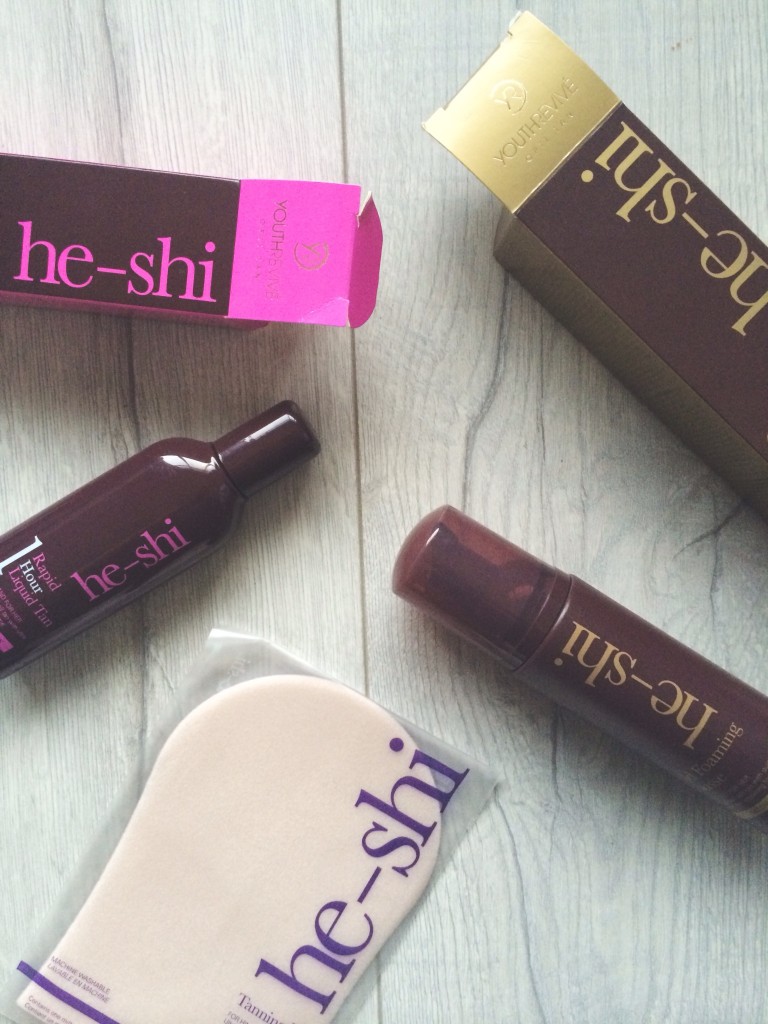 He-Shi was the first tanning product that I tried back in the day when I was getting into tanning. I remember that my mam always had a bottle of it and I thought it was so luxurious and grown up. I also remember being at a teen disco *cringes* where someone came up to me and asked if my tan was natural. If that's not a good sign then I don't know what is.
So when I got the opportunity to try out some He-Shi products, I was more than happy to oblige. He-Shi have really expanded their range since I tried it seven years ago (insane, I know), to instant tanners, gradual tanners and more.
The first product I tried was the Gold Foaming Mousse, which is an instant tanner that develops over time. I've never been a big fan of instant tanners, as they always looked green or dirty on me (not exactly the look I was going for) or streaked if it rained or if I got any water at all on my skin. Luckily, this product does none of those things. It gives a gorgeous golden tan, as the name suggests, and as it's a mousse it is really easy to apply without streaking. It doesn't smell like fake tan and isn't sticky, which I love. I'm quite pale so I like quite a deep tan, so one layer of this is enough for day-to-day, and two layers is ideal for when I want to be a bit darker. The colour develops really well over the course of a few hours, so you can apply it in the morning and go about your day if you want your tan to be darker that night.
I was really excited to try the Rapid 1 Hour Liquid Tan, as the first He-Shi product I tried was liquid. I'm used to using foaming mousses for tanning, so I was apprehensive about how this would apply and if it would drip all over the place (thankfully it didn't, we just got new carpets!) The concept of a 1 hour tan is so handy because I rarely have the time or the energy to apply tan at night before I go to bed. The liquid formula was really easy to apply and went onto the skin flawlessly with the He-Shi Tanning Mitt. It gives a lovely colour to the skin on application, and develops over the course of three hours, depending on how dark you want it. I wanted my tan to be dark, so I left it on for the full three hours and washed it off to reveal a gorgeous bronze colour. For some reason tan never shows up on my legs, but this one did! It is almost like a stain on the skin, so it has great lasting power too.
Of course, I made sure my skin was exfoliated, shaved and free of moisturiser in the 24 hours before applying both of these tans to ensure a smooth application. Neither product stuck to dry patches, and each faded evenly over the course of a week.
Tanning won't be such a chore anymore thanks to these two products, which my pasty limbs will definitely thank me for!