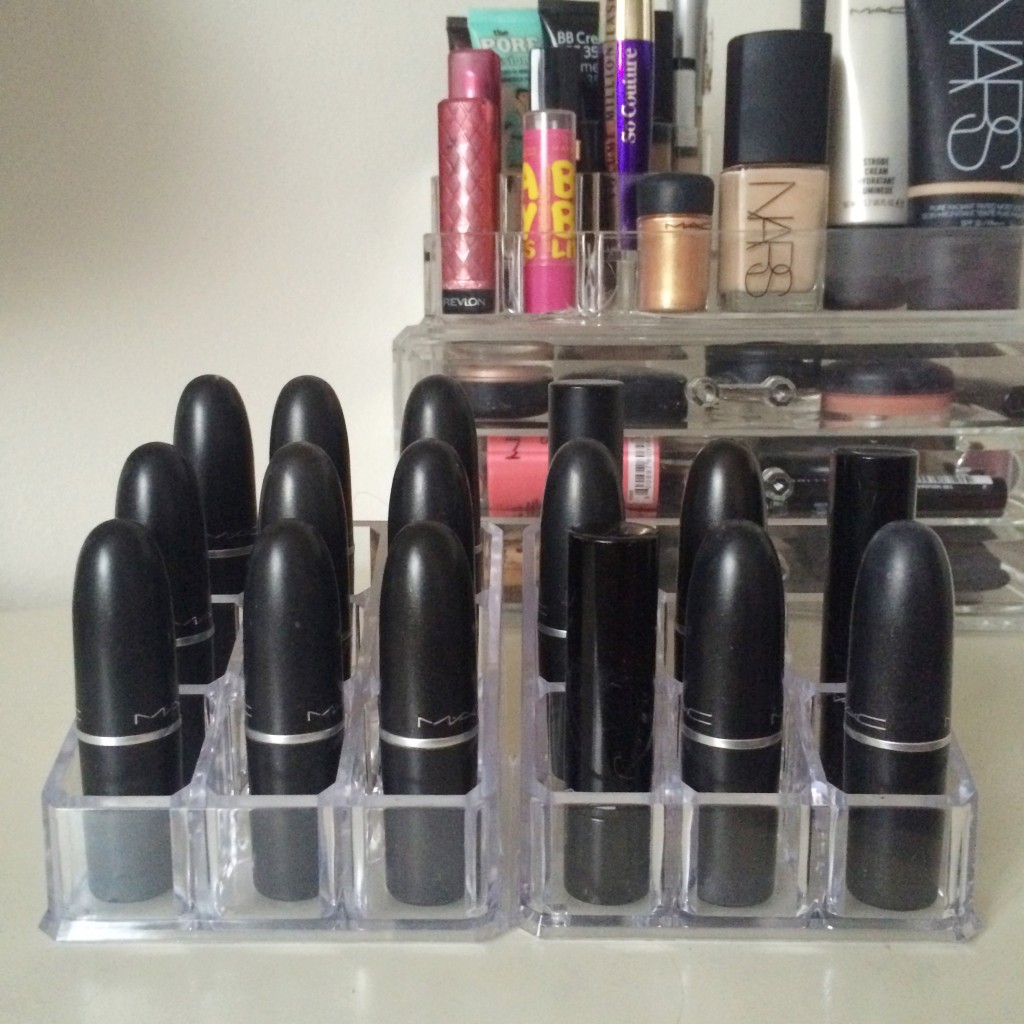 It's no secret that MAC is my favourite makeup brand. It's the first place I go to whenever I need a new eyeshadow, foundation, lipstick – or anything makeup related at all! Since I started buying and wearing makeup over seven years ago, (say whaaat?!), I've collected my fair share of MAC lipsticks. I thought I'd share with you the collection I've gathered over the years, although I'm sure there are a few that got lost/used up along the way! I'm going to try and describe the lipsticks in as few words as possible as this could turn into a very long post, and I'll point out my favourites too!
Angel – One of the most recent additions to my stash. Pink, pigmented, creamy.
Rebel – Favourite. The ultimate autumn/winter lipstick. Purple, pigmented, buildable colour.
Coral Bliss – A go-to colour in spring/summer. Coral, moisturising, glossy.
Myth – One of my least favourites as it's too light for my natural lip colour. Pale, nude, creamy.
Creme Cup – A gorgeous everyday pink. Pretty, moisturising, glossy.
Hue – Favourite. Similar to Creme Cup, but lighter in colour and more sheer in application.
Brave –Favourite. Another recent addition to my stash! Kylie Jenner – need I say more?
Twig – A brown-nude for the darker lip lovers.
MAC Red – My favourite red. Pigmented, long lasting and non-drying.
Overtime – A creamy, lighter pink nude. (Can you see a theme here?!)
Plumful – Favourite. My favourite everyday autumn/winter berry lip.
Snob – Slightly lilac-toned pink. Not my favourite out of them all.
Impassioned – The ultimate kick-ass statement lipstick. Surprisingly easy to wear!
Shy Girl – Favourite. This colour doesn't look great swatched but I love it when it's on. Coral, nude, creamy.
Bare Study – Favourite. My all time favourite nude lipstick. I have two of these and they're both nearly all gone. It's really moisturising and pigmented, and leaves the lips soft all day long!
As you can probably tell, nude, moisturising and creamy lipsticks are what I tend to go for!
Let me know your favourite lipsticks, MAC or otherwise, in the comments below!