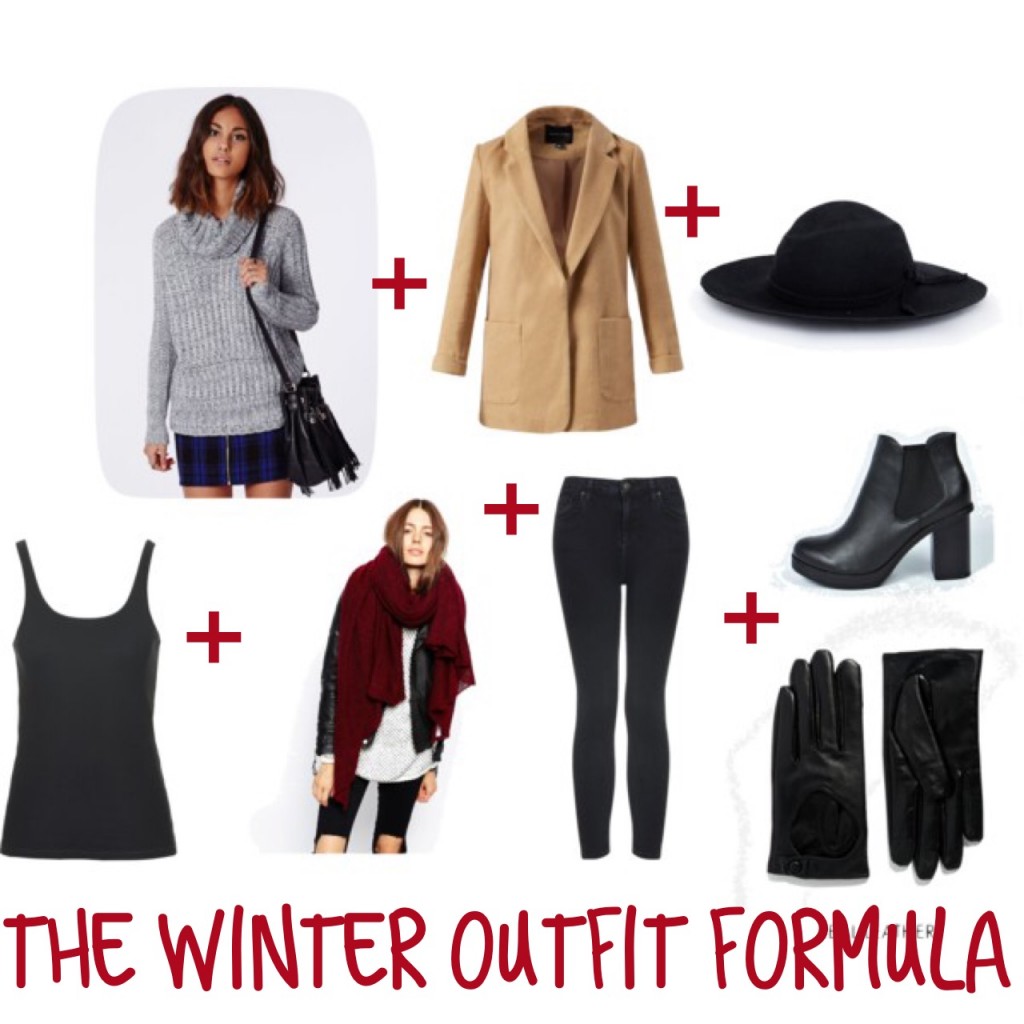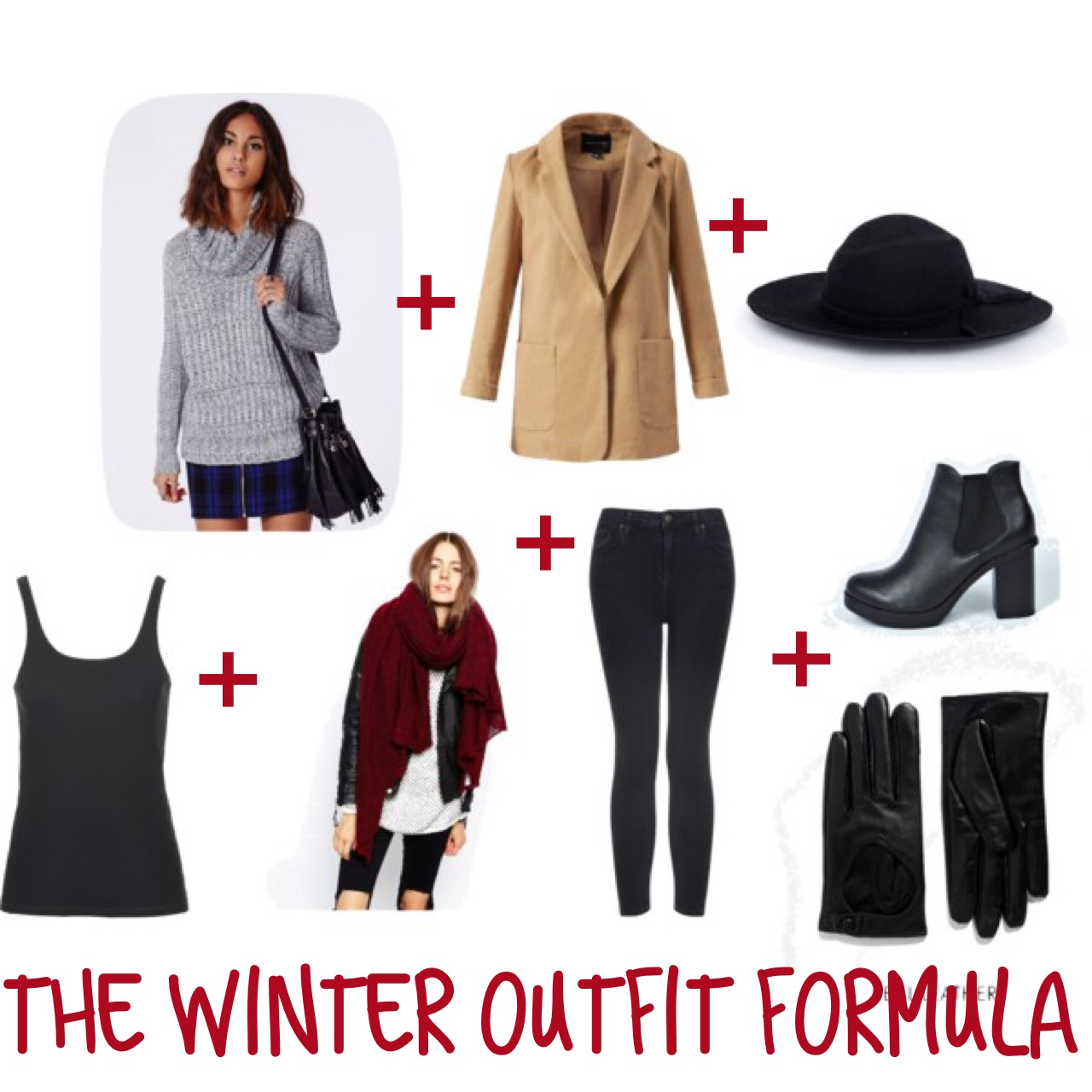 I was so close to calling this 'The Autumn Outfit Formula' until I had the sad realisation that autumn is over and we're well and truly into winter. Although, I'm not complaining. Any outfit that contains boots, scarves and plenty of layers is an instant favourite in my books, and the colder days mean an hourly cup of tea is acceptable. Score.
I tend to get into the routine of wearing the same thing every day whenever the seasons change. There's a formula to all of my outfits, it's just the basics that change. Winter is no exception, and I've already nicely figured out my outfit formula for this season. Now that's the kind of maths I like.
It goes like:
Vest top + knit + coat + oversized scarf + skinny jeans + boots + leather gloves + floppy hat = the perfect winter outfit 
Vest top – A vest is essential if you want to keep warm. I'm aware that I sound like your granny, but it's true. This one's from Topshop, but nearly every shop on the highstreet has them. Topshop have some on special offer at the minute, so pick up a couple as they'll be a wardrobe staple in winter.
Knit – Knitted jumpers have gotten really popular the last few years, which is great if you're like me and always freezing. For me, the more oversized and slouchy the better. Missguided have some gorgeous ones in at the minute, and they're really affordable too. I've my eye on the black and grey plain roll neck ones, as well as this gorgeous chunky knit one. I'm using all of my will power right now not to go on and order the three *must save, must save, must save*!
Coat – I knew investing in a camel coat last winter would be worth it! The trendy colour has stayed around, and this one from New Look is a pretty good price (plus New Look give a student discount!). Your coat is one of the first things people see when they look at your outfit, so find one you like and invest if you can. After all, if you're just popping into town you could just have a pyjama top on underneath and no one would know!
Oversized scarf – My favourite part of the formula. A scarf can change an outfit and make it look totally different. The same as knits, the more oversized the scarf, the better in my books! Penneys have some really nice ones in at the minute, as well as ASOS which stock this gorgeous one. 
Skinny Jeans – No matter how many different types of jeans that come into fashion, skinnies will always be the only ones I wear. As much as I want to wear cute dresses and skirts in winter, it's always jeans that win me over. Topshop jeans are my favourite, I've my eye on these for when I go to London. Jamie jeans are slickly thicker than Leigh, so they're warmer and more structured. Black jeans are great to have because they look just as good during the day as they do on a night out!
Boots – No matter what time of the year, boots are always incorporated into my outfit formula. I've gotten really into wearing boots with a platform and a chunky heel because you get the extra height without the discomfort of a stiletto! I couldn't believe how affordable these ones are from boohoo for €40! The same as black jeans, heeled boots are great for both day and night.
Leather gloves – Bare with me, leather gloves have come far from being the chosen hand wear of burglars. A pair of leather gloves really adds extra glamour to an outfit, and they're 100 times better at keeping the cold out than cotton ones. Plus, you can make snowballs without your gloves getting wet and soggy! Again, ASOS have pulled it out of the bag with these gloves for €25, a total bargain.
Floppy hat – I'm not much of a hat person, despite picking up at least three beanie hats each time winter rolls around, I can never really get them to work for me. It has to be near freezing conditions for me to put a wooly hat on my head. However, I recently picked up a floppy hat from Penneys and I love it. I've seen so many bloggers wearing them recently and looking amazing, so I thought I'd give it a go. It's a nice change from a beanie, and I can see myself wearing it all season! This hat from Missguided is very similar.
There you have it, my winter outfit formula. Let me know what you think and what yours is in the comments below! Have a great weekend everyone!