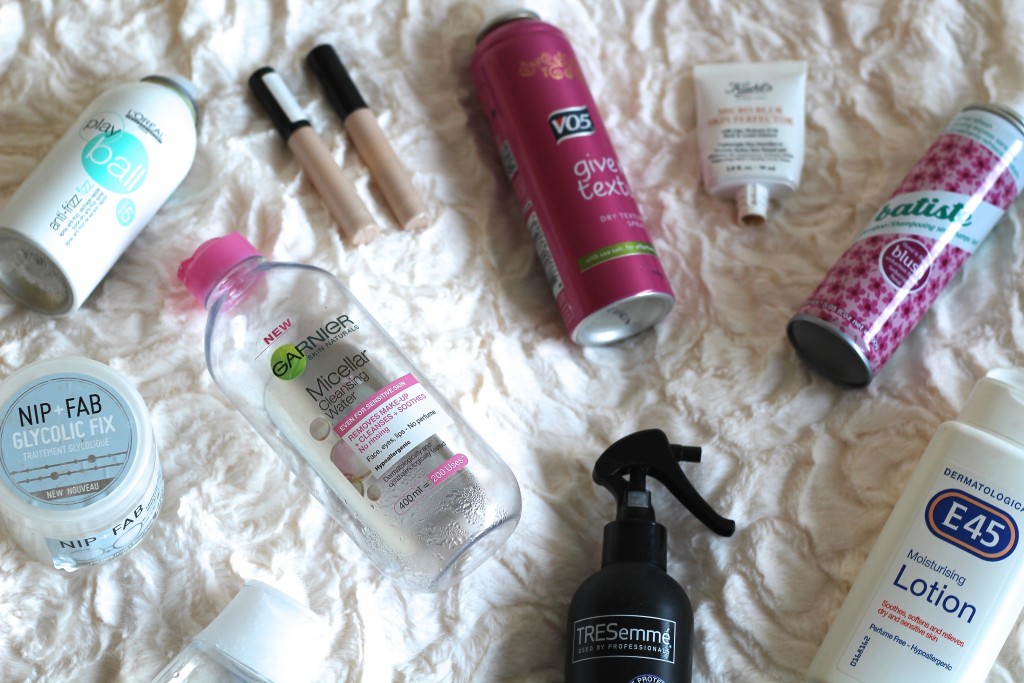 Boy am I glad to write this post. The bag of empty products under my dresser was starting to overflow, and it's made me realise I need to make a major trip to Boots soon. I've said it before, but I love writing empties posts because it shows that I actually am using up the products I buy, and it makes me feel a lot less guilty for going over board on a 3for2 deal in the aisles of Boots.
Let's start with haircare – I go through Batiste Dry Shampoo like no other product. I genuinely can't stop using this stuff and have started to stock up on back-up supplies in fear of running out unexpectedly one day. V05 Give Me Texture Dry Texturising Spray is mentioned around these parts a lot, and for good reason. It gives my flat, lacklustre hair volume and movement like no other, and has put an end to my temptation to splurge on the Oribe Dry Texturising Spray as I have no faults with it at all. I'm not a huge fan of hairspray as I hate how it makes my hair crunchy *shudders*, but I love L'Oreal Playball Antifizz Spray. I've had this bottle for years but just a spritz holds my hair in place and stops any frizziness or fly-aways.  I've been buying Tresemme Heat Defence Styling Spray for as long as I can remember, and don't plan on stopping soon. It's lightweight, non-sticky, non-drying and protects my hair from curling/straightening/blow drying on a near-daily basis.
Garnier Micellar Water, E45 and Nivea Double Effect Eye Makeup Remover (pictured at the very bottom) are my ol' reliables when it comes to skincare. The micellar water and duo-phase eye makeup remover have revolutionised my skincare routine, and E45 is the perfect all-over face and body moisturiser. This was my first time buying Nip and Fab Glycolic Pads, and I fell in love with them. They kept my skin smooth and sloughed away any dead skin cells, as well as helping with pigmentation and brightness. They're already in my FeelUnique basket ready to be repurchased.
Kiehl's Micro Blur Ultra Skin Perfecter was a welcome addition to my makeup routine, and has been sadly missed since I've used it all up. I removed the lid to scrape every last bit out that I can get, as you can see. I went through not one, but two, Collection Lasting Perfection Concealers in recent weeks, with another two on the go at the same time. It's the one product does all concealer for blemishes, dark circles, scarring – you name it.
Is it just me or does every beauty product always run out at the same time? Boots, I'm coming for you.