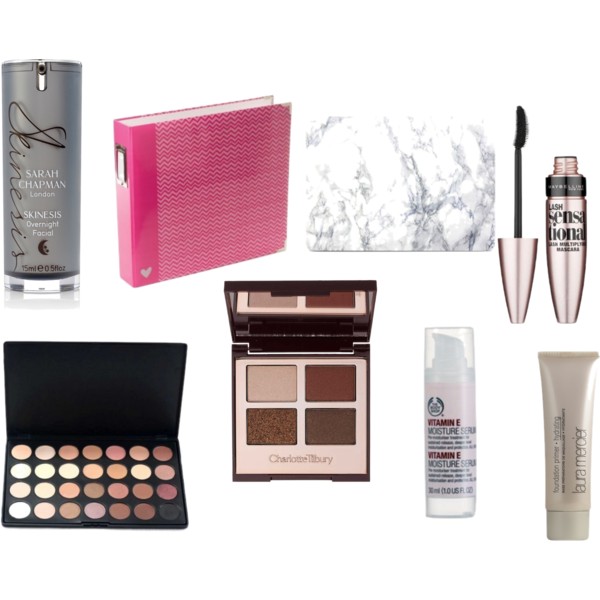 Ah payday, so close, yet so far away. I've been counting down the days until payday since the 1st of January – it's been a looong month. And I know I'm not the only one who's been dreaming of what to buy when the big day rolls around. Here's a few of the beauty picks I've had my eye on for the whole month of January (and most of December). The countdown is on.
Sarah Chapman Skinesis Overnight Facial – I don't care if I've to eat beans for the whole duration of February, I will buy this product! Heck, I might get the Morning Facial too if I'm feeling spendy. My skincare routine has been seriously slacking lately, and judging on the reviews I've read this is exactly what I need.
Charlotte Tilbury Dolce Vita Palette – Another must-buy purchase, this palette literally was in my dreams last week – if that's not a sign then I don't know what is.
Becky Higgins Project Life Kit – I think anyone who watched Lily Pebbles' video about her Project Life scrapbook instantly had one on their wish-list. I absolutely love the idea and think it would be an amazing hobby to keep up all year!
Maybelline Lash Sensational Mascara – By no means do I need a new mascara, but this one looks too good to pass up on. The plastic bristles are right up my street, and it's on promotion in Boots for €7.99 at the minute.
The Body Shop Vitamin E Moisture Serum – I've read one blog post too many on the Vitamin E range to pass it up any longer. The range is pretty affordable too, so it won't break the bank.
Blank Canvas Neutral Eyeshadow Palette – When will this palette ever come back in stock?! No wonder it keeps selling out – 28 neutral eyeshadows for €10.95 – now that's value for money!
Marble Macbook Case – Okay, maybe I couldn't wait 'til payday for this one – I may have ordered it this morning. Marble print is everywhere recently, and for good reason, it's gorgeous! This is a hard clip on case, so it'll protect your laptop as well as making it look stunning.
Laura Mercier Primer  – Since running out of my Kiehl's primer my makeup just hasn't been the same. My skin has been acting up because of my chocolate overdose during Christmas, so a primer is desperately needed to smooth things out and create a flawless base for foundation.
I think a haul will be in order after the trip I make to town when I get paid – stay tuned!
What's on your payday wish list?
PS – I finally made a Facebook page for WhatSheDoesNow! Pop over and say hello!