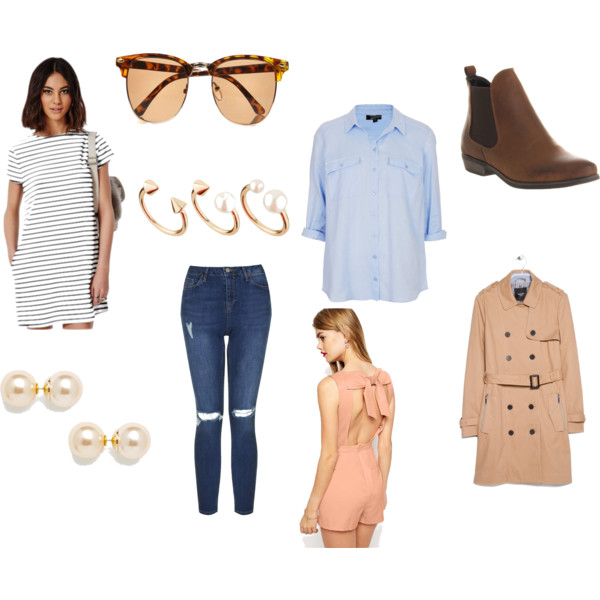 As much as I wish I could say that my spring staples are ripped shorts and pretty white tops, the weather in Ireland just doesn't permit it. Going outside without some form of jacket is a rarity, and the most my legs get shown is through the rips in my jeans. Saying that, I love spring, and I love the (slightly) lighter clothes that go with it.
I've gathered most of these bits into my wardrobe in the last couple of weeks and can't stop wearing them. What's even better is that they're all pretty affordable, and will carry you through to other seasons too. Good thing payday is just around the corner…
Striped T-Shirt Dress  – My most-worn item over the past few months has been a striped t-shirt from Zara, so when I saw this on the Missguided website I was at the checkout quicker than you can say 'shopaholics anonymous'. It'll look great with tights and a leather jacket until the weather warms up, and with sandals and a long necklace during the summer.
Sunglasses – As soon as the sun shows its face, I've my sunglasses on. They're great for no-makeup days and, depending on the style, can add something extra to a simple outfit. I got a pair identical to these in Penneys for €3, but this pair are from River Island.
Chambray Shirt – Move over, checked shirt, there's a new style in town. The chambray shirt is really easy to wear, and is great for layering in spring. Put a lace bralet underneath, or a statement necklace to dress it up.
Chelsea Boots – I've worn my pair of chelsea boots so much that the sole literally wore off them. There was no question whether I'd buy another pair, so I headed straight to Office and invested in a leather version. They're as comfy as Converse, but really dress up an outfit. Perfect with skinny jeans, skirts or dresses – they'll last through every season.
Ripped Skinny Jeans – Or any kind of ripped jean, really. I literally live in ripped jeans during spring and summer. They're the perfect alternative when it's too cold to wear shorts, but still look spring-like. Topshop is my favourite place for jeans, but Penneys have some lovely pairs in at the minute, or you could DIY an old pair yourself.
Pretty Playsuit – For the odd day that it's warm enough to go bare-legged, a playsuit is perfect. You don't have to worry about matching it with anything – just throw it on and go. This one from ASOS would look great for a wedding, too, with a pair of wedges or flat sandals.
Trench Coat – The trench coat is the ultimate spring jacket. It's light enough that you won't be roasting if the sun comes out, but heavy enough to keep you warm and protected from the rain.  Put one on over a pair of skinny jeans and a plain tee and you'll look like you spent ages planning your outfit. This one from Mango is currently on sale for €59.95 – a bargain for something you'll have for years.
Simple But Statement Accessories – I'm all about wearing simple, casual things that you can dress up with accessories. These earrings from ASOS are really unusual and are sure to turn heads, while a few rings stacked up can make the same statement.
Keep an eye out on sites like ASOS and Missguided for easy pieces to wear for spring, they have loads of options to suit every budget and are always doing promotions for students.
Let me know your spring style staples in the comments below, I'd love to hear!