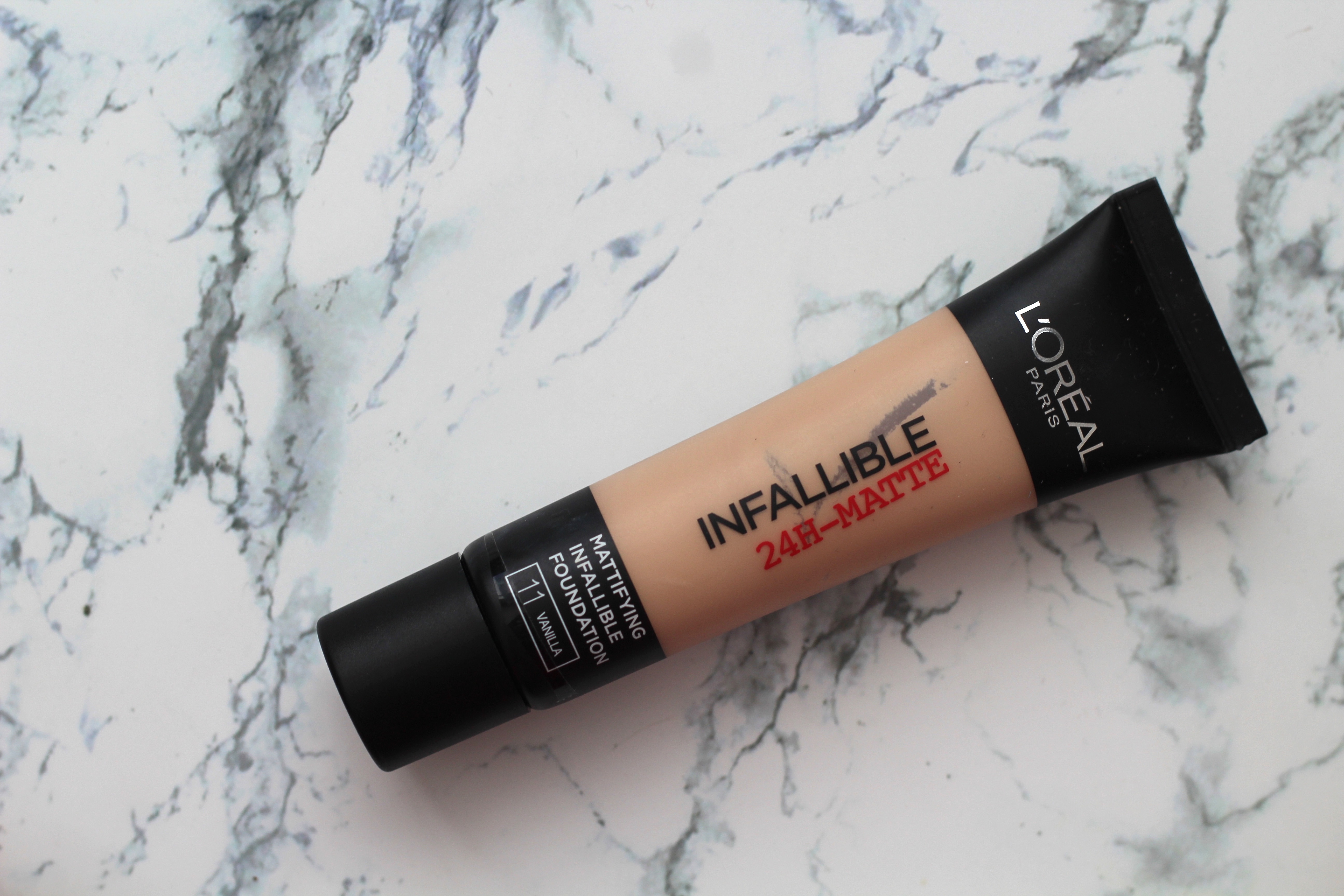 If you know me, you'll know that drugstore foundations have never gotten on well with my skin. After a few really bad breakouts from different drugstore foundations a couple of years ago, I've steered very clear of them ever since.
That is, until I picked up the L'Oreal Infallible 24H Matte foundation in Boots a few weeks ago. It was on offer and somehow made its way into my basket. I was terrified of picking out an orange, dark shade that would leave me resembling an oopma-loompa, but after a few swatches I decided that vanilla was my best match, and hoped that it didn't look a totally different colour as soon as I stepped out into the natural light.
It turned out to be a perfect match (yay) that suits me when I'm free from fake-tan, but can match my tan if I pop on a bit of bronzer. I've been using it for a few weeks now and it hasn't caused any breakouts – it's a miracle!  The squeezy tube makes it really easy to control the amount of product you'd like to apply, and the formula itself reminds me of a slightly thicker version of NARS Sheer Glow. It isn't runny or too heavy – it's just right.
One application gives full coverage, with just a little bit of concealer needed on spots and any redness. As the name says, the finish is totally matte. I just put a bit of powder on top to seal everything in place. I've worn this on nights out and throughout the day, and in both situations it has lasted really well. No need for top ups or powder to mattify shine –  it does what it says on the tin. I haven't worn it for 24 hours straight ('cause – gross) but the longest I've worn it was for 12 hours and it looked perfect when I went to take it off.
I did notice, however, as it's a matte foundation it tends to cling to dry/uneven patches and as a result can emphasise blemishes. For days when my skin is acting up and isn't at its best, I avoid this. But every other day, this is what I go for straight away.
Maybe this is the end of a no-drugstore-foundation era on WhatSheDoesNow – I'm dying to try more!
Let me know in the comments if you've tried this foundation and what you thought of it, I'd love to hear!